Internships and job positions
Evanjelické gymnázum J.A. Komenského Košice (bilingválne anglické) hľadá
na zastupovanie počas dlhodobej PN (predpokladané 3 mesiace) vyučujúceho pre predmet biológia na výuku v slovenskom aj anglickom jazyku. Uchádzač by mal byť v záverečnom ročníku Mgr. štúdia učiteľstvo ANJ – biológia alebo absolvent.
Záujemci kontaktujte, prosím, riaditeľstvo EGJAK na tel. čísle (055) 681 56 11 alebo emailom na egjak zavináč egjak bodka com. Ďakujeme.
Interpreter/Translator Embassy of India, Bratislava
Place of work
Dunajská 4, Bratislava
Contract type
full-time
Start date
03.09.2018
Basic wage component (gross) and other rewards
980
Information about the position
Job description, responsibilities and duties
Consecutive Interpretation (Slovak – English)
Translation of Slovak news and other documents from Slovak to English and vice-versa
Preparation of media reports
Liaise with Slovak authorities and organizations
Arrange meetings and appointments and prepare record of discussions
Maintain list of contacts and database
Independently coordinate and organize events
Any other task assigned by the Embassy
Employee perks, benefits
Gross monthly salary Euro 980/-
(Approximate net pay after employee's contribution to social insurance, health insurance and payment of income tax by the employee at current rate works out to Euro 748.08/-)
Meal Allowance @ Euro 1.74/- per working day
Annual Bonus is paid in the month of December on the occasion of Christmas/New Year, equivalent to one month basic salary after the completion of one year of continuous service.
A higher gross starting salary upto Euro 1130/- may be considered in case of deserving candidates.
Information about the selection process
Applications in English are invited from Slovak nationals for the position of Interpreter/Translator-cum-Office Secretary. Candidates fulfilling the eligibility criteria will be called for a written test and interview. Application with complete bio-data may be sent up to 24th August, 2018 to the Attaché (Administration) Embassy of India, Dunajska 4, 811 08 Bratislava at email: accts.bratislava@mea.gov.in
Requirements for the employee
Candidates with education suit the position
University education (Bachelor's degree)
Educational Specialization
Translation and Interpretation
Language skills
Slovak – Proficiency (C2) and English – Proficiency (C2)
Other knowledge
Typing – advanced
Microsoft Word – advanced
Microsoft Excel – basic
Microsoft Outlook – advanced
Number of years of experience 2
Personality requirements and skills
The applicant should have two years of related experience including consecutive interpretation (Must)
Good administrative, organizational and time management abilities
Good communication skills (verbal as well as written)
The person should be cordial and polite in dealing with the visitors and should be willing to learn and develop new skills
The person should be hardworking and able to solve problems independently
Advertiser
Embassy of India
Dunajska 4
811 08 Bratislava
http://www.indianembassy.sk
Contact
Contact person: Head of Chancery
Tel.: 02–5296 2916
E-mail: accts.bratislava@mea.gov.in
Ponuky práce v Košiciach od AffinityAnalytics!
STÁŽ V AMNESTY INTERNATIONAL
Nepremeškajte príležitosť stážovať v Amnesty International v Českej republike! Viac informácií tu .
NEW SCHOLARSHIPS FOR THE LANGUAGE AND CULTURE ASSISTANT PROGRAM IN SPAIN YEAR 2018
Dovoľujeme si Vás informovať, že Autonómna oblasť Valencia v Španielsku (Comunidad Valencia) spúšťa program Asistent učiteľa anglického jazyka na základnej škole. Polročný program so začiatkom v januári 2018, a týždennou dotáciou 16 vyučovacích hodín, je určený absolventom 1. stupňa vysokých škôl so znalosťou anglického jazyka minimálne na úrovni C1 a základnou znalosťou španielskeho jazyka. Týždenná dotácia je 16 vyučovacích hodín.
Viac informácií nájdete v priloženom letáku, prípadne nás kontaktujte na agregaduria.sk@mecd.es
Záujemcovia sa môžu prihlásiť do 21. septembra 2017, vyplnené žiadosti je potrebné doručiť elektronicky na adresu agregaduria.sk@mecd.es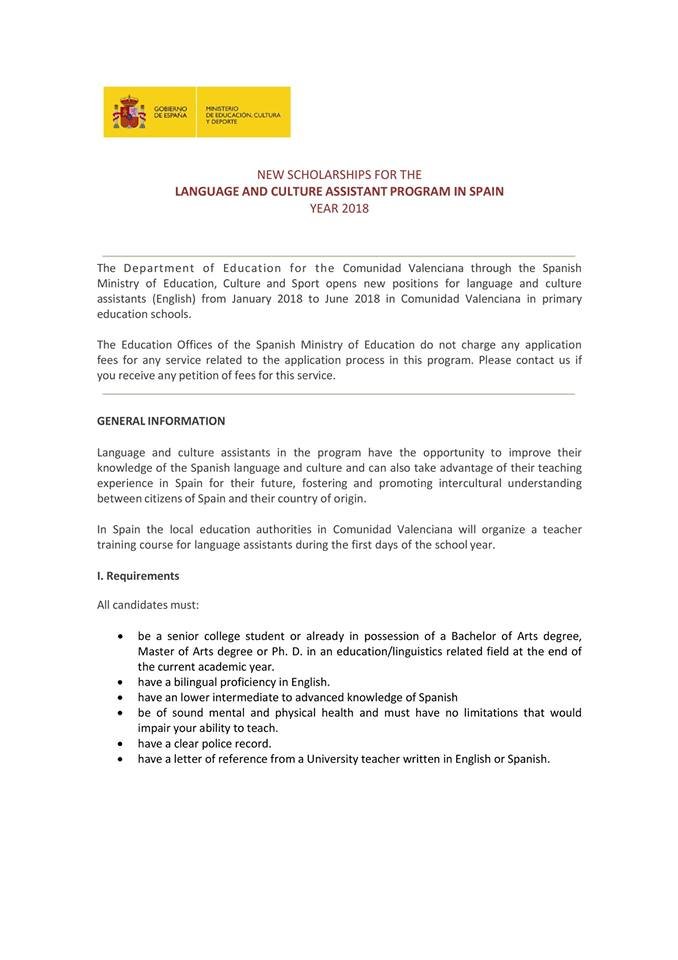 ---
Medical Biller – pracovná príležitosť pre našich študentov: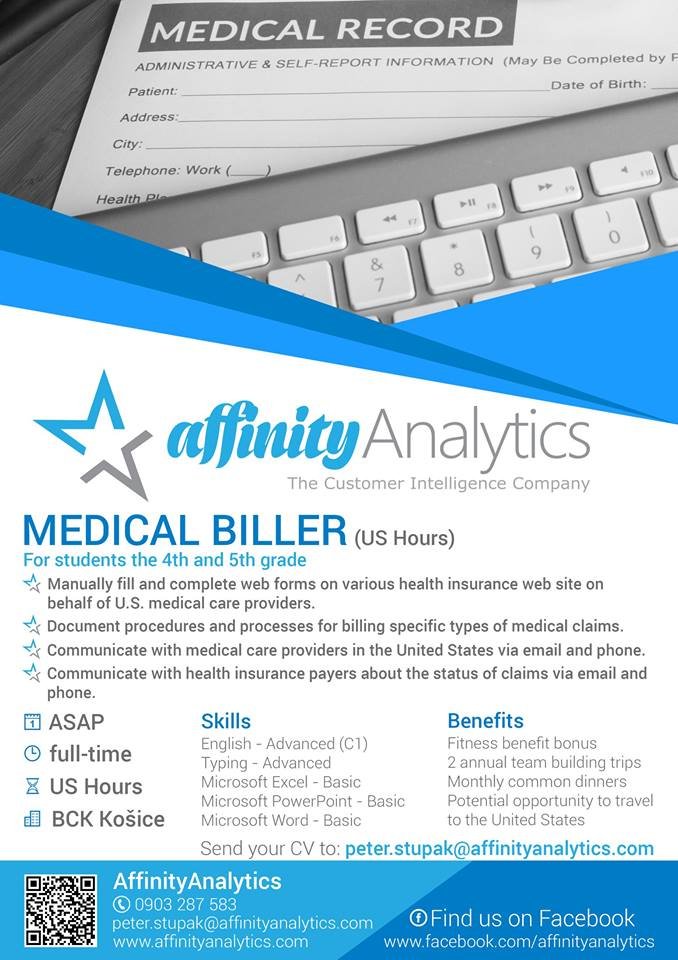 ---
Spolupráca s NAKAC
KAaA začala spoluprácu s Národným kariérnym centrom (http://narodnekariernecentrum.sk/), aby sme pre vás našli možnosť zamestnať sa už počas štúdia. Sledujte naše ponuky, ktoré NKC vyberá exkluzívne pre študentov katedry anglistiky a amerikanistiky FF UPJŠ:
Support Analyst
Client Support
Procurement Agent
26.6.2016
Ponuka stáže v ATT