12th ESSE CONFERENCE
Dates: 29. 08. 2014 - 02. 09. 2014
Home
Pavol Jozef Šafárik University in Košice, Slovakia, The Department of British and American Studies, Faculty of Arts
and SKASE (The Slovak Association for the Study of English)
---
look forward to welcoming you to the
12th ESSE CONFERENCE
in
KOŠICE, SLOVAKIA
Friday 29 August – Tuesday 2 September, 2014
General questions about the ESSE 2014 Conference in Košice should be sent by e-mail to esse2014info@upjs.sk
SPONSORS


SUPPORTERS



NEW EXTENDED DEADLINES
NEW EXTENDED DEADLINES!
EARLY REGISTRATION EXTENDED UNTIL 15 JUNE 2014
Early registration: 1 April 2014 – 15 June 2014.
Late registration: 16 June 2014 – 29 August 2014.
REGISTRATION
REGISTRATION NOW!
A flat fee will be charged for the entire Conference. There will be no daily rate. Please note that the fee includes the opening dinner and concert, the guided tour of Košice and the conference barbecue.
ESSE members, early registration by 15 June 2014
€ 120
ESSE members, registering on and after 16 June 2014
€ 200
Non-ESSE members, early registration by 15 May 2014
€ 160
Non-ESSE members, registering on and after 16 June 2014
€ 240
Accompanying persons
€ 40

Postgraduate Students
(please send a letter from the supervisor confirming status)

€ 60
Complete the online registration form below and click to submit it.
Note that your first name, last name, affiliation and country will appear on the badge; the same information plus your e-mail will appear in the conference programme.
ONLINE REGISTRATION FORM
available here
PAYMENT METHOD
Note that your registration is not final until payment is received. For early bird registrations payment must be sent by the deadline date.
Payment method
There are two ways of making payments:
1. payment by bank transfer to the conference bank account:
Any fees charged by remitting banks are to be paid by the conference participants. It is the responsibility of the sender to ensure that the conference receives the full amount. Any amount deducted by the banks for charges will be charged in cash on the first day of the conference.
Bank details for transfers:
Beneficiary name: Progress CA s.r.o.
Beneficiary address: Krivá 18, 04001 Košice, Slovakia
Bank name: Sberbank Slovensko, a. s. Košice
Bank address: Mlynská 29, 043 73 Košice, Slovakia
Account number: 4350225857/3100
IBAN: SK 14 31 00 0000 0043 5022 5857
SWIFT/BIC CODE : LUBA SK BX
Please ensure that your transfer is identifiable by including the message "ESSE 14" and your name, e.g. "ESSE 14 John Smith".
2. payment by credit card
To pay by credit card, please download THE CREDIT CARD AUTHORIZATION FORM here and complete it, ensuring that you sign it. Note that a 5% credit card fee must be added to the total. Send a copy of your form by fax (+421–55–680–6156) or as a scanned file attachment by e-mail (gabriela.sujanova@progress.eu.sk).
Receipts
Reception of payment will be confirmed by e-mail. Printed receipts will be issued at the registration desk.
Cancellation
The registration fee will be refunded for cancellations made by the 30th June 2014 (bank charges to be borne by participant). No registration fee refunds will be made for cancellations after that date. Cancellations with refund requests should be made by e-mail to gabriela.sujanova@progress.eu.sk.
FEE WAIVERS
A number of delegates for whom attending the conference presents financial difficulties will be granted full or partial fee-waivers. Applications should be sent between 1 April and 30 April 2014 to esse2014info@upjs.sk. Applicants will be informed shortly thereafter whether they have been granted a fee waiver.
INSURANCE
Please note that neither Pavol Jozef Šafárik University in Košice, nor SKASE, nor ESSE will pay for, or accept liability for, travel, accommodation, living or other expenses incurred by lecturers, convenors, co-convenors, or those invited to participate in round tables, seminars, PhD sessions or posters, unless previously agreed in writing.
All conference participants should be aware that neither Pavol Jozef Šafárik University in Košice, nor SKASE, nor ESSE have or will accept any liability whatsoever for any damage or injury to visitors, to the university or to property, however such damage or injury may be caused.
Delegates are expected to be fully insured by their own institutions or through their personal insurance for personal health, accident/property coverage (also against claims made by third parties) during their participation in the Conference.
TRAVEL TO KOŠICE
By air: The easiest way to get to Košice is flying via Prague (Czech Airlines), Vienna (Austrian Airlines), London Luton (Wizz Air) or Bratislava (Czech Airlines).
Košice is also connected with Budapest and Krakow airports by minibus service (approx. 3 hours' bus journey).
By train: From Bratislava, Prague, Budapest, etc. there are IC and Express trains to Košice. You can find detailed information about current train services at www.zsr.sk.
By coach: From many European and Slovak cities and towns there are Eurolines and Express coaches to Košice. You can find detailed information about current coach timetables at www.cp.sk.
ACCOMMODATION
The following accommodation options are offered to conference participants and accompanying persons by the conference organizers in cooperation with the conference agency, Progress. These specially-negotiated conference prices are available only through Progress and only until 30 June. Bookings can be made online by filling in the Accommodation and Optional Trips Booking Form. All hotels are within walking distance of the conference venue. A map showing the hotels can be found below.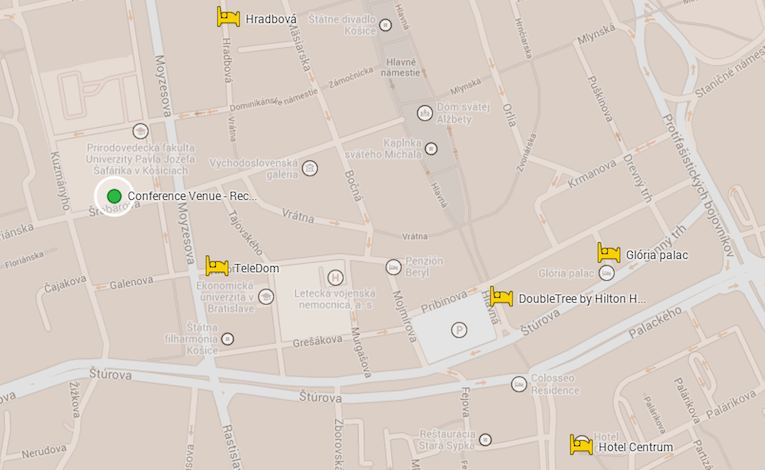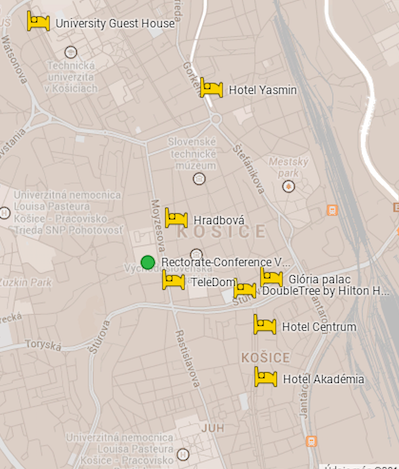 HOW TO BOOK YOUR ACCOMMODATION
Bookings can be made online by filling in and submitting the Accommodation and Optional Trips Booking Form here. Once your booking has been received, you will be contacted by Ms. Gabriela Sujanova with confirmation of your reservation and details of the amount to pay.
Hotel Yasmin**** Tyršovo nábrežie 1, Košice, www.hotel-yasmin.sk
€75.50 Mon-Thur / €72.50 weekend single room (including breakfast)
€97.50 Mon-Thur / €87.50 weekend double room (including breakfast)
Municipality Tax: €1.50 per person per night
Internet, air conditioning
Hotel Double Tree by Hilton **** Hlavná 123/1, Košice, www.doubletree-kosice.com
€69 single room (including breakfast)
€89 double room (including breakfast)
Municipality Tax: €1.50 per person per night
Internet, air conditioning
Hotel Gloria Palac*** Bottova 1, Košice 040 01, www.gloriapalac.sk
€59 single room (including breakfast)
€59 double room (including breakfast)
Municipality Tax: €1.50 per person per night
Internet
Hotel Centrum*** Južná trieda 2054/2A, Košice, www.hotel-centrum.sk
€50 single room (including breakfast)
€65 double room (including breakfast)
Municipality Tax: €1.50 per person per night
Internet
Pension Hradbova*** Hradbová 9, Košice, www.penzionhradbova.sk
€61 single room (including breakfast)
€81 double room (including breakfast)
Municipality Tax: €1.50 per person per night
Internet
Teledom Hotel *** Timonova 755/27, Košice, www.hotelteledom.sk
€66 single room (including breakfast)
€83 double room (including breakfast)
Municipality Tax: €1.50 per person per night
Internet, air conditioning
Garni Hotel Akadémia ** Južná trieda 10, Košice, www.hotelakademia.sk
€38 single room (including breakfast)
€57 double room (including breakfast)
Municipality Tax: €1.50 per person per night
Internet
TUKE University Guest House accommodation* Boženy Němcovej 1, Košice,
www.tuke.sk/…ytovanie/bn1
The rooms are arranged in pairs of two rooms (one double room and one single room) connected by a corridor, sharing a shower and WC.
Prices: €20 per person in a double room occupied by two persons, €30 per person in a single room.
Municipality Tax: €1.50 per person per night
Breakfast can be arranged for €5 per person.
Internet, there is a fridge in each connecting corridor.
Payment method
There are two ways of making payments.
1. payment by bank transfer to the conference bank account:
Any fees charged by remitting banks are to be paid by the conference participants. It is the responsibility of the sender to ensure that the conference receives the full amount. Any amount deducted by the banks for charges will be charged in cash on the first day of the conference.
Bank details for transfers:
Beneficiary name: Progress CA s.r.o.
Beneficiary address: Krivá 18, 04001 Košice, Slovakia
Bank name: Sberbank Slovensko, a. s. Košice
Bank address: Mlynská 29, 043 73 Košice, Slovakia
Account number: 4350225857/3100
IBAN: SK 14 31 00 0000 0043 5022 5857
SWIFT/BIC CODE : LUBA SK BX
Please ensure that your transfer is identifiable by including the message 'ESSE 14' and your name, e.g. 'ESSE 14 John Smith'.
2. payment by credit card
To pay by credit card, please download THE CREDIT CARD AUTHORIZATION FORM here and complete it, ensuring that you sign it. Note that a 5% credit card fee must be added to the total. Send a copy of your form by fax (+421–55–680–6156) or as a scanned file attachment by e-mail (gabriela.sujanova@progress.eu.sk).
Receipts
Reception of payment will be confirmed by e-mail. Printed receipts will be issued at the registration desk.
CANCELLATION POLICY
This cancellation policy is determined by the conditions set by the hotels.
Cancellations received no later than 60 days prior to check-in date – no cancellation charges.
Cancellations received between 59–45 days prior to check-in date – refund minus the cost of one night.
Cancellations received between 44–30 days prior to check-in date – 50% of the total price refunded.
Cancellations received less than 29 days prior to check-in date – no refund.
INSURANCE
Please note that neither Pavol Jozef Šafárik University in Košice, nor SKASE, nor ESSE can accept liability for travel, accommodation, living or other expenses incurred by lecturers, convenors, co-convenors, or those invited to participate in round tables, seminars, PhD sessions or posters.
All conference participants should be aware that neither Pavol Jozef Šafárik University in Košice, nor SKASE, nor ESSE have or will accept any liability whatsoever for any damage or injury to visitors, to the university or to property, however such damage or injury may be caused. Delegates are expected to be fully insured by their own institutions or through their personal insurance for personal health, accident/property coverage (also against claims made by third parties) during their participation in the Conference.
KOŠICE
KOŠICE – A UNIVERSITY CITY AND EUROPEAN CAPITAL OF CULTURE IN 2013
Košice is a city with an eventful and illustrious past and multicultural and colourful present. It is a seat of culture and education. During the university semesters students make the city their own, and one may find them at every turn: in the theatres, the museums, the galleries, the concert halls, the libraries, and the parks. Almost nine thousand future professionals in medical, legal, scientific, social, philosophical disciplines and arts study at Pavol Jozef Šafárik University, further swelling the already large permanent population of the city of over 240,000.
Košice's earliest documents date back to 1230 and refer to it as "Villa Cassa". Its coat of arms is the oldest in Europe, a fact attested to by a letter dating from 1369. The city's historic sights – from various periods – are concentrated in the centre, the Urban Heritage Area. The recently reconstructed Main Street, lined by the houses and palaces of the burghers of the past, offers visitors a pleasant stroll, and is also the venue for many major events. Košice has always been known for its extraordinary mixture of cultures and dialects, a mixture that contributes greatly to the attractions of the city.
More about Košice at www.kosice.sk
PAVOL JOZEF ŠAFÁRIK UNIVERSITY IN KOŠICE
Pavol Jozef Šafárik University in Košice (UPJŠ) is the second oldest university in Slovakia. The history of higher education in Košice goes back to the year 1657, when the bishop Benedict Kishdy founded the Academia Cassoviensis, which was run by the Jesuits of Jesus' Community. The University of Košice Golden Bull issued in 1660 by the Holy Roman Emperor Leopold I granted the Universitas Cassoviensis the same privileges as all the other universities of the Habsburg empire. The structure of Universitas Cassoviensis was similar to that of other universities, with faculties of Philosphy, Law and Theology, the last of these being the strongest. Study at the Philosophical Faculty was dedicated primarily to philosophy, history and languages, but the lectures – which were in Latin – also included presentations of the natural sciences: physics, mathematics, geography and botany. The Universitas Cassoviensis had its own library and a church, and it significantly influenced the advancement of science, educational attainment and spiritual culture in the 17th and 18th centuries.
In 1959 the traditions of the Universitas Cassoviensis were revived through the foundation of the Pavol Jozef Šafárik University in Košice. It originally consisted of the Faculty of Medicine (in Košice) and the Faculty of Philosophy (in Prešov). Gradually the university was enlarged by the addition of new faculties:the Faculty of Science in Košice in 1963, the Faculty of Education in Prešov in 1964, Faculty of Law in Košice in 1973, the Faculty of Public Administration in Košice in 1998, and finally the Faculty of Arts in Košice in 2007.
Pavol Jozef Šafárik University in Košice is the second classical university of Slovakia. It ranks among the important and widely-recognized educational and research institutions not only in Slovakia, but also in Europe. Its key mission is to provide education and service to its students and the community by spreading knowledge based on the most recent scientific findings in an international context, as well as to conduct high-quality research. The UPJŠ also supports activities contributing to the education and culture of the public and it helps students develop greater wisdom, creativity, tolerance, critical and independent thinking, self-confidence, and both regional and national awareness.
At present the UPJŠ provides education at its five faculties to almost 9,000 students in more than 105 BA, 65 MA and 35 PhD programmes, with more than 700 lecturers and research staff who use the results of their own high-quality scientific research, the most recent experimental technology, the latest ITC and innovative methods of education.
The University has mainly focused on creating a permanent system of monitoring and improving the quality of education in all the accredited study programmes. Instead of extensive generating new study programmes and increasing the number of students, the emphasis has been placed on optimising the content and methods of implementation of the existing study programmes. The university policy is to promote maximum mutual openness and connectedness of courses, so that the students may benefit from the widest range of opportunities across the university, not just within individual faculties. Improving the quality of the education provided and of the university organization has required a focus on improvement of the physical infrastructure, particularly continuous modernisation and variation of teaching technology, specifically exploiting the Internet and new information technologies.
Students can use the services of the University Library, the Centre for Information and Communication Technologies, and the Botanical Garden. The UPJŠ has more than 2,500 accommodation places, and excellent catering services located near the city centre. The Institute of Physical Education and Sports offers education in the field of sports and recreation, training courses for students, physical education camps, and hobby sports activities for staff, students and public throughout the year, also organizing such events as University Days of Sport, the Wellness Day, or the Intervention Motion Programme.
Pavol Jozef Šafárik University in Košice has established itself in the European education and research arena. It is a member of the European University Association and a signatory of Magna Charta Universitatum. It is a seat of the European Documentation Centre, the Institute of European Law and the Austrian Library. Both education and scientific research at the UPJŠ are carried on in a broad international context and follow European trends. The research teams, led by internationally recognized personalities, use funding from both national and international sources; every year up to 200 research projects are funded (around 20 by foreign grants). The number of publications per staff member in high-quality international journals, the high proportion of papers registered in the Current Contents Connect database and the number of citations in registered databases rank the UPJŠ amongst the best research universities in Slovakia.
The development of the international dimension of the UPJŠ is closely related to the LLP/Erasmus mobility programme for staff and students and to mobility within the National Scholarship Programme of the Slovak Republic. The numbers of UPJŠ students who complete part of their studies abroad as well as the number of incoming students and staff are all growing. The UPJŠ has more than 230 Erasmus bilateral agreements with universities in 20 countries. For international Erasmus students, the International Office of UPJŠ regularly organizes EILC – Erasmus Intensive Language Courses – that enable incoming students to study the Slovak language, to understand the Slovak culture, and to become familiar with the academic milieu in Slovakia.
Pavol Jozef Šafárik University in Košice is also open to Free Movers.
For more information about the Pavol Jozef Šafárik University in Košice, please visit www.upjs.sk.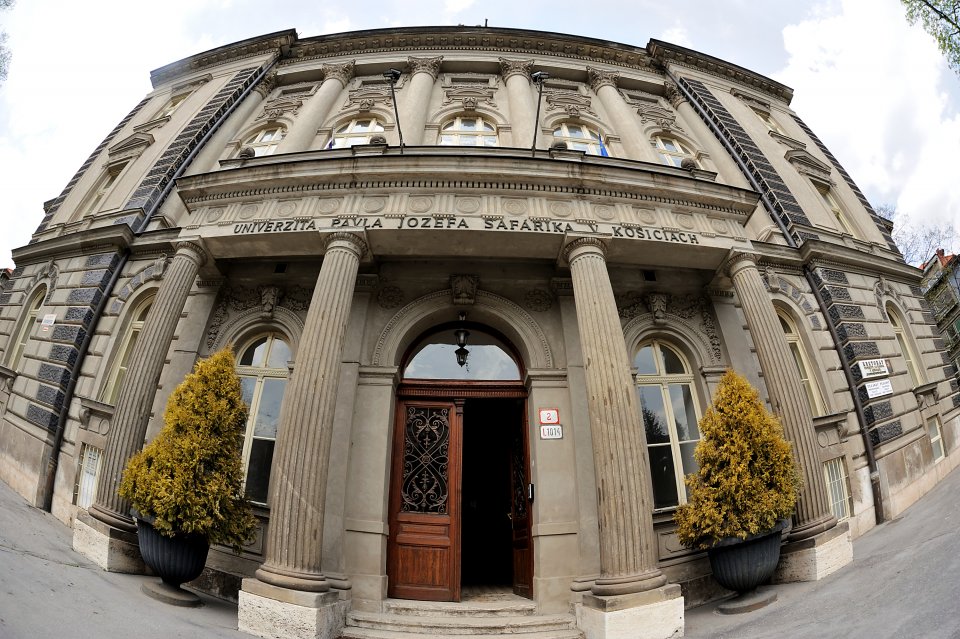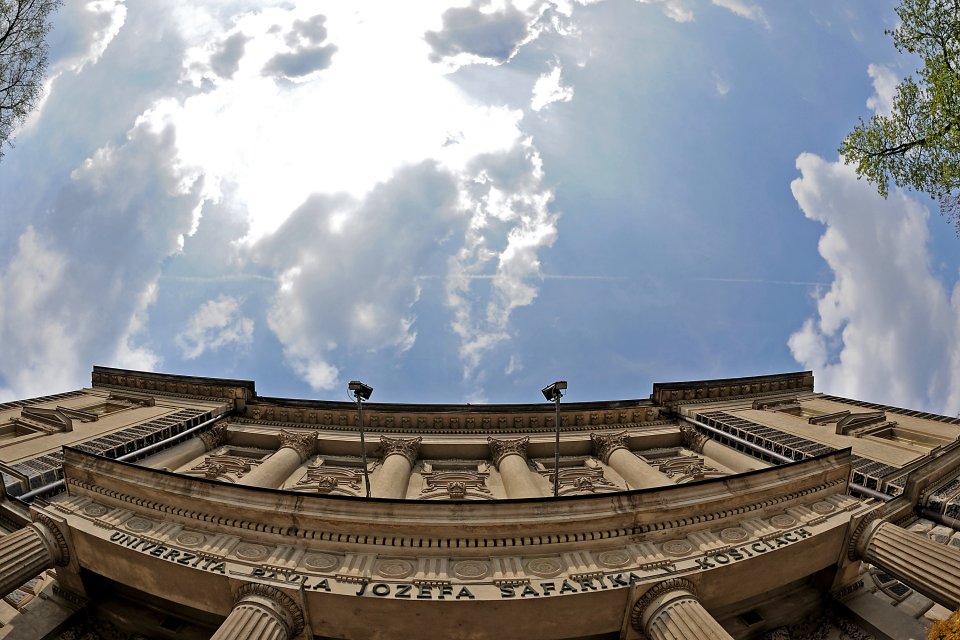 ACADEMIC PROGRAMME
Please note that each conference participant may convene or co-convene one or more round table(s), seminar(s), and doctoral session(s). However, each conference participant may only present ONE PAPER during the conference – one lecture or one round table paper or one seminar paper or one poster, whether in the round table / seminar session that he or she convenes or in a different one.
Postgraduate students selected for the Doctoral Sessions may in addition present one other paper in a regular seminar.
ACADEMIC PROGRAMME COMMITTEE
Slávka Tomaščíková (P. J. Šafárik University in Košice) (chair)
Işil Baş (Boğaziçi University)
Andreas H. Jucker (University of Zürich)
Lívia Körtvélyessy (P. J. Šafárik University in Košice)
Pierre Lurbe (Université Paul-Valéry Montpellier 3)
Maria Socorro Suárez (Universidad de Oviedo)
Soňa Šnircová (P. J. Šafárik University in Košice)
Pavol Štekauer (P. J. Šafárik University in Košice)
PROGRAMME
12th ESSE CONFERENCE in KOŠICE, SLOVAKIA
Friday 29 August – Tuesday 2 September, 2014
Organised by Pavol Jozef Šafárik University in Košice, Slovakia
Department of British and American Studies, Faculty of Arts
and
SKASE (The Slovak Association for the Study of English)
To be held at P. J. Šafárik University in Košice, Šrobárova 2, Košice
Registration and conference information centre:
Friday 29 August 2014, from 9.00 to 18.00 at the House of Arts, Moyzesova 66, Ground Floor
Saturday 30 August – Monday 1 September 2014 from 9.00 to 18.00 at the Rectorate, Šrobárova 2, Senate Meeting Room, 1st Floor
Conference programme
Friday 29 August 2014 House of Arts, Moyzesova 66
09.00–18.00 Registration and conference information centre
10.00, 11.30, 13.00 Free guided tours of Košice centre (groups of 20–30 people; tour begins and ends at the House of Arts)
14.30–15.30 Opening of the conference
15.30–16.30 Plenary lecture 1
USING Wmatrix TO ANALYSE CHARACTER CONTRASTS (AND THEMES AND FOREGROUNDED MOMENTS) IN BETRAYAL BY HAROLD PINTER
Professor Dr. Mick Short, Lancaster University, U.K.
16.30–17.00 Coffee break
17.00–18.00 Poetry reading
18.15–19.00 Concert for conference participants and accompanying persons
19.00 Welcome dinner for conference participants and accompanying persons
Saturday 30 August 2014 UPJŠ Rectorate and Campus, Šrobárova 2
09.00–18.00 Conference information centre, Rectorate, Senate Meeting Room, 1st floor
09.30–18.00 Book exhibition
09.30–18.00 Poster presentations (posters only)
11.00, 12.30, 16.00, 17.30 Free guided tours of Košice centre (groups of 20–30 people, 60 minutes, begins and ends at the Rectorate)
09.30–10.30 Parallel lectures 1
How Trauma Turns into Literature: Romanian-American Writers
Michaela Mudure
Babes-Bolyai University in Cluj, Romania mmudure@lett.ubbcluj.ro
Technical University of Liberec, Czech Republic mmudure@yahoo.com
Can we arrive at an agreement on the compound status?
Stanislav Kavka
Pavol Jozef Šafárik University in Košice, Slovakia ca348439@tiscali.cz
A Life Sentence: Twenty Years of Convict Studies Research and the Female Factory Research Group, Tasmania
Susan Ballyn
University of Barcelona, Spain susan.ballyn@gmail.com
10.30–11.00 Coffee break + Poster presentations (authors at posters)
11.00–13.00 Seminars, Round tables and PhD sessions
RT6, PhD Cult A, SLANG16 A, SLITE7 A, RT5, Special RT Gender, SLANG32 A, SLANG4 A, SLITE3 A, SLITE2 A, SLITE11 A, SLITE15, SLANG10 A, SLANG12, SLANG14 A
13.00–14.30 Lunch break
14.30–15.30 Plenary lecture 2
WALTER SCOTT AND THE RESTORATION OF EUROPE
Professor Dr. Fiona Robertson, St Mary's University College, U.K.
15.45–16.45 Parallel lectures 2
Coleridge's Daemonic Imagination
Gregory M. Leadbetter
Birmingham City University, the UK gregory.leadbetter@bcu.ac.uk
"I tell you this, because I come from your country". The popularization of science and the linguistic construction of reliability in nineteenth-century travelogues and ego documents
Marina Dossena
Università degli Studi di Bergamo, Italy marina.dossena@unibg.it
(Child)reign of Terror: Dangerous Child Régimes
Björn Sundmark
Malmö University, Sweden bjorn.sundmark@mah.se
16.45–17.15 Coffee break + Poster presentations (authors at posters)
17.15–18.45 Seminars, Round tables and PhD sessions
SLITE12, SLITE9 A, SLANG18, SLANG 16B, SLANG9 A, SLANG6 A, SLANG32 B, SLANG4 B, SLITE3 B, SLITE2 B, SLITE11 B, SLITE17, SLANG10 B, SCULT5, SLANG14 B
19.00 Visit to the Tokay cellars (see Social Programme)
Sunday 31 August 2014 UPJŠ Rectorate and Campus, Šrobárova 2
09.00–18.00 Conference information centre, Rectorate, Senate Meeting Room, 1st floor
09.30–18.00 Book exhibition
09.30–18.00 Poster presentations (posters only)
11.00, 12.30, 15.00, 16.30 Free guided tours of Košice centre (groups of 20–30 people, 60 minutes, begins and ends at the Rectorate)
09.30–10.30 Parallel Lectures 3
Eschatology and the motif of the vanities in Shakespeare's The Merchant of Venice
Line Cottegnies
Université Sorbonne Nouvelle – Paris 3, France line.cottegnies@free.fr
Lexical Mortality and Word-Formation in Eearly Middle English: The Case of ÆLFRICIAN Texts
Jan Čermák
Charles University in Prague, Czech Republic jan.cermak@ff.cuni.cz
Regarding Animals Regarding Humans
Ruth Parkin-Gounelas
Aristotle University of Thessaloniki, Greece gounelas@lit.auth.gr
10.30–11.00 Coffee break + Poster presentations (authors at posters)
11.00–13.00 Seminars, Round tables and PhD sessions
SCULT7, PhD CULT B, RT3, SLITE7 B, SLANG9 B, SLANG6 B, SCULT11 A, SCULT20, SLITE5 A, SLITE8 A, SLITE22, SLITE18, SLANG1 A, SLANG22 A, SLANG14 C
13.00 –14.30 Lunch break
14.30–15.30 Plenary lecture 3
QUESTIONS OF LITERACY: EAST AND WEST
Professor Dr. Martin Montgomery, Universidade de Macau, China
15.30–16.00 Coffee break + Poster presentations (authors at posters)
16.00–17.30 Seminars, Round tables and PhD sessions
PhD LING A, SLITE9 B, RT4, SLANG25, SLANG9 C, SLANG5 A, SCULT11 B, SLITE21, SLITE5 B, SLITE8 B, SLANG21, SLANG27, SLANG1 B, SLANG22 B, SCULT8
17.45–18.45 Proquest special event
Literature Online and Other Resources for Literary Research from ProQuest
Speaker: John Pegum, Senior Product Manager, Humanities at ProQuest
19.00 Visit to the Tokay cellars (see Social Programme)
Monday 1 September 2014 UPJŠ Rectorate and Campus, Šrobárova 2
09.00–18.00 Conference information centre, Rectorate, Senate Meeting Room, 1st Floor
09.30–18.00 Book exhibition
09.30–18.00 Poster presentations (posters only)
11.00, 12.30, 15.00, 16.30 Free guided tour of Košice centre (groups of 20–30 persons, 60 minutes, begins and ends at the Rectorate)
09.30–10.30 Parallel lectures 4
Visual Challenges in Contemporary Poetry: Agon and Enablement
Rui Carvalho Homem
Universidade do Porto, Portugal flup@letras.up.pt
Studies of language, studies on literature: A cognitive rapprochement?
Henryk Kardela
Maria Curie-Skłodowska University in Lublin, Poland henkar@klio.umcs.lublin.pl
History – Drama – Film: Theory and Practice in Cutural Representations of the Medieval Past
György E. Szönyi
University of Szeged & Central European University in Budapest, Hungary geszonyi@freemail.hu
10.30–11.00 Coffee break + Poster presentations (authors at posters)
11.00–13.00 Seminars, Round tables and PhD sessions
RT1, PhD LING B, PhD LIT A, SLITE4 B, SLITE6 A, SLANG11 A, SLANG5 B, SCULT12, SCULT14, SLANG29, SCULT1, SLANG15, SLNAG24 A, SCULT2 A, SLITE13 A
13.00–14.30 Lunch break
14.30–16.30 Seminars, Round tables and PhD sessions
PhD LING C, PhD LIT B, SLITE4 A, SLITE6 B, SLANG11 B, SLANG8 A, SLANG26 A, SLITE20 A, SLITE16 A, SLANG2 A, SLITE14 A, SCULT19 A, SLANG 24B, SCULT2 B, SLITE13 B
16.30–17.00 Coffee break + Poster presentations (authors at posters)
17.00–18.30 Seminars, Round tables, and PhD sessions
PhD LIT C, SCULT4 A, SLITE6 C, SLANG11 C, SLANG8 B, SLANG26 B, SLITE20 B, SLITE16 B, SLANG2 B, SLITE14 B, SCULT19 B, SLANG28, SLANG19
18.45–19:45 ESSE General Assembly with Book Prize Ceremony (Historic Aula, Rectorate, 1st floor)**
20.00 Conference Barbecue, Rectorate
Tuesday 2 September 2014 UPJŠ Rectorate and Campus, Šrobárova 2
09.00 –14.00 Conference information centre, Rectorate, Senate Meeting Room, 1st Floor
09.30–14.00 Book exhibition
09.30–10.30 Parallel lectures 5
Imagining the Fascinating Foreigner: Jane Porter's Thaddeus of Warsaw (1803) and Thomas Hope's Anastasius, or Memoirs of a Greek Written at the close of the Eighteen Century (1819)
Ludmilla Kostova
University of Veliko Turnovo, Bulgaria lkostova@mbox.digsys.bg
Politeness in the history of English: From the "courteisie" of the "parfit gentil knight" to the politeness of the Renaissance gentleman
Andreas H. Jucker
University of Zurich, Switzerland ahjucker@es.uzh.ch
Boundaries and the crisis: cultural imaginaries, narratives, and political discourses
Lidia De Michelis
University of Milan, Italy lidia.demichelis@unimi.it
10.30–11.00 Coffee break + Poster presentations (authors at posters)
11.00–13.00 Seminars, Round tables and PhD sessions
RT 2, PhD LIT D, SCULT4 B, SLITE6 D, SLANG3, SLANG8 C, SLANG26 C, SLANG20, SCULT3, SLITE1, SCULT18, SCULT19, SLANG17
13.15–14.00 Closing of the conference:
Feedback from Plenary Speakers
Presentation of ESSE 2016 Galway
PLENARY SPEAKERS
Professor Dr.Fiona Robertson, St Mary's University College, U.K.
http://www.smuc.ac.uk/…obertson.htm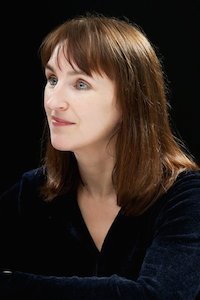 WALTER SCOTT AND THE RESTORATION OF EUROPE
To mark the bicentenary of the publication of Walter Scott's first novel, Waverley; or, 'Tis Sixty Years Since in July 1814, this lecture will consider why and how a tale of the 1745 Jacobite rebellion came to redefine historical consciousness across Europe. It will analyse the most important components of Scott's approach to historical fiction, emphasising his intellectual and artistic subtlety and originality. Taking key ideas from Waverley, the lecture will range across Scott's works, anchoring his place in a wide European tradition. 2014 is also the year in which Scotland votes for or against independence from the United Kingdom, and so the theme of this lecture is one problematized at the end of Scott's first novel, 'restoration'.
The first part of the lecture will reflect on the implications of an intriguing passage in Chapter 4 of Waverley, in which Scott describes family tradition and genealogical history as 'the very reverse of amber'. This, I argue, is an appropriately thought-provoking, ambiguous starting-point for Scott's conflicted approach to historical fiction. I then go on to consider the concentrated fantasy of restoration which takes over the final chapter of Waverley, and reflect on the significance of this fantasy in the context of Europe in1814. 'Restoration' is a process of giving back, reinstating, re-establishing – bringing back to an earlier condition. As Scott shows, it is a historical impossibility and an aesthetic conundrum. 'Replenished', 'replaced', 'renewed or repaired' – the language of this closing chapter of Waverley draws attention to a difficulty which beset the declared political process of 'restoration' in the post-Napoleonic period (by which, for example, the Bourbon line in France was 'restored', but as a constitutional monarchy which incorporated the principles of revolutionary change). Of special interest is Scott's description of how the house and gardens of Tullyveolan have been repaired 'with the strictest attention to maintain the original character of both, and to erase, as far as possible, all appearance of the ravage they had sustained'.
Restoration – maintenance or erasure? – then directs a reading of Scott's fictions after Waverley which will focus on the many ways in which Scott reintroduced across Europe a passionate but sceptical engagement with the past and its traces – in folk tradition, legend, the received historical record, buildings, landscapes, artefacts, and the fabric of the state.
Professor Dr. Martin Montgomery, Universidade de Macau, China
http://www.umac.mo/…tgomery.html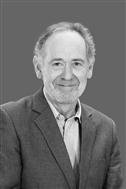 QUESTIONS OF LITERACY: EAST AND WEST
It has almost become a cliché to say that we live in a period of unprecedented innovation in the technologies of communication. For sure, the pace of change is rapid; and we can see it most obviously in the changing character of the technical devices that we use on an everyday basis to communicate with each other.
The related rise of personal and social media cannot help but pose questions for us about the nature of the mediated public sphere, about its changing character and about how we access it. What are the dominant genres of the digital era, what kinds of literacies do they presuppose, and how are these re-shaping our older script and print-based literacies?
This talk will draw upon two case studies selected from contrasting mediaspheres, the United States and the People's Republic of China, to explore the role of digital discourse in micro-blogs on social media platforms as an enactment or extension of the traditional public sphere. In both examples we will see an interaction between old media and new media, since a significant amount of participation in both the U.S. and China comes not just from members of the public but from established journalists accredited to what might be called 'old' media news institutions. Each episode, indeed, begins with what might be called an old media event: a televised debate in the US and a news report in the press in the PRC. But in each case the public response is widely dispersed through micro-blogging on social media.
The first case study is based on data from the second presidential debate of the U.S. Presidential Election, 2012, where the Republican candidate, Mitt Romney, made an ill-judged reference to 'binders full of women'. It explores how the phrase was immediately picked up on Twitter and became the focus for memes and threads in the days that followed. The second case study is based on data from China where a press photograph of a public official looking relaxed at the scene of a fatal accident led to widespread comment amongst China's netizens, to such an extent that the official not only lost his position (as regional head of work safety), but was subsequently investigated for breaches of party discipline.
A comparison of these two cases leads to reflections on the potentialities of the mediated public sphere in the age of the internet. But it also deals with two kinds of body politic in process in two very different societies. Nonetheless, the comparison throws interesting light on how a similar mediated genre – the micro-blog – can be inflected in different ways and to different ends in the two major societies of our time.
Professor Dr. Mick Short, Lancaster University, U.K.
http://www.research.lancs.ac.uk/…6eb0%29.html
USING Wmatrix TO ANALYSE CHARACTER CONTRASTS (AND THEMES AND FOREGROUNDED MOMENTS) IN BETRAYAL BY HAROLD PINTER
In this paper I will explore the use of a corpus tool called Wmatrix (developed at Lancaster by Dr Paul Rayson) to compare two of the three characters, Jerry and Emma in Betrayal by Harold Pinter. Wmatrix analyses semantic fields in corpora being compared. I will explain in general terms how the tool works and how I used it to compare the speech output of the two characters. In spite of the fact that Wmatrix occasionally mis-assigns lexical items in the play to the wrong semantic fields and, at first sight, the semantic categories highlighted do not seem that interesting, in fact, they are related to important thematic preoccupations in the play.
Wmatrix also seems to point to interestingly to stretches of text that one would want to analyse for other reasons, if doing more traditional stylistic analysis on the play. It also highlighted for me a pattern of 'somewhat spread' repetition, which is interesting to consider as it does not seem to be easily accounted for by the traditional foregrounding model.
I will summarise the play (which innovatively starts at the end and works backwards) during my talk, but it will be easier to follow what I have to say if conferees have read the play (or have watched the DVD film of it, which follows the dramatic text closely).
SUB-PLENARY LECTURES
There will be 15 sub-plenary lectures (in parallel sessions with three lectures going on simultaneously).
LLITE1 Saturday 30.8.2014 9.30–10.30
How Trauma Turns into Literature: Romanian-American Writers
Michaela Mudure,
Babes-Bolyai University in Cluj, Romania mmudure@lett.ubbcluj.ro
Technical University of Liberec, Czech Republic mmudure@yahoo.com
Rerouted, derouted, uprooted Romanian-American writers suffer the consequences of leaving their homeland for years after they had made this decision. The specificities of this traumatic move are given by the writers' personalities and by the historical moment when they leave Romania behind. We shall analyze comparatively the violence of the immigrant travel routes as they appear in the work of three Romanian voices in American literature: Domnica Rădulescu, Alta Ifland, and Petru Popescu. More precisely, we shall focus on Domnica Radulescu and her first novel Train to Trieste, on Petru Popescu's novel The Deputy, and on Alta Ifland's collection of short stories Elegy for a Fabulous Land. All these writers were born in Romania and were confronted with totalitarianism and its impositions upon individual identity. For many years escape was the main target of their personal identity politics. We have chosen these authors because they all write fiction and because their personal routes and literary achievements were, for ever, marked by the trauma of leaving Romania and then by the necessity to adapt to American culture.
LLITE2 Monday 1.9.2014 9.30–10.30
Visual Challenges in Contemporary Poetry: Agon and Enablement
Rui Carvalho Homem, Universidade do Porto, Portugal flup@letras.up.pt
http://sigarra.up.pt/…ral.formview?…
This lecture will ponder the ways in which verbal art rises to the challenge posed by pictorial referents by looking into instances of ekphrasis in the work of three poets: Ted Hughes, Seamus Heaney and Sinéad Morrissey. I will predicate this inquiry on an awareness of the argumentative history generated by relations between verbal and visual – a history in which agonistic tropes have characteristically alternated with representations of a peaceful, "'sisterly'" and benign rapport. My discussion of aspects of the work of Hughes, Heaney and Morrissey will aim to highlight the distinct conformations into which their poetics can bring those '"two opposed impulses, two opposed feelings'" that Murray Krieger identified long ago as ruling one's expectations of how the dynamics of language can tackle the apparent stasis of a visual object: emulation or contrariety? This tension will also be critically articulated with the different ways in which the three poets fashion their authorial personae, a dimension of their writing that appears, at key points, to become closely related to a common fascination with portraits – of themselves, or of surrogate figures. The interest taken by these practitioners of the lyric in the representational possibilities afforded by a pictorial genre, the portrait, which is itself associated with selfhood and individuality will ultimately prompt a discussion of the extent to which the intermedial design can become a source of authorial enablement.
LLITE3 Saturday 30.8.2014 15.45–16.45
Coleridge's Daemonic Imagination
Gregory M. Leadbetter, Birmingham City University, the UK gregory.leadbetter@bcu.ac.uk
http://www.bcu.ac.uk/…y-leadbetter
Drawing on the arguments presented in my book, Coleridge and the Daemonic Imagination (New York: Palgrave Macmillan, 2011), this lecture will describe a new reading of the formative drama at the heart of Coleridge's poetry and spiritual philosophy.
Beginning with a notebook entry of 1812, in which he applied the enigmatic figure of the '"Daemon'" to himself, I will discuss how Coleridge's obsession with becoming – with ®evolutionary change – blended with his existential and spiritual imperative to know, and to be transfigured by the experience of knowing (for which I employ the term gnosis).
Specifically, Coleridge's figures of daemonic becoming embody a knowledge of what he called the '"transnatural'". I will summarise how this fascination with the transnatural, in the form of '"Metaphysics, Poetry, & '"Facts of Mind'"', found its mythic voice in the mystery poems of 1797–98: '"The Rime of the Ancient Mariner'", '"Christabel'" and '"Kubla Khan'".
Moreover, I will show how this vision did not leave the later Coleridge. His lecture '"On the Prometheus of Aeschylus'" (1825) reveals how high the stakes remained: there, he conceives the divine quickening of humankind, the generation of the Nous, or Reason, as a daemonic event, a version of the Fall myth – which in turn echoes the 1812 note on the Daemon and the mythopoesis of 1797–1798, in which Coleridge imagines the becoming of a new order of intelligence, power and being.
LLITE4 Tuesday 2.9.2014 9.30–10.30
Imagining the Fascinating Foreigner: Jane Porter's Thaddeus of Warsaw (1803) and Thomas Hope's Anastasius, or Memoirs of a Greek Written at the close of the Eighteen Century (1819)
Ludmilla Kostova, University of Veliko Turnovo, Bulgaria lkostova@mbox.digsys.bg
While a lot has been written about denigrating and/or simplistic constructions of foreign parts and their denizens, literary representations that engage with foreigners in more complex ways and turn them into objects of readerly fascination have received relatively little attention. The proposed lecture attempts to make up for this omission by focusing on the central characters of two nineteenth-century novels. Both texts achieved considerable fame in the past but are mostly of academic interest today.
Jane Porter's Thaddeus of Warsaw introduced the format of the historical novel into the British context some 11 years before the publication of Scott's Waverley. Paying close attention to historical details and the specificity of the Polish context, it presents a noble young hero whose chivalric behaviour by far surpasses anything that the novel's positive English characters can do. In contrast to Porter's admirable Pole, Thomas Hope's Anstasius portrays a modern Greek whose behaviour and actions, albeit occasionally amusing, are morally ambiguous and whose chief aim appears to be personal survival in the conditions of a tottering Ottoman empire. Whereas the earlier book exalts heroism and invites sympathy with Poland's tragic fate, the later one problematizes monologic, hero-centred accounts of national destiny and individual development. Both texts challenge us to re-map the ostensibly familiar terrains of literature and history. Significantly, they do so by representing life in foreign communities and projecting images of fascinating foreigners, thus also inviting us to explore the nature of readerly fascination.
LLite5 Sunday 31.8.2014 9.30 – 10.30
Eschatology and the motif of the vanities in Shakespeare's The Merchant of Venice
Line Cottegnies, Université Sorbonne Nouvelle – Paris 3, France line.cottegnies@free.fr
http://www.univ-paris3.fr/…e-29490.kjsp
According to art historian Alain Tapié, emblems of death and vanities constituted an art of memory, a ready-made "thinking machine" for the early-modern Christian. Emblems of death and the iconographical motif of the vanities are rampant in Shakespeare's plays, most famously perhaps in the graveyard scene in Hamlet or in Richard II's meditation on the tragic fate of kings. This paper focusses on the presence of such motifs in The Merchant of Venice, where, far from being mere citations of a popular iconographical tradition, they play a structural part. In this paper, I will look at the recurring motif of the vanity in the play, and show that it constitutes a meaningful network of images, all converging to make of Antonio's mysterious melancholy and his profound death-wish the focus of our attention. Meanwhile, the casket scene will allow us to reflect on the secularization of the motif. This paper will look anew at the play as a sceptical meditation on life and death, manifesting contemporary tensions between Christian eschatology and the rise of capitalistic aspirations.
LLANG1 Tuesday 2.9.2014 9.30–10.30
Politeness in the history of English: From the "courteisie" of the "parfit gentil knight" to the politeness of the Renaissance gentleman
Andreas H. Jucker, University of Zurich, Switzerland ahjucker@es.uzh.ch
http://es-jucker.uzh.ch/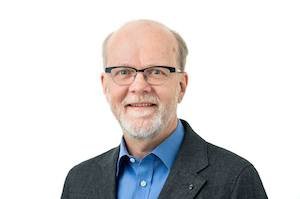 In his description of the Renaissance in England, Alexander (2007: 83) talks about the concept of courtesy and its origins.
"How does the new courtesy differ from the medieval ideal? Chaucer's '"parfit gentil Knyght'" is curteis and his Squire has the physical and social skills; the 15th-century princes Charles d'Orléans and James I of Scotland were fine poets; the young King Henry VIII was a champion athlete who composed songs and motets, and also wrote a treatise in Latin. The Renaissance gentleman was more consciously Christian, more highly educated, more skilled in speech."
In the thirteenth and fourteenth century, the English language had been heavily influenced by French, and it was at that time that a considerable number of courtesy related vocabulary, such as courteous, courteously, graciously, hende, and the distinction between ye and thou as pronouns of address for one addressee were adopted from French (see Jucker 2012 for an overview). It is plausible to assume that at the same time courtly – or courteous – behaviour was borrowed from the French nobility in England.
During the Renaissance there was another important development in the way that courteous and polite behaviour were conceptualized in England. The term "polite" with the meaning '"refined, elegant, scholarly; exhibiting good or restrained taste' is first attested in the English language in c 1500 (OED, "polite", adj. 2(a)). In 1561 Sir Thomas Hoby published his translation of Baldesar Castiglione's book Il Cortegiano, originally published in 1528. It is a courtesy book that in a series of fictional conversations describes the perfect courtier, not only in terms of his language but also in terms of behaviour, gestures and bearing. This book had a considerable impact on how the English upper classes conceptualized courteous and polite behaviour, and its influence can clearly be seen in the works by William Shakespeare and Ben Jonson (see Cunningham and Reich 2006: 330).
In this presentation, I shall contrast the Middle English concept of courtesy in Chaucer and in Sir Gawain and the Green Knight with the Renaissance concept of politeness in Shakespeare and in Jonson. It turns out that Middle English courtesy can best be described as deference politeness (Jucker 2012), while Early Modern English is characterised by a concern for positive politeness (in the sense of Brown and Levinson 1987).
References
Alexander, Michael. (2007) A History of English Literature. Houndmills, Basingstoke: Macmillan Palgrave.
Brown, Penelope, and Stephen C. Levinson.(1987) Politeness. Some Universals in Language Usage (Studies in Interactional Sociolinguistics 4). Cambridge: Cambridge University Press.
Cunningham, Lawrence S., and John J. Reich. (2006) Cultures and Values: A Survey of Humanities. Belmont, CA.: Thomson Wadsworth.
Jucker, Andreas H. (2012) Changes in politeness cultures. In: Terttu Nevalainen and Elizabeth Traugott (eds). The Oxford Handbook of the History of English. New York: Oxford University Press, 422–433.
LLANG2 Saturday 30.8.2014 9.30–10.30
Can we arrive at an agreement on the compound status?
Stanislav Kavka, Pavol Jozef Šafárik University in Košice, Slovakia ca348439@tiscali.cz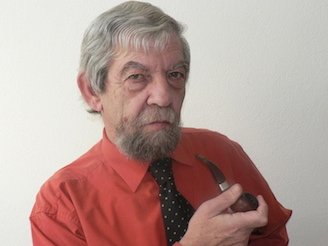 The concept of compound is usually judged in the context of individual languages. The expression referred to as a '"compound'" in one language does not have to be ranked as a compound in another language. For good measure, there is a variety of relations existing within the expressions, both on the formal and the semantic levels; and the degree of variety will certainly differ in different languages, too.
In the belief that it is possible to find a common denominator for the compound concept I basically agree with those who regard compounds as a specific category of idiomatic expressions, be it collocations or genuine idioms; compounds, like idiomatic expressions, are highly conventionalized and context-bound, representing an ingenious '"texture'" of interrelations. These must be viewed, on one axis at least, as a continuum, a gradient, and on the other axis as a movement from the literal to the figurative reading. It is here that certain characteristic features shared by idiomatic expressions and compounds should be considered, such as compositionality (the product of the continual complex interplay of variability and literalness), and indivisibility (which is not synonymous to non-compositionality!). What I also believe in is the fact of continuity, or '"fluidity'": the given expression can be limited in its variability, grows less literal, and as time passes, it becomes fixed and conventionalized in its new, figurative meaning. In other words, a junction of originally independent lexemes travels, as it were, along the scale of compositionality: the less compositional the given expression is, the more justifiable it is to call it a compound.
All these theses will be explained and illustrated by examples from Czech, German, and Spanish, with special emphasis on English prototypical '"compounds'" showing a cline: playground – stone-fish – lifeboat – red carpet – greybeard – white lie.
LLANG3 Sunday 31.8.2014 9.30 – 10.30
Lexical Mortality and Word-Formation in Eearly Middle English: The Case of ÆLFRICIAN Texts
Jan Čermák, Charles University in Prague, Czech Republic jan.cermak@ff.cuni.cz
http://uajd.ff.cuni.cz/cermak
The Middle English word has been aptly described as torn between domestic and foreign, spoken and written, traditional and innovative domains. Against the backdrop of this competition, developments in derivational morphology appear to be less progressive than those in inflexional morphology. In the typology of Early Middle English word-formation, decreasing introflection goes hand in hand with diminishing inflection. Derivation as a word-formation strategy begins to employ fewer prefixes and suffixes (this decrease is to be compensated by borrowing from French and Latin later in the Middle English and Early Modern English periods). In the domain of suffixes, those of a more agglutinating nature (i.e. heavy-built, usually syllabic formatives) tend to prevail over those of a lighter, non-syllabic and typologically inflectional character. Lexical mortality has a devastating effect on a vocabulary organized on the etymological principle (Mathesius 1939–40) or associative principle (Kastovsky 1992).
Combining lexicographic and textual analysis in the framework of language typology, the talk will trace several structural tendencies in the demise of Old English vocabulary in Early Middle English. Comparing the evidence provided by electronic The Dictionary of Old English (A‒G) and The Middle English Dictionary (under the Middle English Compendium) with material from the corpus of Early Middle English copies of (mainly) homilies by Ælfric of Eynsham (ca. 955 – ca. 1010), attention will be paid to the interaction between lexical losses (in nouns, adjectives and verbs) and the marginalisation of some of the word-formation patterns employing typological introflection (mainly ablaut and mutations) and suffixes of an inflectional, rather than agglutinating, character. The processes described will be shown to testify to small, slow, gradual but perceptible beginnings in word-formation of the well-known large-scale typological reshaping of English in the course of its history from inflection (synthesis) to isolation (analysis).
References
Dictionary of Old English. A–G on CD-Rom (2008). The Dictionary of Old English, University of Toronto.
McSparran F. (ongoing). The Middle English Compendium. Ann Arbor: University of Michigan Digital Library
Production Service. Retrieved from http://quod.lib.umich.edu/m/mec/.
Kastovsky, D. (1992), "Semantics and Vocabulary", in: Hogg, R. M. (ed.), The Cambridge History of the
English Language. Volume I: The Beginnings to 1066, Cambridge: Cambridge University Press, pp. 290–409.
LLANG4 Monday 1.9.2014 9.30–10.30
Studies of language, studies on literature: A cognitive rapprochement?
Henryk Kardela, Maria Curie-Skłodowska University in Lublin, Poland henkar@klio.umcs.lublin.pl
https://umcs.lublin.pl/pracownicy.php?…
Set in the context of the (inter)subjectivity research pursued in the general paradigm of cognitive science, the presentation undertakes to discuss the merits of cognitive theory in both linguistic and literary studies. Assuming, as cognitive linguistic and literary theorists do, that meaning and (text)interpretation emerge from a discourse or a text as a result of the speaker-hearer meaning negotiation process or through the reader's interaction with the text (and with the author), respectively, we claim that the cognitive paradigm opens new vistas in both modern linguistic theory and literary analysis and thus can successfully replace the self limiting main-stream (generative) theory of language on the one hand and the (post) structuralist reader-oriented approach to literary analysis (Barthes 1967/1986, Eco 1962/1989) on the other. In particular, it is claimed that the (inter)subjectivity-related research pursued in the cognitive paradigm (cf. Zlatev et al. 2008), when placed in the framework of Ronald Langacker's cognitive grammar (Langacker 2000, 2007, 2008) and combined with the theory of cognitive narratology (cf. Stockwell 2002, Semino and Culpeper 2002, Claassen 2012, Dancygier 2012), is capable of offering a common ground for the two strands of research to meet and thus allows for a uniform linguistic-literary textual analysis to be carried out.
References
Barthes, Roland. 1967/1986. The Rustle of Language. Trans. by Richard Howard, Berkeley: University of California Press.
Dancygier, Barbara. 2012. The Language of Stories. A Cognitive Approach. Cambridge: CUP.
Eco, Umberto. 1962/1989. The Open Work. Trans. by Anna Cancogni. Cambridge, Mass.: Harvard University Press.
Langacker, Ronald. 2000. Grammar and Conceptualization. Berlin: Mouton de Gruyter.
Langacker, Ronald. 2007. Constructing the Meaning of Personal Pronouns. In: G. Radden, K-M Koepcke, T. Berg, P. Siemund (eds.) Aspects of Meaning Construction. Amsterdam: Benjamins, 171–187.
Langacker, Ronald. 2008. Cognitive Grammar. A Basic Introduction. Oxford: Oxford University Press.
Semino, Elena, Jonathan Culpeper (eds.) 2002. Cognitive Stylistics. Language and Cognition in Text Analysis. Amsterdam: Benjamins.
Stockwell, Peter. 2002. Cognitive Poetics. An Introduction. London: Routledge.
Zlatev, Jordan, Timothy Racine, Chris Sinha, Esa Itkonen. 2008. The Shared Mind. Perspectives on Intersubjectivity. Amsterdam: John Benjamins.
LLANG5 Saturday 30.8.2014 15.45–16.45
"I tell you this, because I come from your country". The popularization of science and the linguistic construction of reliability in nineteenth-century travelogues and ego documents
Marina Dossena, Università degli Studi di Bergamo, Italy marina.dossena@unibg.it
http://www.unibg.it/…truttura.asp?…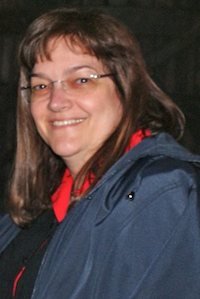 According to the statistics on the website of the Oxford English Dictionary, more lexical items were first recorded in the nineteenth century than at any other time in the history of English; they mostly reflect the scientific discoveries, technical innovations and social and political novelties that characterized those decades, and they provide a clear indication of our indebtedness to Late Modern times. In addition, the changes that occurred in nineteenth-century English vocabulary are a function of the way in which new information was made available to the reading public: magazines and circulating libraries opened windows onto new worlds which elicited curiosity and the desire to know more, thus encouraging more publications. Also, the reports published in periodicals (or indeed presented as objective background descriptions in novels) could be supplemented with the narratives found in the letters sent home by emigrants, who strove to illustrate their new reality to readers who could only imagine such unfamiliar settings. Consequently, travelogues, autobiographies, letters and diaries make up a valuable set of documents by means of which we can investigate how geographical, geological and anthropological knowledge was popularized.
In my talk I intend to discuss how description, narration and evaluation appear to interact in texts pertaining to the representation of North America. This transatlantic perspective is in line with recent methodologies in diachronic studies of English, and its interest in popular writing is consistent with current trends in historical sociolinguistics. Specific attention will be given to Scottish texts, on account of their value in the transatlantic diaspora. My investigation will therefore centre on materials currently available in the Corpus of Modern Scottish Writing, the Corpus of Nineteenth-century Scottish Correspondence, and other digital repositories, such as the Internet Library of Early Journals and the online collections of the National Library of Scotland.
LCULT1 Monday 1.9.2014 9.30–10.30
History – Drama – Film: Theory and Practice in Cutural Representations of the Medieval Past
György E. Szönyi, University of Szeged & Central European University in Budapest, Hungary geszonyi@freemail.hu
http://history.ceu.hu/…yorgy_szonyi
A common observation is that while our students tend to read less and less, courses on visual representations, especially "film studies", have greatly increased in popularity. This student interest is only one symptom related to the rise of visual cultural studies: we cannot fail to notice that nowadays the scholarly examination of films as cultural representations has caught up with the practice of literary analyses. This relatively young but increasingly vigorous subdiscipline has reshaped the proportions within English Studies as well, and by today it has its own scholarly output with numberless monographs and significant periodicals. Within the subdiscipline of film studies, an equally fast-growing field is the study of historical films. But even within this sub-discipline there have emerged topical sub-sub-areas, such as the study of filmic representations of the Middle Ages. Examples are John Aberth's A Knight at the Movies (2003), or Andrew Elliott's Remaking the Middle Ages (2011).
In my lecture I will briefly survey the historiography of the study of historical films, while in the second part I will offer a few case studies in which films used various source materials, such as dramas of high literary quality (Shakespeare in Laurence Olivier's and Kenneth Branagh's Henry V); little known medieval romances (Mel Gibson's Braveheart); or occasion-prompted contemporary scripts (such as Ridley Scott's 1492, The Conquest of Paradise, on the 500th anniversary of Colombus's discovery). My case studies prove that there is no historical film which does not have a political or ideological agenda, thus speaking directly to the present. As Robert Burgoyne formulated it in 2008: "The historical film provides an emotional connection to history in a way that foregrounds the power and importance of the past in shaping the cultural imagery in the present" (The Hollywood Historical Film, 48).
LCULT2 CANCELLED
"Faust and the Credit Crunch"
Patrick Lonergan, National University of Ireland in Galway, Ireland patrick.lonergan@nuigalway.ie
http://www.nuigalway.ie/…onergan.html
In this lecture, I will embark on an exploration of how the global credit crunch has been met by a significant increase in new work that draws on the Faust motif, often directly taken from Johann Wolfgang von Goethe, Christopher Marlowe, Thomas Mann, etc. I will include new drama by writers such as the Irish playwrights Conor McPherson and Marina Carr, as well as the American dramatist David Mamet and the Scottish dramatist David Greig. I will also examine new American television series such as Mad Men, Damages and Breaking Bad. I see those works as direct responses to our changing understanding of issues such as indebtedness and austerity.
LCULT2 NEW LECTURE! Tuesday 2.9.2014 9.30–10.30
Boundaries and the crisis: cultural imaginaries, narratives, and political discourses
Lidia De Michelis, University of Milan, Italy lidia.demichelis@unimi.it
http://www.unimi.it/…rsonaXML.jsp?…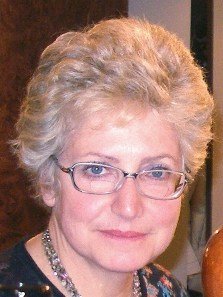 While the discourse of neo-liberalism has been a privileged area of investigation in critical discourse analysis (Fairclough 2012) and cultural studies (Hall) since the 1980s, the dominant cultural scripts and idioms produced, and disseminated, by mediated political representations in order to define the current financial crisis have emerged over the last years as a growing concern in the interconnected domains of political communication, critical theory, critical sociology, media and discourse studies. Recently, these issues have gained increasing circulation and urgency also among scholars in the fields of literary and critical cultural studies (Grossberg), as is demonstrated by the number of conferences, books, and special issues devoted to these themes.
Disaster, meltdown, breakdown, collapse, are only a few of the "catastrophic" terms deployed by political and media discourse in order to describe the current crisis. Another equally popular cluster highlights notions of illness and viral contagion (sometimes occurring in its heightened version as "invasion"). Interestingly, most of these words entail an erosion, loss, contamination, or malign violation, of widely accepted and naturalized boundaries and cultural models. This same ability to bring about a "tearing down" of boundaries is, according to Beck (2006: 2), a defining characteristic of the global risk paradigm. Spectrality, and the haunting of the neo-liberal way of life by past economic choices form another salient metaphorical area. Conversely, according to critical media and discourse theory, hegemonic boundary-drawing is an essential constituent of political discourse, even though this process is usually obfuscated through ideological practices. Lastly, as is well known, "judging", but also "separating" (which again evokes the erecting of boundaries), are among the etymological meanings of "crisis", and "criticism", to the point that Paul de Man (1983 [1967]) could maintain that "all true criticism occurs in the mode of crisis" (see Crosthwaite 2011: 1–11).
Drawing on a range of interconnected approaches, but privileging a cultural studies perspective, my presentation investigates cultural imaginaries, and literary and political narratives of the crisis, according to the interfacing conceptual categories of "boundary-drawing" (and the "trespassing of boundaries"), and representation. Building on recent scholarship, such as, among others, Hayward (2012), Mahony and Clarke (2012), Grossberg (2010), and Crosthwaite (2011), I shall rely on novels, essays, films and discourses in an attempt to make meaning of what Stuart Hall and Doreen Massey (2013: 55) have recently defined a "conjuncture", "a period when different social, political, economic and ideological contradictions that are at work in society and have given it a specific and distinctive shape come together, producing a crisis of some kind". In this essay, their notion of conjuncture is directly indexed to an analysis of Thatcher and Thatcherism. In the light of Margaret Thatcher recent passing away, and the enduring divisive impact of her image, this link opens a window onto the issue of iconicity and the crisis, and allows for a diachronic perspective on the crisis of neo-liberalism.
References:
Beck, Ulrich, Cosmopolitan Vision, Cambridge, Polity Press, 2006.
Crosthwaite, Paul, ed., Criticism, Crisis, and Contemporary Narrative, London, Routledge, 2011.
Fairclough, Isabela, and Norman Fairclough. 2012. Political Discourse Analysis: A method for advanced students. London and New York: Routledge.
Grossberg, Lawrence, "Modernity and Commensuration", Cultural Studies, 24, 3 (2010): 295–332.
Grossberg, Lawrence, Cultural Studies in the Future Tense, Durham, NC, Duke University Press.
Hall, Stuart, and Doreen Massey, "Interpreting the Crisis", in Rutherford, Jonathan, and Sally
Mahony, Nick, and John Clarke, "Public Crises, Public Futures", Cultural Studies, iFirst article (2012), pp. 1–22.
Marsh, Nicky, Money, Speculation, and Finance in Contemporary British Fiction, London, Continuum, 2007.
Woodmansee, Martha, and Mark Osteen, eds, The New Economic Criticism: Studies at the Intersection of Literature and Economics, London, Routledge, 1999.
LCULT3 Sunday 31.8.2014 9.30 – 10.30
Regarding Animals Regarding Humans
Ruth Parkin-Gounelas, Aristotle University of Thessaloniki, Greece gounelas@lit.auth.gr
http://www.enl.auth.gr/…f/parkin.htm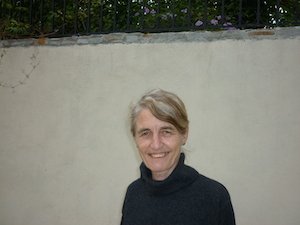 In one of his late works, Jacques Derrida recreates a haunting scene in which he stands naked in the bathroom before the gaze of a cat, experiencing both its 'intolerable proximity' and the 'absolute alterity' of its point of view. Animals, he notes, have long been made a 'theorem', something seen but not seeing. To be confronted by their gaze, in your nakedness, is to face up to 'the abyssal limits of the human', to require 'another thinking of life'.
With Derrida's late seminars as a point of departure, the lecture will explore ways in gouwhich contemporary disciplines from ethology and cognitive neuroscience to biopolitics and the philosophy of mind are unsettling definitions of human subjectivity circumscribed since the Enlightenment to exclude other animals. The effect of much of this work has been the increasing erosion of the distinctions humans have awarded themselves in relation to other animals (speech, reason, the capacity to lie, to constitute oneself as an 'I', to have a relation to death 'as such', etc.). The need for new definitions of the human, it will be suggested, is shifting attention away from subjective individualisation towards modes of being which incorporate multiplicity, expropriation and the involuntary: Deleuze and Guattari's 'collective assemblages', Agamben's 'whatever singularity', Derrida's 'automaticity'. Examples from literature (Kafka, Coetzee, Dickinson, Hopkins, Hughes) will be given to illustrate the tensions and dislocations produced by the encroachment of the animal, with its uncanny proximity and alterity, upon the human domain.
LCult4 Saturday 30.8.2014 15.45–16.45
(Child)reign of Terror: Dangerous Child Régimes
Björn Sundmark, Malmö University, Sweden bjorn.sundmark@mah.se
http://forskning.mah.se/en/id/lubjsu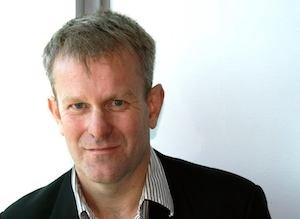 One of the cornerstones of the social order is the asymmetrical power relationship between the adult and the child. The details may differ, but essentially power and responsibility should be the prerogative of the adult, whereas dependence and obedience should necessarily be the lot of the child. If these fundamentals are altered or challenged, the social order itself is threatened. This is no doubt why, for instance, Neil Postman's The Disappearance of Childhood (1982) strikes such an alarmist note: if childhood as we know it is disappearing, is not our entire society on the brink of collapse? Conversely, Robert Bly's The Sibling Society (1996) identifies the societal problems facing western societies with a lack of mature adults, where no one wants to be responsible, and life should be an extended teen ride. In other words, if either the adult category or the child category is taken out of the equation, the social order collapses. Furthermore, on another level, such a breakdown leads – at least temporarily – to the concept of child and/or adult being cast out of the symbolic order; that is, they become Kristeva's abject, or the uncanny (in Freud's parlance), or taboo (to use a Lévi-Straussian term). In fictional responses to such anxieties we find stories about changelings, or children who are possessed, or monstrous in other ways. What concerns me in this paper, however, is not abject individuals, but fictions where the social contract between the child and the adult has been irreparably broken, and where children have established their own regimes. Specifically, I am going to analyze Stephen King's short story "Children of the Corn" (1977), and "The Enemy" (2009-), a series of zombie apocalypse-books by Charlie Higson.
LCULT5 Saturday 30.8.2014 9.30–10.30
A Life Sentence: Twenty Years of Convict Studies Research and the Female Factory Research Group, Tasmania
Susan Ballyn, University of Barcelona, Spain susan.ballyn@gmail.com
In 1990 I was library fossicking and found references to free Spanish settlers in Australia in the early nineteenth century. It was then I began to think about the possibility that there might have been Spanish convicts as well. I was unaware I was about to discover an academic goldmine which has guided my research since then. Trawling through convict documents led me to look at Spanish, Portuguese, and Hispanic convicts together with Sephardic Jews and their descendents. Soon, I discovered the only extant biography of a Spanish convict: Adelaide de la Thoreza. This began a new research track which has lasted until today.
My research has become part of that done by the Female Convicts Research Centre (FCRC), Tasmania, in which interdisciplinary researchers and family genealogists have come together enabling the international profiling of convict studies, in particular female convicts transported to Tasmania. The FCRC stands at the cutting edge of its field and exemplifies how interdisciplinarity of expertise is absolutely necessary in researching any material in this area. The extraordinary database set up by the FCRC and the wealth of documentation it contains is now part of UNESCO´s Memory of the World Register; Australia, together with the recognition of UNESCO World Heritage awarded to the Convict sites extant in Tasmania today.
The FCRC has enabled the reconstruction of convicts' biographies from the time of conviction, or before, to their deaths and their descendents, where possible. In this presentation I would like to trace a map of where
I am now with my research and how on my journey of enquiry with the FCRC surprising elements have come to light. I would like to highlight how working with this group of researchers has led me to a point of committed interdisciplinarity which is the hallmark of Cultural Studies
SPECIAL EVENTS
Reading by James Robertson, a Scottish writer who grew up in Bridge of Allan, Stirlingshire. He is the author of several short story and poetry collections, and has published five novels: The Fanatic, Joseph Knight, The Testament of Gideon Mack, And the Land Lay Still, and The Professor of Truth. The Testament of Gideon Mack was long-listed for the 2006 Man Booker Prize. Robertson also runs an independent publishing company called Kettillonia, and is a co-founder (with Matthew Fitt and Susan Rennie) and general editor of the Scots language imprint Itchy Coo, which produces books in Scots for children and young people.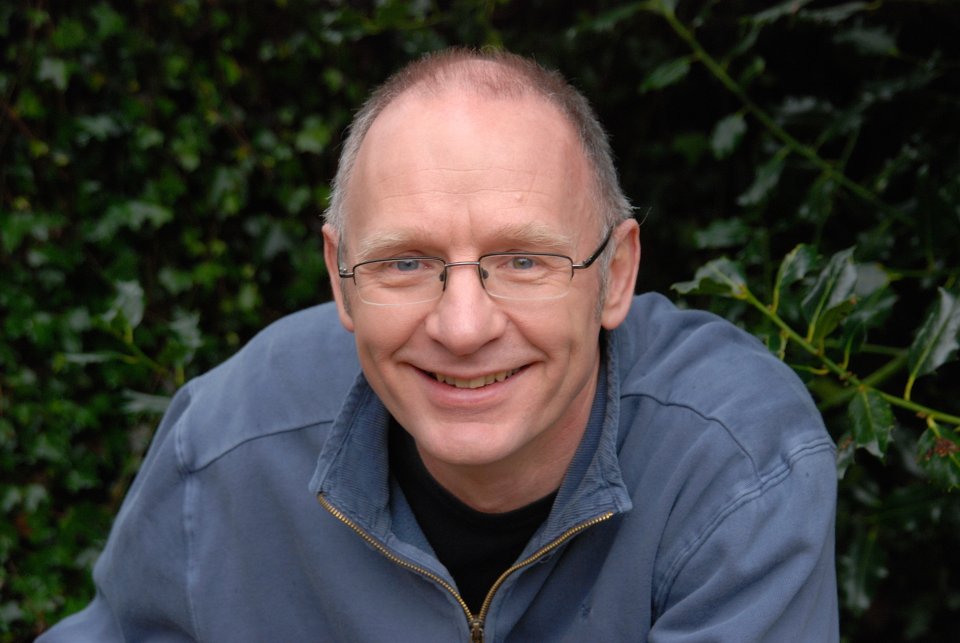 Special Round Table Saturday 30.8.2014 11.00–13.00 Room A1
INCREASING THE VISIBILITY OF GENDER STUDIES,EUROPEANIZING GENDER STUDIES
Convenors:
Renate Haas, University of Kiel, Germany, haas@anglistik.uni-kiel.de
Işil Baş, Boğaziçi University Istanbul, Turkey, isil@boun.edu.tr
Maria Socorro Suárez, Universidad de Oviedo, lafuente@uniovi.es
Anglicist Gender Studies has seen a remarkable development, in some places a simply brilliant one. Its visibility, nevertheless, leaves much to be desired, and the economic crisis has often entailed serious cuts. The panel, therefore, focuses on the question of how Gender Studies can be better established by energizing European connections, including connections within the context of ESSE. The question can and will be addressed on 1) an organizational-practical level and 2) on a theoretical level.
In order to start the discussion on the first level, several possibilities will be presented briefly (e.g. a Women's Caucus, a Gender Studies Corner on the ESSE homepage, an ESSE Gender Studies Award). A concise survey of what has already proved particularly effective in national or local contexts may also be useful.
On the second level, a short presentation will be made with its starting points in the fact that equality opportunities and gender diversity have become a crucial European project (and not only in politics), and the idea that the discipline dealing with the continent's main lingua franca can play a more important role in these processes than it has played so far.
The aim is for a lively discussion with tangible results.
Proquest Special Event Sunday 31.8.2014 17.45–18.45
Literature Online and Other Resources for Literary Research from ProQuest
Speaker:
John Pegum, Senior Product Manager, Humanities at ProQuest
ROUND TABLES
The list of speakers for each round table has already been proposed by its convenor(s). In round tables the convenor chairs the session and the participants discuss scholarly or professional topics of wide general interest. Round table topics are therefore geared to encouraging audience participation.
RT1 Monday 1.9.2014 11.00–13.00 Room A8
BIOGRAPHY THEORY
Convenor:
Joanny Moulin, Aix-Marseille University, France, joanny.moulin@univ-amu.fr
Participants:
J. W. (Hans) Renders, University of Groningen, The Netherlands, j.w.renders@rug.nl
Christian Klein, University of Wuppertal, Germany, chklein@uni-wuppertal.de
Biography, considered as both an object and a method of research, has gradually gathered impetus, so much so that it is now emerging on the international academic scene as a field of study in its own right. This results from a convergence of historical factors, among which the development of life writing, but also a growing interest for the biographic in history and the social sciences. The current debate revolves around the elaboration of a theory of biography, which is bound to distinguish its aims and methods from those of collateral disciplines, although it can only proceed from transdisciplinary dialogues.
RT2 Tuesday 2.9.2014 11.00–13.00 Room S1
CULTURAL STUDIES APPROACHES IN THE STUDY OF EAST EUROPEAN CINEMA
Convenor: Andrea Virgnás, Sapientia University, Romania, avirginas@gmail.com
Participants:
György Kalmár, University of Debrecen, Hungary, gykalmar@yahoo.com
Zsolt Győri, University of Debrecen, Hungary, gyorizs@yahoo.co.uk
Our round table discussion introduces the interdisciplinary research methods of cultural studies into the field of Eastern European screen studies, with special attention to post-communist cinema and television. Our comparative explorations are partly based on the study of significant materials from British, American, Hungarian, Romanian, Czech, and Serbian audiovisual archives. We strongly believe that the transnational tendencies of Central and Eastern European screen cultures, as discussed by Dina Iordanova and others in connection with finance, production, distribution, reception, etc. may be fruitfully introduced – as the monographs and edited volumes of Anikó Imre demonstrate – in the study of such contemporary social phenomena: the screen is studied for the representation of minorities, genders, subcultures and communities carrying the traumatic wounds of the past.
RT3 Sunday 31.8.2014 11.00–13.00 Room S4
LITERARY JOURNALISM: EXPLAINING SECOND CITIES TO THEMSELVES
Convenors:
John S. Bak, Université de Lorraine, France, john.bak@univ-nancy2.fr
David Abrahamson, Northwestern University, U.S.A, d-abrahamson@northwestern.edu
Participants:
Norman Sims, University of Massachusetts, U.S.A., sims@honors.umass.edu
Lisa A. Phillips, State University of New York, U.S.A., Brazil, phillipl@newpaltz.edu
Mateus Yuri Passos, Universida de Estadual de Campinas, mateus.passos@gmail.com
Pablo Calvi, Ithaca College, U.S.A., pcalvi@ithaca.edu
Mateusz Zimnoch, Jagiellonian University, Poland, mateusz.zimnoch@gmail.com
The idea of the nation-state remains compelling, and with it the role of the capital city as the centre of a nation's political, economic, intellectual, sociocultural and religious life. Yet the concept of the second city – Chicago to New York, Manchester to London, even Košice to Bratislava – has been both a robust theme and a critical setting in much literary journalism, a genre of nonfiction prose that lies at conceptual intersection of literature and journalism. The proposed session will focus on the ways in which literary journalism has encountered and employed "second city-dom," with particular emphasis on how various representations have explicated notions of identity, ideology and values, as well as the resulting tension between belonging-ness and other-ness.
RT4 Sunday 31.8.2014 16.00–17.30 Room S4
DEBATES ON WORLD LITERATURE
Convenor:
Jon Cook, University of East Anglia, U.K., J.Cook@uea.ac.uk
Participants:
Herbert Grabes, University of Giessen, Germany, herbert.grabes@anglistik.uni-giessen.de
Jan Borm, University of Versailles, France, jan.borm@uvsq.fr
Regina Rudaityte, University of Vilnius, Lithuania, reginarudaityte@hotmail.com
In this session we will map some of the recent critical interventions in the renewed debate about the nineteenth century idea of a world literature. These will include the analysis of world literature as a distinctive mode of literary circulation and its characterisation as a highly competitive race for "literary legitimacy", one that now threatens the very idea of a distinct realm of literary value. We will take up the question of the role of translation in the development of world literature and address the possibility that the trend towards literary globalisation, far from abolishing an engagement with national and local literatures is, in fact, renewing interest in them.
RT5 Saturday 30.8.2014 11.00–13.00 Room S5
THE TRACE OF THE VICTORIANS IN CONTEMPORARY CULTURE: A REASSESSMENT
Convenor:
Rosario Arias Doblas, University of Málaga, Spain, rarias@uma.es
Participants:
Rosario Arias, University of Málaga, Spain, rarias@uma.es
Maria Grazia Nicolosi, University of Catania, Italy, mariagrazia.nicolosi@tin.it
Roberta Gefter Wondrich, University of Trieste, Italy, gefter@units.it
Sonia Villegas López, University of Huelva, Spain, villegas@dfing.uhu.es
Monika Pietrzak-Franger, TU Braunschweig, Germany, m.pietrzak-franger@tu-braunschweig.de
Over the last few years the "trace" has acquired an important place in many critical discourses. Exceeding the philosophical domain, whence it emerged as a fascinating notion for Emmanuel Levinas, Jacques Derrida and Paul Ricoeur, this concept has proved to be compelling in Neo-Victorian Studies. In Seminar 12 at the Istanbul ESSE Conference, the "trace" yielded suggestive insights into the fluid relationship between the Victorians and us, inflecting in original ways critical categories like spectrality and adaptation. This round table will test out the relevance of the "trace" for the analysis of contemporary literary and cultural interventions into the Victorian age.
RT6 Saturday 30.8.2014 11.00–13.00 Room S1
THE SHORT STORY IN EUROPE
Convenors:
Ailsa Cox, Edge Hill University, UK, ailsa.cox@edgehill.ac.uk
Michelle Ryan-Sautour, University of Angers, France, michelle.ryan-sautour@univ-angers.fr
Participants:
Michael Basseler, University of Giessen, Germany, Michael.Basseler@anglistik.uni-giessen.de
Jim Hinks, European Short Story Network, www.theshortstory.eu, and Edge Hill University, UK, jim.hinks@commapress.co.uk
Alison MacLeod, University of Chichester UK, and Thresholds short story forum, http://blogs.chi.ac.uk/shortstoryforum
European scholarship has promoted research into the short story form, both during a time of relative neglect and during its much-vaunted revival in the 21st century – especially through journals such as the Journal of the Short Story in English (founded 1983); through regular conferences dedicated to the form; and through many other European-based initiatives, including festivals, publications and online resources. This panel consists of individuals who have been at the forefront of these initiatives, and launches ENSFR, the European Network for Short Fiction Research. We'll be discussing the specific contribution of European-based research, both theoretical and practice-based, to short fiction research in the 21st century.
POSTER SESSIONS
Another feature of the 12th ESSE conference will be the poster sessions. A poster is a short, concise, highly accessible description of new, unpublished research mounted on a poster stand for public viewing. Posters typically include not only text (approx. 2,000 words) but also graphs, photographs, and charts. Posters should be no bigger than 120 cm in width x 150 cm in height.
Posters may address topics specifically connected to the conference seminars, round tables, and lectures, or any other specialized topic in the field of English Studies. The aim of a poster session is to provide conference participants, and poster presenters in particular, with additional opportunities for discussion and feedback about research in an informal setting. Therefore, presenters are strongly encouraged to be present during the poster session and to have handouts available for distribution.
DOCTORAL SESSIONS
Young scholars who are writing their PhD theses in English Studies and are at least in the second year of their studies at the time of ESSE Conference in Košice will make a brief presentation of their work-in-progress at one of three doctoral sessions in the fields of English Language, Literatures in English, and Cultural and Area Studies. These presentations should deal with the issues addressed or hypotheses tested in the thesis, the results so far obtained, and above all the methodology applied, with the purpose of gaining feedback from peers and established scholars in the field. Each presentation will last 10 minutes, followed by 15 minutes' discussion.
Each workshop will be coordinated by two international experts, who will act as co-convenors and will make a selection from the applications received. Note that PhD students attending the doctoral sessions may attend the full ESSE Conference at a reduced fee. Presentation at a doctoral session is not incompatible with participating in and presenting at other seminars at the Conference.
The overall organiser of the doctoral sessions: Professor J. Lachlan Mackenzie
(VU University Amsterdam, NL and ILTEC, PT), lachlan_mackenzie@hotmail.com
Co-convenors for the different fields of research:
English Language:
Prof. Mark Aronoff, Stony Brook University, NY, USA, mark.aronoff@stonybrook.edu
Prof. Cornelia Ilie, Zayed University, United Arab Emirates, cornelia.ilie@gmail.com
Literatures in English:
Prof. Martin Procházka (Czech Republic) martin.prochazka@ff.cuni.cz
Prof. Dominic Rainsford (Denmark) dominic.rainsford@hum.au.dk
Cultural and Area Studies:
Prof. John Corbett (Scotland UK/Macao PRC) JCorbett@umac.mo
Prof. Michael Parsons (France) michael.parsons@univ-pau.fr
SEMINARS
Literature
SLITE1 Tuesday 2.9.2014 11.00–13.00 Room A4
THE CHANGING REPRESENTATION OF THE JEWISH FAMILY IN JEWISH AMERICAN LITERATURE
Convenors:
Stanislav Kolář, University of Ostrava, Czech Republic, stanislav.kolar@osu.cz
Zuzana Buráková, Pavol Jozef Šafárik University in Košice, Slovakia, zuzana.burakova@upjs.sk
Due to the profound sociocultural changes that have affected the lives of American Jews, the traditional Jewish family has undergone a rapid transition which has resulted in the need for a more contemporary conceptualization of the Jewish family and consequently of Jewish identity within the context of American literature. We encourage proposals that address our topic from the perspective of class, gender, ethnicity, religion, memory, trauma and Holocaust studies.
Participants
Luisa Juárez Hervás, Universidad de Alcalá, Spain, luisa.juarez@uah.es
Transnational politics of memory. Eva Hoffman's portrayal of family and self in second-generation Holocaust writing
Far from traditional autobiographical texts that emphasized linearity and progression towards the formation of a stable, definable self, second generation Holocaust life writing exemplified in the works of Anne Karpf, Lisa Appignanesi or Eva Hoffman, follows the trend established by post-colonial, feminist and working class autobiographies of the eighties to produce experimental narratives of the self. As daughters of Holocaust survivors, these writers set out to explore the aesthetic and political implications of post-memory by producing narratives that plait on the one hand, personal, intimate details of a fragmented, scarred self and a peculiar family life, and on the other, socio-historical facts in a seemingly Rushdiean fashion. Although mostly studied as examples of second generation Holocaust memoir, because of their emphasis on trauma and memory, these texts can also be seen as an expression of transnational and diasporic literature of nomadic subjects. This paper will explore autobiographical writing by Eva Hoffman, with a comparison to the other two authors, focusing in the peculiar representations of family life and of individual identity as one of the most relevant manifestations of postmemory and post-Holocaust identity.
Alistair Heys, Paisii Hilendarski University of Plovdiv, Bulgaria, alistair_heys@hotmail.com
The Nameless Crime: Bloom, Judaism, and the Bronx
My proposal begins with Norma Rosen's hypothesis that although American Jews were safe from the Holocaust, 'since then, in imagination, we are seldom anywhere else'. This assertion is easily demonstrable with recourse to Harold Bloom's thoughts upon Ezekiel: 'The shadow of the Holocaust still and always falls upon Judaism. How could it not?' While talking of his father and mother, Bloom relates that his extended family were murdered in the Holocaust, 'He had been born in Odessa; she, in Ashtetol, long since wiped out by the Nazis, near Brest-Litovsk.' Therefore, my purpose is to link Bloom's criticisms of what he refers to as normative Judaism to his childhood upbringing in the Bronx during the 1930s and 1940s. It was precisely this period when his cloth-worker father experienced periods of unemployment and Bloom first began to quarrel with his rabbinical teachers.
Eniko Maior, Partium Christian University, Oradea, Romania, enikomaior@yahoo.com
The Representation of Jewish Family in Gary Shteyngart's Super Sad True Love Story
In my paper I want to deal with Gary Shteyngart's third novel Super Sad True Love Story (2010) and the representation of the Jewish family. On the Old continent the Jews used to live in closely knit communities led by the rabbi. As Jews were no longer living in closely knit communities, the question of individualism appeared. Jewish families and communities were no longer the most important things in the life of the individual. The individual came to the foreground and left no place for other things. The Jews experienced total freedom in speech, in life and most importantly in thoughts. The bounds of their past life were forgotten and a new set of values had to be elaborated in order to fulfill the needs of this assimilated, acculturated and Americanized individual.
The protagonist of the novel under discussion tries to find his identity, which is in continuous change. He tries to figure out in a world filled with cultural, racial and urban conflicts his own identity from the perspective of a former immigrant and as a member of a minority group. The task of my paper is to show whether he succeeds or not.
Joshua Parker, Paris Lodron University of Salzburg, Austria, parkerjm71@gmail.com
Exploring Postmemory Abroad
It has been over 35 years since Michael Krasney announced the death of "the American-Jewish novel." Not surprisingly, its resurgence in recent years often focuses on protagonists' exploration of the past, and more specifically on their families' pasts. Nathan Englander's work, for example, often focuses on multi-generational continuity and conflict. But as important as examining familial pasts is their examination from the outside -from a certain distance – and that distance, this paper argues, is often afforded by narratives taking protagonists away from the space of America to examine their families' histories and postmemories abroad.
Contemporary Berlin, as portrayed in the recent work of Jewish-American authors like J.S. Marcus, Chloe Aridjis and Peter Wortsman, is a space where conflicts between personal and cultural narratives run deep. This paper draws on recent studies suggesting that for traumatic memories to be "reconsolidated," they must be consciously recalled and "edited" by association with the ambience of a new environment, then "re-stored." It examines to what degree authors explore tie narratives set in Berlin to already-established cultural and familial narratives of the city, and to what extent they allow themselves the freedom to create new narratives models – models allowing them to locate themselves in relation to family histories of families whose own connections to the Holocaust are increasingly distanced.
Michaela Weiss, Slezská Univerzita v Opavě, Czech Republic, michaela.nahlikova@gmail.com
Surviving without the Man: Incomplete Families in Irena Klepfisz's Poetry
The paper focuses on the image of incomplete and ghost families in the poetry of a contemporary American Jewish poet Irena Klepfisz. Born in Poland during the Warsaw Ghetto Uprising, Klepfisz lost her father and, surviving in a Catholic nursery, emigrated with her mother to the United States. In her autobiographical poems she uses the Holocaust as a point of separation and fragmentation of Jewish identity and at the same time, of family and its values. She tries to overcome the loss by recovering and rewriting her memories of her father who is perceived as continually present between the mother and daughter. In her later poems Klepfisz contemplates the structure of American Jewish families from a feminist perspective and centralizes the female experience, giving voice to women who either did not marry or lost their husbands. She challenges their outcast position within the traditional extended Jewish families and survivor communities, where they have been either silenced or merely suffered, as marriage and reproduction are seen as a social duty and the only hope and promise of a new life after the Holocaust.
Zuzana Buráková, Pavol Jozef Šafárik University, Košice, Slovakia, zuzana.burakova@upjs.sk
(Un)usual Families in Short Stories by Isaac Bashevis Singer
The traditional view on the decline and the destruction of the traditional Jewish family is usually perceived as a consequence of the external historical changes brought by the destruction of the Old World through the twentieth century. Our paper argues against this view as we explore the selected short stories by Isaac Bashevis Singer in which the extended family history is a dominant theme. We contend that the transition of the traditional Jewish family does not necessarily stem from the external forces and the emergence of modernity but comes from the family inside, as demonstrated in Singer's Yiddish short fiction set in the enclosed shtetl world. The themes considered as means of a gradual disintegration of Jewish family values such as adultery, divorce, childlessness, homosexuality, transvestitism, atheism and sexuality are in Singer's stories portrayed not as an impact of societal and historical transition but that of an individual. The aim of the paper is to contemplate the transitory nature of what is considered a 'traditional (Jewish) family'.
Stanislav Kolář, University of Ostrava, Czech republic, Stanislav.Kolar@osu.cz
The Holocaust and Fractured Families
This paper compares the representation of the Jewish family in traditional realistic narratives about the Holocaust with postmemorial narratives of the descendants of Holocaust survivors. Both narrative modes mirror the disruptive effects of the Holocaust on the family and its structure; however, as the paper suggests, the disintegration of the Jewish family in the works of the Second Generation is conveyed in an alternative way, radically different from more traditional Holocaust fiction. Second Generation writers use innovative narrative forms, for example elements of magic realism, Yiddish folk-tales etc. Imaginative investment, to use Marianne Hirsch's term, enables these writers to avoid the ethically unacceptable appropriation of the original trauma of Holocaust survivors in their reconstruction of their family history. While a traditional portrait of a family fractured by the Holocaust will be examined in Susan Fromberg Shaeffer's fictional memoirs Anya, alternative approaches to this topic will be represented by several authors of the Post-Holocaust Generation. The main purpose of this paper is to explore the Post-Holocaust Generation's search for adequate responses to the historical trauma, with the emphasis on the depiction of family life, manifested in the highly complicated relationship between Holocaust survivors and their children.
SLITE2 Saturday 30.8.2014 (A)11.00–13.00 Room A4, (B)17.15–18.45 Room A4
REVISITING THE NATION IN POST-WAR MODERNIST LITERATURE
Convenors:
Armela Panajoti, University of Vlora "Ismail Qemali", Albania, armelap@assenglish.org
Adrian Radu, Babes-Bolyai University, Romania, adrian.radu@ubbcluj.ro
The aim of this seminar is to explore the concept of nation, subsequent and adjacent constructions of identity and, more generally, whatever is related from this perspective to the modernist literature of the post-war period. Therefore, the seminar sets out to look into national identity as a form of collective identity and give an answer to the question about what we make of the group, of the whole, of the collective, of the nation in a period when the individual less than the group is more and more placed in the centre of attention.
Participants:
Katharina Walter, University of Innsbruck, Austria, katharina.walter@uibk.ac.at
'Alte Gummy Granny mit Zuckerhuthut': The Nation in James Joyce's Ulysses and Its German Translations
This paper examines representations and transgressions of the boundaries of national identity in James Joyce's Ulysses (1922) and the German translations of the novel by Georg Goyert (1927) and Hans Wollschläger (1975). Such a reading of Ulysses alongside its translations sheds new light on Joyce's portrayal of, and often sardonic comments on, Irish society and its national emblems. Challenging conceptions of literary translations as inferior renderings or extensions of an original work, this paper especially draws attention to the ways in which Goyert's and Wollschläger's German versions of Ulysses inform an understanding of the Joycean text. Rather than evaluating the German renderings in terms of their degrees of accuracy, originality or transparency in representing Joyce's modernist novel, this paper focuses on the dialogic intersections produced by Joyce's, Goyert's and Wollschläger's respective constructions of national identities and symbols in Ulysses. Taking account of socio-historical developments in conceptions of the nation in 20th-century Europe, the analysis shows that translation is an important factor in negotiating as well as overcoming the confines associated with national affiliation.
Benjamin Keatinge, South East European University, Macedonia, benkeatinge@gmail.com, b.keatinge@seeu.edu.mk
Mentoring Irish Modernism: T.S. Eliot, Faber and Faber and Irish Poetry after the Revival
T.S. Eliot's connection to Irish Modernist writing is most associated with his 1923 defence of James Joyce in 'Ulysses, Order and Myth' together with his 1940 memorial lecture on W.B. Yeats. However, Eliot's influence on the course of pre- and post-war Irish literature is more extensive than this. Not only was Eliot a personal friend of Irish modernist poet Thomas MacGreevy (whose nationalist leanings were criticized by Samuel Beckett), Eliot was directly responsible for the publication of major post-Revival poets in his role as editor at Faber and Faber. Louis MacNeice came to prominence thanks to Eliot; Richard Murphy's collection Sailing to an Island (1963) was accepted by Eliot. Other Irish writers received support and review commissions from TSE and Eliot's influence on Irish modernist poets like MacGreevy, Brian Coffey and early Beckett has been widely remarked.
This paper will reconsider how T.S. Eliot was a sometimes unseen sponsor of Irish poets seeking to develop a post-Yeatsian aesthetic. Eliot represents one of the few common contact points between widely separated authors. As Irish post-war poetry develops, Eliot (as person and poet) helped individual writers escape the constraints of monolithic cultural nationalism at home by way of contact with international modernism.
Armela Panajoti, University of Vlora, Albania, armelap@assenglish.org
"Consider this and in our time": A nation from above
Written in the inter-war period, Auden's poem "Consider" airs a snapshot of England from above featuring a post-war wasteland. In order to obtain a more comprehensive view of the nation, Auden rises above the physical and psychological boundaries contained on land and urges for a panoptic or aerial vision in the opening lines of the poem and invites the reader to reflect upon it.
This paper aims at analyzing the poem in order to demonstrate how it reveals post-war symptoms of a nation. The use of defining articles, although intended to accommodate the reader within a familiar setting, creates a rather ambiguous effect when coupled with medical language, military references, and psychological terms which do not simply hint at post-war effects, but, above all, leads the reader to a choice of future identity questioned more precisely in the last lines of the poem.
Ozan Selcik, Recep Tayyip Erdoğan University, Turkey, ozan.selcik@erdogan.edu.tr
Beats on the stage: 'Beat Generation in Post-War Literary Context'
Post-war era significantly changed the concept of the US nation and identity. The Great Depression in the 1930s had seriously affected the American economy; however, the Second World War resuscitated the US economy. The USA became the world power; and in the postwar era, Americans enjoyed unprecedented personal prosperity and individual freedom. The widespread theories of Freudian psychology highlighted the individual's origin of mind and the seriousness of the importance of the individual, which was also the social impact of World War Two.
Secondly, gender issues were a significant social matter for American Society in post-war America. Russell defined the era by saying that "America had irrevocably changed." Contributing much to a changing concept of identity, the Beat Generation is one of the most significant results of the history of literature and literary movements during the post-war era.
Thirdly, against the traditional methods of composition, together with the publication of Kerouac's On the Road in 1957, this period "signaled the emergence of a new movement in American Literature" (Hopkins, 279). The members of Beat Generation Literary Movement made an all-out effort to open up new possibilities of modern composition. The phrase "to be on your own" is at the heart of our understanding of the aspect of the language that the Beat Generation Literary Movement had formed.
Strinyuk Svetlana, National Research University Higher School of Economics, Russia, strinuk@mail.ru, sstrinyuk@hse.ru
Modernist Tradition in Reading in the Dark by Seamus Deane
Addressing nationality is one of the central topics in contemporary Irish literature. It gave a remarkable corpus of serious literary writing on creating national identity, various methods and approaches being implemented to create the identity concept. Seamus Deane in his elegiac novel Reading in the Dark collects memories to build the reality of Ireland as a nation. The enormity of the civil unrest and suffering of victims undermines faith; nevertheless, the narrator of the novel in question tries to cope with the difficulties of being Irish, collecting mosaics of his past into a complicated picture of existence in the present.
The aim of this paper is to place the topic of creating national identity via modernism means in Reading in the Dark on the agenda of scholarly inquiry. Contemporary Irish literature inherited much from Joyce, building a close relation with the 'literature of fact'. Seamus Deane rethinks poetically historical wrongs, in a Joycean manner turning 'one day' into 'every day'. At the same time, self-meditation on writing and interpretation is an integral part of this novel. Meticulous attention to detail, impressionistic narration and specific linguistic means of building national and confessional identity make the novel a fine example of modernist writing in contemporary Irish literature.
Valeria Polopoli, University of Catania, Italy, polopoli@unict.it
Narrating (Trans)Nationhood: the Challenge to Essentialist National Identities in Diana Evans's 26a
My paper aims at illustrating how the Anglo-Nigerian author Diana Evans contributes, with her 26a (2005), to deconstructing racially exclusivist configurations of Britishness and, in more general terms, of modern European national identities. Perfectly in line with contemporary Black British writing and its thinking about both British identity and the identity of Britain in a distinctly post-racial and post-national way, Evans's novel revisits and reconceptualises the idea of the British nation as a plural site of multicultural convergence and offers new inclusive configurations of British national identity, thus changing the nature of national boundaries themselves. The fortunes of a mixed-race family, the Hunters, and in particular of the two protagonists, the twin sisters Georgia and Bessie, serve to contest notions of ethnic homogeneity traditionally associated with Britishness. In the novel, the author's emphasis on transnational connections and her delineating new transcultural models of subjectivity invite us to conceive of the British nation (and the contemporary nation as well) as a space of linkages and synchronicities that far surpasses narrow national exclusivity and transcends, in Gilroy's terms, "both the structures of the nation state and the constraints of ethnicity and national particularity" (Gilroy 1993: 19).
Sule Okuroglu Ozun, Suleyman Demirel University, Isparta, Turkey, suleokuroglu@gmail.com
Diasporic Consciousness and the Idea of Nationhood in Anita Desai's Bye Bye Blackbird
The concept of diaspora in recorded history emerged with the scattering of the Jews after the destruction of the first Temple of Solomon. Today the concept is also changing with recent global shifts, deterritorialization and reterritorialization which allow a move beyond restricted notions of space by offering alternative narratives to idealist accounts of identity and nationality. Thus, the "nation – dream and reality of the nineteenth century – seems to have reached both its apogee and its limits … [when] the Second World War, though fought in the name of national values … economic homogeneity, historical tradition and linguistic unity … brought to an end the nation as a reality: it was turned into a mere illusion" (Kristeva 1991: 188). Since diaspora experience includes never-ending border crossings, all essentializing distinctions between the colonizer and the colonized, the self and the other, citizen and noncitizen, based on the assumption about spaces being a fixed source for a coherent identity, are deconstructed in diasporic space. The aim of this paper is to discuss the complexities of border crossing prevalent in the life of the early diasporians and how diasporians performatively re-form their nationality through an act of imagination in Anita Desai's Bye Bye Blackbird.
Aylin Atilla, Ege University, Turkey, atillaaylin@yahoo.co.uk , aylin.atilla@ege.edu.tr
Reflective Nostalgia and Englishness in Julian Barnes's England, England
Svetlana Boym, in The Future of Nostalgia (2001), states that reflective nostalgia is "more concerned with historical and individual time, with the irrevocability of the past and human finitude", where reflection suggests "new flexibility, not the reestablishment of stasis" (49). As she differentiates, where "restorative nostalgia evokes national past and future; reflective nostalgia is more about individual and cultural memory" (49). In Julian Barnes's novel England, England (1998), the Isle of Wight represents England, and it locates a theme park based on a collection of all things that are traditionally associated with the idea of Englishness. It presents a backward nation which gradually regresses into its own past, finally becoming a rural country dominated by Celtic and pagan ceremonies. Nevertheless, it is inevitable for a country experiencing the end of empire having a radical change in social structure to look back on more successful periods and to create national myths to compensate for their loss. As Boym suggests, "national memory tends to make a single teleological plot out of shared everyday recollections. The gaps and discontinuities are mended through a coherent and inspiring tale of recovered identity" (53).
This paper proposes that although England, England seems to be a parodic account of nostalgia, and a caricature of the illusions that constitute most people's notions of "Englishness", a closer reading will reflect on the nature of collective identity. The cultural, economic and fantasy space created as a theme park is also a representative of a paradigm of the mixed economy of post-war England which has finally been replaced by capitalism. It will also be discussed that Barnes's novel draws parallel ideas with those recent theories of nationalism in which the constructed nature of national feeling is emphasized. Moreover, the novel undermines issues of national identity and the myth of Englishness in a very ironic way. In Boym's words: "if restorative nostalgia ends up reconstructing emblems and rituals of home and homeland in an attempt to conquer and spatialize time, reflective nostalgia cherishes shattered fragments of memory and temporalizes space. Restorative nostalgia takes itself dead seriously. Reflective nostalgia, on the other hand, can be ironic and humorous" (49).
Pavlina Flajsarova, Palacký University in Olomouc, Czech Republic, flajsarova@centrum.cz
Come Back to Me Blue Mountains and Harvey River: Romantic Sensibility and the Treatment of Jamaican Landscape in the Poetry of Lorna Goodison
"I am definitely a poet of place. Even when I am not writing about Jamaica, it is always on my heart," says Jamaican poet Lorna Goodison. Her poetry shares with English Romantic poets (Coleridge, Wordsworth, Keats, Shelley) many features such as Romantic sensibility, the use of the sublime, and landscape sources of inspiration. Therefore, the paper will compare and contrast the treatment of landscape and the use of established poetic forms by the British Romantics and by Lorna Goodison. Furthermore, the paper will explore how the formal aspects of Goodisonˈs poetry support the poetic effect of her verse. In order to evaluate the mediation of the uniqueness of Jamaican landscape, the use of Standard English as opposed to Creole will be dealt with. Goodison treats the Jamaican landscape as a matrix against which the colonial and slavery history are judged. In her best poems, Goodison transforms the Caribbean history of social injustice into the personal histories of women attached to particular Jamaican landscapes, such as the Harvey River or the Blue Mountains. The Jamaican landscape thus serves as a focal point for the explorations of the feminine self and identity of the Caribbean diaspora. Therefore the paper will ultimately focus on the way Goodison transforms the Jamaican landscape and history into a quest for individual and national identity that has been shaped and reshaped by slavery, colonial and especially postcolonial and postmodern social development.
SLITE3 Saturday 30.8.2014 (A) 11.00–13.00 Room A3, (B)17.15–18.45 Room A3
INTERMEDIAL BODY POLITICS: TOWARDS A FEMINIST ANALYSIS OF IMAGE/TEXT DYNAMICS
Convenors:
Anna Kérchy, University of Szeged, Hungary, akerchy@gmail.com
Catriona McAra, University of Edinburgh, UK, cmcara@staffmail.ed.ac.uk
The seminar aims to explore intermedial interactions between literary and visual representations of the female body relying on the assumption that the conceptual shift implied in the dialectical, dialogic trope of word and image (i.e. the mixed-media image/text dynamics) entails a challenge to binary oppositions' hegemonic logic, and hence provides an adequate means for the self-reflective expression of heterogeneously embodied, polyphonically voiced, kaleidoscopically envisioned feminine subjectivities-in-progress. We perform an interdisciplinary wedding of semiotics to corporeal feminism, of literary theory to readings in visual arts, and of iconography to revisionary interpretations of literature; unveil how the semioticization of female bodies affects the somatization of texts and images; and aim to offer a gender-sensitive analysis of topics like the textual value of illustrations, pictures collaged inside literary texts, the figurativeness of lyrical language and the materiality of signifiers.
Participants:
Dóra Csikós, ELTE, Budapest, Hungary, csikos.dora@btk.elte.hu
"And they inclos'd my infinite brain into a narrow circle": Eighteenth-century female subjectivity-in-progress and its price
As the proliferation of medical textbooks on women shows, throughout the eighteenth century (and into the nineteenth), there was an obsession to define and measure – and thus to contain and gauge – the female body. Typically, medical and moral issues were discussed in the same breath: the nature of women entailed a somatized body and, correspondingly, a deviant mind. Through three visual examples (the dissected female heart, the female thermometer and the female skeleton), I would like to show how medical discourse was laden with cultural values. In (or, rather, against) this context, William Blake wrote The Visions of the Daughters of Albion, a poem on the rape of a woman and its aftermath. Visual and textual are combined to subvert the idiom of the age and show the feminine subjectivity-in-progress: the traumatized, bound, tortured and naked female body is clothed and rises; from silent victim, Oothoon becomes an eloquent orator of the rights of all the 'daughters of Albion'. Based on Wollstonecraft's Vindication and the myth of Prometheus as its hypertexts, Blake's Visions is also a remarkable example of female bonding: the solitary female fleeing from her oppressor in the Title page is replaced by females huddling together in defiance in the final plate.
Anna Kérchy, University of Szeged, Hungary, akerchy@hotmail.com
Iconotextual Sites of Alice's Feminist Resistance in Lewis Carroll and John Tenniel's Victorian Fairy-Tale Fantasy Picture
Books
As a result of the unique collaboration between author Lewis Carroll and illustrator John Tenniel, the Victorian fairy tale fantasy picture books Alice's Adventures in Wonderland and Through the Looking Glass are distinguished by curious (con)fusions between verbal and visual regimes of representation: the figurative 'picturesque' metaphoricity of language-games and 'telling' images functioning as plot vehicles are complemented by vanguardist graphic design and typographical tricks inspiring even today's technologically advanced adaptations from pop-up books to iPad apps. While verbal and visual nonsense mingle to challenge the boundaries of the Imaginable and the Speakable (Jabberwock/y is a memorable specimen of imagetextual monstrosity) physicality is foregrounded as yet another significant medium, both through the insistence on the materiality of the book object and the corporeality of its interpreter. Relying on the threefold methodological apparatus of feminist corporeal narratology (Grosz, Punday), picture book studies (Nodelman, Nikolajeva-Scott) and the iconotextual poetics of text/image relations (Louvel, Mitchell), my paper aims to explore how the intermedial and metamedial interactions between Lewis Carroll's narrative fiction about Alice's adventures and John Tenniel's accompanying illustrations create an intermediary image-textual space that can be read/regarded as a proto-feminist site of heterogeneous semiosis. The interactively generated imagetextual frictions and fissures challenge the hegemonic logic of binary oppositions, open up freeways and bypasses of meaning(de)formations, and enable a subversive, counterspectacular semioticization of somatized identities for female protagonist and reader alike – both becoming empowered as embodied implied authors.
Erzsébet Barát, University of Szeged, Hungary, zsazsa@lit.u-szeged.hu
How to revisit the image/text dialectic in "post-feminist" advertisements
In my talk I wish to explore the methodological conditions of the assumption that the conceptual shift implied in the word/image dynamics should hold out a challenge to the prevailing categorization practices in binary oppositions. I shall argue that such a conceptual shift may emerge if we are prepared to move from the hegemonic concerns in feminist scholarship about the image/representation of women to woman as image as suggested by Sue Thornham (2007), i.e. to the conceptualization of visuality as a constitutive, integral dimension of "womanhood". I shall expand Thornham's position and argue that the corollary of such a move is to revisit the conceptualization of power and differentiate between arbitrariness and contingency, subversive and transformative body politics. To substantiate my claims I shall reflect on recent so-called post-feminist attempts at representing "real female bodies" and expose their limits of "authenticity" and individualization.
Anja Koletnik, Central European University, Budapest, Hungary
Bodies Breaking Boundaries: Non-Conforming to Cisgender Normative Embodiment … Portrayed by Androgynous Models
Embodiment is regarded one of the most palpable spheres where gender norms can and – within hegemonic society's compulsory cisnormativity – must be portrayed. All humans have bodies; there is no escape from the reality of our bodies, therefore how bodies are agents of (public) presentations are forms of manifestations of gender non/conformity. Feminist scholarship has produced an array of arguments portraying the interconnection of gender, sex and their constitutions. With the intention of intertwining notions of feminist argumentation with the research topic's aim of locating possible contestation of cisnormative social regulations upon individuals and their bodies, I will engage with various argumentations, which will offer a theoretical structure for this research project.
This paper will present notions of tangible expressions of non-conforming gender expressions, portrayed through androgynous fashion modeling. Suggesting that individuals who manifest non-conformism in relation to cisnormativity challenge cisgender norms, I will portray androgynous modeling within Westocentric cultures as an illustration of my claim. In order to coherently explore notions that will allow me to attempt to answer my research question, I will first conceptualize notions of sex, gender and gender identities. Within elaborations of expressions of gender, I will introduce the concept of androgyny: a contestation of cisgender normativity. I will connect these topics of gender and gender expressions to bodies and gendering of bodies. Then I will outline the concept of androgynous models; models that use their bodies as tools upon which breaking of the binary gender system is taking place. I intend to introduce androgynous models with regard to academic discourses, and also to their presence within fashion and media.
Catriona McAra, University of Edinburgh, cmcara@staffmail.ed.ac.uk
Lactation Narratives: The Embodied Fairy Tales of Samantha Sweeting
This illustrated paper explores the notion of embodied storytelling in the work of the London-based interdisciplinary artist Samanatha Sweeting (b. 1982). Her work first came to international prominence at the Tate Liverpool 'Alice in Wonderland' exhibition (2011) which subsequently toured to Germany and Italy. Sweeting's work is characterised by reference to well-known nursery rhymes and fairy tales such as Charles Perrault's 'Peau d'Âne'. My paper considers a selection of artworks by Sweeting which use photography, video and performance to focus on the practice of breastfeeding. Between 2007 and 2011 Sweeting produced a controversial body of work during which she allowed various animals to suckle directly from her breasts. On select occasions nursing apparatus was deployed to augment the performative experience. Ultimately this led to an induced form of lactation, be it natural or artificially supplemented. Such practice enables a requestioning of the binaries that exist between categories of maternal and non-maternal, eroticism and reproduction. Developing concerns of the 1960s and 1970s Body Art practices with a more intimate edge and with reference to the legacies of French feminist theory, I argue that Sweeting's practice corporealises the fairy tale in a way that opens it up to contemporary debates around the female body as political site.
Agnes Strickland-Pajtok, Eszterházy Károly College, Eger, Hungary, agnespajtok@yahoo.co.uk
Women and Clothing– Female Self-Fashioning in Doris Lessing's The Golden Notebook
The aim of this talk is to analyse clothing as the extension of the female body and as markers of various female identities in Doris Lessing's seminal work, The Golden Notebook.
In the first part of my talk I will examine the ways appearance can contribute to the formation of the novel's main characters, and whether dresses are able to highlight features which would remain hidden in the lack of them. We shall discover that on one level the depiction of dresses – virtually ekphrases– enhance the aesthetic richness of the text. Yet, on another, anagogic level they become elements of an elaborate poetic imagery, which – going beyond the articulate meaning of verbal message – offer space for individual and intuitive interpretation.
In the latter half, conclusions from the close-reading analysis will be employed and utilised to reveal a more abstract significance regarding the connection between a woman's self-constructed image and its external perception. Hopefully, interrogating this conceit will unveil the complex function of clothes as tools to connect the female body to a chosen personality and also to culture and history.
Larisa Kocic-Zámbó, University of Szeged, Hungary, larisa.kocic@gmail.com
The Body of Modesty: Mediated Anxiety over a female James Bond
Modesty Blaise, the comic book heroine of spy fiction penned by Peter O'Donnell, was a hugely successful series of daily newspaper comic strips, adapted to movies (Modesty Blaise, 1966; My Name is Modesty, 2003), and to a series of novels and short stories written by O'Donnell himself. Although dismissed by critics as an 'ersatz female Bond', the 'mistress of high kicks and high jinks' – as others call her – still merits more than just passing comments related to her male counterpart. In my present study I wish to trace the anxiety inherent in the multimedia presentation of the feminine body as a lethal combat tool besting male opponents, focusing particularly on two, distinct comic versions – one drawn by Jim Holdaway, the erstwhile creative partner of O'Donnell and Modesty's visual creator, and the other drawn by Enric Badia Romero, the longest running drawer of Modesty – and the dynamics between these and the novelized accounts of her adventures. In a mixture of genres and media, Modesty is a self-termed 'hermaphrodite polecat' with conflicting representation, and the insistence on her femininity is a continuous occasion for commentary by the authors, thus providing a fascinating subject of intermedial body politics.
Eszter Katalin Szép , ELTE, Budapest, Hungary
Who Owns the Body in Contemporary British Graphic Narratives? – An Approach to Mary M. Talbot and Bryan Talbot's Dotter of her Father's Eyes and Karrie Fransman's The House that Groaned
The paper analyzes the representation of female bodies and their relation to the space they occupy in two contemporary British comics, Mary M. Talbot and Bryan Talbot's Dotter of her Father's Eyes (2012) and Karrie Fransman's The House that Groaned (2012). In both narratives institutionalized – schools, hospitals, and an asylum – and private spaces limit and metaphorically represent what claims can be made for the ownership of the bodies of the female protagonists. The starting point of analysis is the medium and the toolkit of comics. The relationship of word and image is one of the "tensions" by which graphic narratives operate (Hatfield) – the paper explores how the issues of self-expression, identity, and self-representation are addressed in these two comics. Dotter is a mixture of feminist scholar Mary Talbot's autobiography and Lucia Joyce's biography, in which dancing is a metaphor for Lucia's fight for control over her body. Parallel to this, relating to her body is a central question to young Mary, who chooses to become a mother. The House offers female bodies virtualized by photoshop, or made habitable by plastic surgery. I analyze the representation of invisible and overweight female bodies, and argue that the protagonists' unsuccessful attempts to escape their bodies are epitomized by the final collapse of the anthropomorphized house.
SLITE4 Monday 1.9.2014 (B)11.00–13.00 Room S4, (A)14.30–16.30 Room S4
THE FICTION OF VICTORIAN MASCULINITIES AND FEMININITIES
Convenors:
Elisabetta Marino, University of Rome Tor Vergata, Italy, Marino@lettere.uniroma2.it
Adrian Radu, Babes-Bolyai University, Romania, adrian.radu@ubbcluj.ro
Victorian culture is essentially a patriarchal one in an age of male dominance. But it also contains the expression of female emancipation and assertion of equal rights with men and equity in legal, educational, professional, and personal aspects of life. This seminar aims at exploring Victorian literature from the perspective of gender, gender roles and representation and to provide an opportunity to discuss the literary output of Victorian male and female writers, the specific depiction of genders, the way writers, works, individual characters include conventional representations of both sexes, but also reflect the changes in attitude that this age contained.
Burak Irmak, Istanbul Aydin University, Turkey, burak.irmak@outlook.com
Acting Out Gender: Performativity and Becoming Lord Henry Wotton in Oscar Wilde's The Picture of Dorian Gray
The paper will examine performativity in the nineteenth century Victorian novel, especially resistance to dictated male performativity and the results of it illustrated by male authors in their novels, specifically Oscar Wilde, in his only novel The Picture of Dorian Gray and the character named Lord Henry Wotton who arguably shows characteristics of Wilde himself.
Trapped by the male roles dictated to him by the society, such as marriage, Lord Henry finds relief in talking to other people about his desires, the things he wants to do and the things he cannot do. In a platonic teacher-student relationship, he leads Dorian into his desires and finds escape from his never-ending cycle of stereotypical gender through him.
However, such a behavior causes him sorrow, due to his wife falling in love and running away with another man, and Dorian becomes a killer, something which Lord Henry does not expect. Arguably this Wilde-ish Frankenstein's monster is not just a punishment for Lord Henry Wotton but a warning to Wilde himself, who is in a similar situation, since the same rules for upper class people also apply to Wilde.
Feryal Cubukcu, Dokuz Eylul University, Turkey, cubukcu.feryal@gmail.com
Is Masculinity in Sherlock Holmes in Peril?
The Victorian period in England was one of the most influential and important epochs in history. Among the rules of Victorian society were stringent codes pertaining to what was acceptable for men and women. Men were expected to hold decent jobs, marry respectable women, and create the next generation of proper British citizens. There were certain behavioral norms for men and women that were standard practice for asserting one's proper gender codes. In his 1995 book Victorian Masculinities, Herbert Sussman identifies, within Victorian men's writing, a method of constructing masculinity that opposes the dominant English model of manliness based on bourgeois domestic matrimony. This paper aims at tackling some Sherlock Holmes stories in terms of the Victorian masculinity of which features are delineated by Sussman, and tries to justify the idea that the masculine tests endured by Sherlock Holmes usually involve the rejection of the female or mother, often figured by the casting off of female clothing, and bonding with the father or more often surrogate father, which is, in this case, Dr. Watson, an act sealed by chaste bodily contact within carefully controlled rituals of male-male physicality.
Carla Fusco, University of Macerata, fuscocarla@libero.it
Ruth: an Unusual Prostitute. Elizabeth Gaskell's speculative gaze vs Victorian Masculine Vision of Woman.
Prostitution was a much-debated topic in the mid-nineteenth century, when it was defined as the great social evil. Industrialisation had convinced the population to engage in a massive abandonment of the countryside to work in suburban factories. Many were the consequences of this dramatic change, not least the poor conditions of workers bound to live in slums. Prostitution often occurred as a means to fight poverty, but public opinion preferred to condemn those women as sinners and labelled them "fallen women". In a society based on prudery and repression of female sexuality, a prostitute reinforced the masculine dichotomised image of woman: Madonna/harlot.
Intellectuals paid much attention to this subject, and prostitution became the shocking but attractive subplot of some sensational novels – but also a way to harshly criticise social ills.
Nevertheless, prostitutes were liminal characters of subplots, until Gaskell's Ruth. The unlucky destiny of an unwed mother, compelled to work as a dressmaker in slavery condition, was supposed to be disturbing enough to shake Victorian hypocrisy.
The aim of my paper is to analyse the novel as a contrasting counterpart of Victorian social beliefs and show the hermeneutic complexity of the text and context.
Gonul Bakay, Bahçeşehir University, Turkey, gonulbakay@gmail.com
Images of Masculinity in Lord Byron's Turkish Tales
Images of masculinity in Byron's Turkish Tales illustrates that masculinity is not a fixed/universal category but rather it is a contested field comprising of time, place and culture-specific interpretations. The concept of masculinity as problematized in Byron's Turkish Tales would be better understood in light of Deleuze and Guattari's theory of becoming. Perceptions/definitions of masculinity are historically and socio-culturally situated. In this context, Deleuze and Guattari's work has been important in helping to illuminate the complexities of identity as a "desiring production". As they suggest, "desire is not simply a discursively anchored need or lack, but a requirement to be in the social world to become an individual or male or female" (Deleuze and Guattari qtd. in Stephan Whitehead 2002). For the purposes of this paper, I am particularly interested in their articulation of desire as the main dynamic informing the production of subjectivity. Drawing on insights by Deleuze and Guattari, this paper examines performatively constituted masculinities in Lord Byron's Turkish Tales with particular emphasis on the portrayal of male identity as fluid, metamorphic and capable of multiple possibilities.
Eliana Ionoaia, University of Bucharest, Romania, elianaionoaia@yahoo.com
The New Woman – The Victorian Gendered Identity at the Fin de Siècle
The Victorian construction of gendered identity falls into clear-cut if damnable categories. The separation of the spheres of activity into public and domestic is equally straightforward, up to the late Victorian period. The invention of the telegraph and the typing machine allowed the most daring of middle-class women to join the public sphere and the work market. Thus, the New Woman was born. If early Victorian descriptions of the throngs of men heading to work were commonplace in Dickens's works, the fin de siècle saw them joined by women. Thus, this paper will investigate the treatment of New Women in the writings of female and male authors of the fin de siècle. Olive Schreiner's Story of an African Farm (1883) and Thomas Hardy's Jude the Obscure (1896) are two of the works considered for this analysis of the way the identity of the New Woman is constructed by a female and a male author who were, however, both supportive of this new female typology.
Irina Presnakova, Daugavpils University, Latvia, i.presnjakova@inbox.lv
English Ghost Stories: the Literary Output of Victorian Male and Female Writers
One of the striking findings from studying the English ghost story of the latter half of 19th century is the fact that until very recently the histories of English literature provided no single reference to this literary phenomenon (supernatural, frequently referred to as marginal, mediocre, but so popular in Victorian society). In this way the ghost story was excluded from the literary context of the time. The assumption that "Victorian culture is essentially a patriarchal one in an age of male dominance" can be put into question if we refer to the English ghost story, which provides evidence of very successful women writers of the Victorian era such as Mary Braddon, Margareth Oliphant, Elizabeth Gaskell etc, popular with all classes of the reading public, who published individually in collections or sprinkled throughout various rare books and magazines, often competing with such hallmarks of the genre as Charles Dickens, Bram Stoker, Thomas Hardy or Meredith. So in my report I will discuss the issue of the literary output of Victorian male and female writers, foregrounding the argument as to whether there is or there is no reason to claim ghost stories as woman's property.
Marlena Marciniak, Opole University, Poland, marciniakm@uni.opole.pl
Blue-blooded or white-collar? Gradual Democratization of the concept of gentlemanliness in selected examples of Victorian fiction
Gentlemanliness may be regarded as a significant hallmark of Victorian culture and a key term in contemporary definitions of masculinities. J. R. Vernon wrote in 1869 that "[a] gentleman is a MAN . . . he is always manly" (qtd in Plamer 1908:339), encapsulating the direct relation between conforming to the ideals of gentlemanliness and developing a masculine identity in the Victorian frame of mind. According to Robert Colls, "[t]he Victorians took gentlemanliness and turned it into 'manliness'" (2002:77). One of the reasons why manliness came to be so closely associated with gentlemanliness is the substantial reconceptualization of the latter notion in the nineteenth century: from a hermetic social rank designating, by and large, noble birth to a universal moral quality attainable by men regardless of their family origin or material status. The gradual evolution of Victorian views on gentlemanliness can be traced in Victorian fiction, which actively participated in public debates on the meaning of the concept. Novels such as Nicholas Nickleby, John Halifax, Gentleman, The Woman in White or Evan Harrington seem to champion men who despite their low-class background or limited financial means assert their worthiness by virtuous conduct, in contrast to their rich and aristocratic antagonists.
István Szabadi, University of Debrecen, Hungary, istvanszabadi89@gmail.com
Faith and Hysteria: The diagnosis of George MacDonald's Adela Cathcart
Adela Cathcart, an 1864 novel by George MacDonald, Scottish Victorian author and Christian minister, narrates the healing process of a very ill young woman carried out by a group of friends by the unexpected means of storytelling. The individual narrated stories of the characters amount to a criticism of the medical discourses and practices, the social and gender roles, and the spiritual life of the era, and the cure for the ailing protagonist suffering, presumably, from what was to become known as hysteria, consists in addressing and alleviating the malady in all of the above fields. In my presentation I will compare and contrast diagnoses and cures of female maladies prevalent in late Victorian medicine with those implicit in the narratives of the "healers" of the novel, demonstrating the extent to which MacDonald differed from his contemporaries and was, in fact, ahead of his time. Discussing the incorporated stories, I will link the unique and modern aspect of healing, as presented in the novel, to the overall context of faith.
SLITE5 Sunday 31.8.2014 (A)11.00–13.00 Room A3, (B)16.00–17.30 Room A3
INVESTING IN TIME: LITERATURE, CULTURE AND PERIODIZATION
Convenors:
Mihaela Irimia, University of Bucharest, Romania, irimia.mihaela@clicknet.ro
Jukka Tiusanen, University of Vaasa, Finland, jukka.tiusanen@uwasa.fi
We propose for this seminar a discussion of how centuries, still fairly coherent units of time, have experienced their ups and downs, their cuttings short like the twentieth century and expansions like the long eighteenth century, their re-readings and reevaluations, been invested with value and new life or like currencies being shorted or sold long. We encourage discussions of the commercial value of culture and literature, and the changes that have resulted from re-evaluations of the currency of time and period. Contributors are encouraged to discuss how our sense of period affects the present debate on the discourses of modernity.
 
Participants:
Jason Finch, Åbo Akademi University/Academy of Finland, jason.finch@abo.fi
The Long(est) Victorian Age
What does it mean to propose a hangover from one century into the next? Can we justify seeing one century as merely the aftermath of its predecessor?
Modern British literary history has tended to be understood using aesthetic criteria in terms of a violent and radical break with the past that is most often thought to have happened in the 1910s. But using historical-geographic criteria instead, the whole twentieth century could be understood as post-Victorian. For most of it, Britons tended to live in Victorian houses in smoky towns, to travel by train and harbour Victorian ideas about Britain's place in the world. This is not even to begin talking about the various Victorian revivals that happened in twentieth-century Britain, from Oxford aesthetes such as Harold Acton and Robert Byron in the 1920s through to the politically conservative revisioning of the Victorian associated with Margaret Thatcher in the 1980s.
But instead of focusing on instances of twentieth-century Victoriana, my paper assesses how much sense it makes to consider the whole period from 1815 to 1960 or thereabouts as a long Victorian age. University literary pedagogy could benefit from a reconsideration of the existing boundaries between periods within which the 'Victorian' is opposed to the 'modernist'. The reality is that there were changes but also continuities. Some of the most radical aspects of modernism can be detected in writers thought of as classically Victorian, such as Dante Gabriel Rossetti and William Morris. At the same time, a post-Dickensian strand can be found in many British writers of the mid-twentieth century, from Patrick Hamilton to Alexander Baron. Examples are drawn from these writers and from my current Academy of Finland postdoctoral project on the construction in discourse of the idea of the 'London slum'. The methodology is Deep Locational Criticism, as proposed in my book of the same name, which will come out with John Benjamins in 2014.
Martin Potter, Bucharest
Epochal Ends and Beginnings in the Writings of David Jones
David Jones, the twentieth-century Anglo-Welsh poet, essayist and artist, was convinced, like many modernist writers, that a phenomenon known as 'the Break' had cut modern life off from traditional life, such that an unprecedented cultural rupture had taken place. He was also deeply interested in the late antique and early medieval periods, particularly in British history, and believed that English and Welsh popular culture differed in their perspective on cultural memory, due to the characterisation of English, but not Welsh, culture by a number of historical interruptions in cultural continuity. This paper will explore Jones' attitudes to these cultural ruptures, and the periods in between them, and the way he brings them into his poetry, as well as discussing how he sees all historical periods as contained within, and made sense of by, a framework of sacred time.
Madalina Potter, Bucharest
Overlapping Centuries: Time and Value in Geoffrey Hill's Clavics
My paper will explore the way in which Geoffrey Hill juxtaposes events from various centuries in Clavics, and analyse how poetical value – as Hill understands it – stems from this type of approach to history. I shall concentrate mainly on the way in which the seventeenth and twenty-first centuries overlap throughout the volume, and argue that by re-connecting independent strands of history through poetry he is attempting to achieve a very strong sense of the historical embeddedness of poetry.
By referring to Charles Taylor's A Secular Age, I shall argue that time in Clavics is kairotic, and that by subduing chronology, Hill manages to break free from the 'empty time' that Benjamin believes is characteristic of modernity. I shall further argue that Hill's use of double temporality in Clavics is a means of achieving real poetical value and escaping commodification, to which contemporary poetry is arguably very prone.
Miroslawa Modrzewska, Gdansk
Periodization and the notion of the baroque and neo-baroque in British literature and culture
The categories of the Baroque, as a historical period of literature and culture, and (neo)baroque, as a transhistorical paradigm of discourse recurring in the history of literature and culture and also relevant in post-modern art, have not been universally accepted as models of thinking about British literary history. Important publications offer a periodization of British literature which dissolves the Baroque into several chapters/periods of Renaissance, Reformation, Revolution and Restoration (Sanders 2004), or various episodes of English Baroque are recognized as Jacobean, Caroline, and Commonwealth, that is: the Elizabethan Age (1558–1603), the Jacobean Age (1603–1625), the Caroline Age (1625–1649) and the Commonwealth (1649–1658). International authors, on the other hand, define relevant periods of cultural history as Early Baroque (c.1590– c.1625), High Baroque (c.1625– c.1660), or Late Baroque (c.1660– c.1725), sometimes identified as Rococo. The notion of the Baroque and (neo)baroque becomes relevant again (Davison 2007, Lambert 2008, Zamora and Kaupt 2010) in the situation of currently registered cultural changes which exhibit the crisis of representation typical of the Baroque epoch. The idea of 'international baroque' may help to avoid the translatio imperii of British periodization of literature with its preference for the Renaissance or the Augustan.
Vassil Anastassov
Are There Strict Boundaries Between Literary Periods? A Postmodern Reading of Coleridge's Theory of Language
The paper offers a Poststructural/Postmodernist reading of Coleridge's views on language. It is argued that his analysis of the type of relationships between words and what they refer to in a reality "created" by the human mind's sensory perceptions goes beyond the boundaries of Romanticism and can be read from the perspective of Saussurean Structuralism and Derridean Deconstruction. Hence: strict periodization of trends in the history of linguistic-literary theory can be plausible, considering the "universality" of the Platonic-Kantian basis of contemporary science.
Thomas Kullmann, Osnabrueck
The Victorian Age and its Twentieth-Century Connotations
In popular imagination, few periods of British history have been connected with as distinct a set of characteristics as the Victorian Age: According to the Oxford English Dictionary the adjective "Victorian" can denote (sense 2) "attitudes supposedly characteristic of the Victorian era; prudish, strict; old-fashioned, out-dated". A 1979 edition of the Collins English Dictionary even provides the definition "exhibiting characteristics […] like "prudery, bigotry, or hypocrisy". Some scholars (German scholars in particular) refer to the Victorian Age as "Victorianism", implicitly suggesting it is not a mere period of time but a political ideology which, like other '-isms' (e. g. fascism, communism, capitalism) evokes unpleasant associations.
This characterization is all the more remarkable as many of Queen Victoria's contemporaries experienced their own culture as being in a stage of flux or transition, or a confusing muddle of heterogeneous tendencies. I should like to explore the cultural conditions which – in the years following World War I – gave rise to the twentieth-century image of the Victorian Age, as well as to its use as the embodiment of a fascinating "other" in the post-World-War II decades, as in Fowles, The French Lieutenant's Woman (1969), and Byatt, Possession (1990).
Elena Butoescu, University of Craiova, Romania, elenabutoescu@yahoo.co.uk
The Construction of the Author in Britain, 1700–1800
It appears that Johnson's designation of the eighteenth century as The Age of Authours referred not only to the huge number of writers that invaded Britain, but also to the quality of their writings. Immediately after the author became an autonomous individual and rejected patronage, controversial issues clustered around the status of the author and literary property. This article explores the controversial status of the author and the evolution of authorship between Ned Ward's late seventeenth-century description of the Grub Street author as "strumpet" (1698) and Samuel Johnson's Lives of the Poets (1779), where originality and creativity became necessary qualities for an author who became the owner of the work he produced. In this period, authorial identity underwent major changes and the portrait of the author evolved from "strumpet" to craftsman, from hack writer to tradesman, and from mercenary to original genius. The present study will illustrate how the figure of the modern author was moulded by such circumstances as the system of literary patronage, the world of print as profitable trade, the transformation of the literary marketplace, and the emergence of booksellers.
Eszter Tory, Janina Vesztergom
Make the Silent Audible: Communicative and Cultural Memory in Jeanette Winterson's Weight and Margaret Atwood's The Penelopiad
The primary intent of this presentation is to examine how communicative and cultural memory manifest themselves in Jeanette Winterson's Weight and Margaret Atwood's The Penelopiad. With the aid of the theoretical concepts of communicative and cultural memory formulated by Jan Assmann, we present how myths can be related to cultural memory and to postmodern literature. We attempt to illustrate the ways in which the codification of myths shows similarities to the process whereby objects of communicative memory get transformed into those of cultural memory. Moreover, we analyse the epic genre from the temporal and structural points of view by relying on Bakhtin's theory in his The Dialogic Imagination. We examine the ways in which the novels engage with and subvert Bakhtin's arguments concerning not only the genre of the epic but also the concepts of chronotope and heteroglossia. By presenting the different aspects of genre transgression, the heterogeneity of voices and orality in the two novels, we demonstrate how the works can be interpreted within the framework of both cultural and communicative memory. The collaborative nature of our presentation symbolizes our critical approach characterized by its focus on dualities presented in the novels.
Wojciech Drąg, Wrocław University, Poland
The Man Booker Prize and the emerging canon of contemporary British fiction
In Consuming Fictions: The Booker Prize and the Fiction in Britain Today (1996), Richard Todd argued that the Booker Prize had "evolved in powerful and unpredictable ways," becoming an immense boost for the sales of the awarded and short-listed novels as well as a tremendous influence on the formation of a canon of contemporary British fiction. In my paper, I wish to examine the relevance of Todd's observations to British literary fiction at the beginning of the twenty-first century. I want to analyse the critical (and commercial) impact of the Man Booker Prize on the emerging canon of the contemporary novel in Britain on the eve of the prize's much maligned opening up to entries from the United States. I shall conclude with an attempt to predict the influence of this decision on the condition of the British novel and assess the validity of the fears voiced by the literary establishment (A. S. Byatt, Howard Jacobson, Philip Hensher) that the Man Booker's move will reinforce the domination of the American novel and aggravate the crisis of literary fiction in the UK, as evidenced by British writers' poor performance on the recently announced shortlists for the Bailey's women's prize and the Folio Prize (eventually won by the American George Saunders).
Anthony Johnson and Ilkka Juuso (†Lisa Lena Opas-Hänninen)
James Robertson's The Fanatic (2000): An Investigation into the Temporal Representation of a Late Twentieth Century Historical Novel
This paper is part of a project finessing the study of temporal representation in Scottish historical novels through criticism aided by digital prosthetics. As an example we examine the interdiegetic world of James Robertson's ground-breaking novel The Fanatic (2000) and the ways in which its constructed Scottish 'present' (1997) and revised 17th-century past mesh with the conceptual, cultural and linguistic traces surviving from the 'real worlds' represented. Following the Polish critic Jan Białostocki, we envision these (often) thin 'slices' of time as 'iconospheres', noting that the events of 9/11 have already created a gulf between that of the book's production and the default readerly responses available at the present time. The prosthetic testing our intuitions is the 'Time Machine' – a tool which automatically codes the novel through a temporally sensitive electronic resource, the Thesaurus of Oxford English Dictionary – opening up new insights into early modern and post-modern representations of time, and nuancing more precisely the ways in which we may discuss the temporalities, periodizations and the zeitgeists routinely thrown up in criticism.
SLITE6 Monday 1.9.2014 (A) 11.00–13.00 Room S3,(B) 14.30–16.30 Room S3, ( C )17.00–18.30 Room S3 / Tuesday 2.9.2014 (D)11.00–13.00 Room S3
FIGURES AND SITES OF MEMORY IN 19TH- AND 20TH-CENTURY LITERATURE AND CULTURE
Convenors:
Irena Grubica, University of Rijeka, Croatia, igrubica@gmail.com
Tamás Bényei, University of Debrecen, Hungary, tamasbenyei@yahoo.com
By focusing on formative aspects of figures and sites of memory in 19th- and 20th-century literature and culture this seminar will investigate how individual, family, generational, collective, cultural and national memories and strategies of recollection and forgetting inscribe themselves onto the spaces we inhabit, and how spaces become contentious zones for the politics of memory and forgetting. Possible topics may include: monuments, ruins, gardens, landscapes, haunted houses, etc. as sites of memory; urban culture, memory, forgetting and "the practice of everyday life", history and memory, hysteria, amnesia, museums, archives, cultural memory and identity formation; gender and sites of memory, etc.
Zdeněk Beran, Charles University in Prague, Czech Republic, Zdenek.Beran@ff.cuni.cz
Praga Magica: Prague as a Place of Memory and Vision in George Eliot, Anthony Trollope and George Sand
In Eliot's The Lifted Veil (1859) a convalescent hero is invited by his father to take a trip to Prague, and in the prospect of the journey he experiences a miraculous vision of the city. Both in his hallucinatory and consequent real experience the pivotal point is formed by a Charles Bridge statue of St. John Nepomucene. Trollope's Nina Balatka (1867) also culminates under the shadow of the patron saint in the middle of Prague's Bridge. The paper argues that the statue plays a symbolical role by its reference to a crucial historical moment, the martyrdom of John, the memory of which constitutes not only the gist of Czech national identity but also the ideas of equality, loyalty and love. This symbolism was probably inspired by George Sand's novel Consuelo, in one of whose episodes the heroine is confronted with a scene near the same statue of St. John, with intense political overtones. An ardent reader of Sand, Eliot might have based her conception of Prague on the conflation of her own experience and her reading of Consuelo, a conception readily taken over by Trollope. Thus the statue becomes a topos of historical memory and defines the locus as a magic, transcendental scene.
Tomasz Niedokos, John Paul II Catholic University of Lublin (KUL), Poland, niedokos@kul.lublin.pl
Sanctification of London Space in Chesterton's The Napoleon of Notting Hill and the Ealing Studios Comedy Passport to Pimlico
The paper discusses two works, a comic novel by G. K. Chesterton and a film comedy, which playfully explore the motif of one of the London districts of Notting Hill and Pimlico respectively, declaring itself an independent state with all the required paraphernalia of statehood: the King's charter, mediaeval heraldry, armed forces in colourful uniforms, distinct law of the land, etc. In both, the assertion of independence and bold displays of local pride lead to war with other London districts and the British government, which eventually ends in reunification. What binds the two works is the underlying idea that the new unexpected situation allows the inhabitants of both districts to see familiar figures and sites in a new perspective; thanks to the new "state" symbolism, the familiar London space is invested with new meanings and becomes enchanted. This re-enchantment, or sanctification, of place can be attributed to the lingering fascination with the art and pageantry of the Middle Ages, evident in the Gothic Revival movement, on the one hand, and, especially in the case of Chesterton, a yearning for pre-Reformation Catholic London, with its symbols, artefacts, rituals, omnipresent in urban space, being analogies of or pointing to transcendent reality, on the other.
Brigitta Hudácskó, University of Debrecen, Hungary, brigitta.hudacsko@gmail.com
Surveillance: An Urban Culture of Memory Formation
My paper examines the ever improving methods of surveillance of public urban spaces and the memory archives storing the data thus acquired: I would like to look at the involuntary recorded memories that users of urban spaces leave behind by their mere occupation and usage of space, including recordings made by law-enforcement tools, and technology available to the general public as well. I also want to ponder the reflections given to these technological practices: besides the archives of involuntary memories, there are also reactions to these practices, which reactions reflect upon the experience of being made into a memory; such as intentional alteration of public spaces.
I would like to examine instances and techniques of urban memory formation in surveillance with the help of a genre that is quick both in reflecting urban phenomena and in applying the latest technological advances: the procedural crime drama on television. As the genesis of crime fiction itself is tightly linked to the emergence of urban sciences, and the crime genre is, concerned with − the making of and unravelling of − memory, procedural crime drama offers itself as an appropriate ground for the examination of the culture of urban memory formation.
Irena Grubica, University of Rijeka, Croatia, igrubica@gmail.com
James Joyce and Cultural Geography: The City as a Site of Counter-Memory
One could argue that the spatial readings of Ulysses entered the canon of Joyce criticism in the late 1970s with M. Seidel's Epic Geography and C. Hart's A Topographical Guide, which provided detailed maps based on the novel and, therefore, paved the way towards further exploration of the link between geography, topography and the city-text of Joyce's novel, i.e. the textualization of real space. The postcolonial and historicist readings that emerged only a decade later tend to link the novel's textual strategies to colonial resistance. My paper will combine these critical insights with the burgeoning field of cultural memory studies. Instead of Seidel's "epic geography", focused mainly on Homeric parallels, I propose to read Joyce's urban space through the lens of cultural geography, departing from the assumption that the space in Joyce is produced (Lefebvre, Soja) and that memory plays a significant role in its production. Joyce's city-text will be explored as a site of both personal and collective memory, and of counter-memory. Memory will be explored in its close relation to the everyday practice of walking (de Certeau). The paper will provide a micro-reading focused on two episodes: "Lestrygonians", which Joyce himself linked to the art of "architecture", and "Wandering Rocks", which is focused on walking.
Tamás Bényei, University of Debrecen, Hungary, tamasbenyei@yahoo.com
Sherlock Holmes and collective memory
The paper intends to link the symbolic-ideological role of the detective genre with reigning ideas (or ideologies) of memory, using Conan Doyle's volume The Memoirs of Sherlock Holmes, especially the story 'The Musgrave Ritual'. The detective plot, predicated on and concerned with the reconstruction of something that went fatally wrong in the past, has an inherent connection with memory and, since the late 19th century, has fulfilled an important symbolic role in the memory work of British society. 'The Musgrave Ritual' is unique among Holmes tales in that it creates an explicit link between Holmes's work and public, even national mnemic issues (the pile of rusty metal retrieved in the course of the story turns out to be the crown of Charles I). The tale offers an allegory of detective work as 'restoration' in more than one sense. Creating numerous links between frame and narrated story as well as staging Holmes's detection as the repetition of a butler's transgressive usurpation of his masters' place, the tale contrasts various strategies of dealing with the past, from passive repetition to active reconstruction.
Jane Mattisson, Kristianstad University, Sweden, jane.mattisson@hkr.se
Modern detective fiction as a site of mourning and remembrance and the importance of acknowledgement. The case of Inspector Ian Rutledge
Acknowledgement, as defined by Jay Winter, is active knowledge, expressed in public as the recognition, re-thinking and re-stating aloud of claims that other human beings have on us. Among those claimants are victims of war and violence. Charles Todd's immensely successful Ian Rutledge series answers our culture's appetite for imagined violence and extreme emotions; it also reveals the power of agonising memories when combined with the horror of an ever-present inner voice that refuses to allow the Inspector to forget what he did at the Battle of the Somme. The Ian Rutledge series invites the reader to share the horrors of the War, bear the burden of guilt and recognise the sacrifices not only of those who died but also of those who survived and must live with their memories. As with all detective stories, the reader becomes part of the plot, disentangling the clues and sharing the responsibility to understand and to resolve. The detective story as a site of memory is thus in part the reader's own creation.
Renáta Zsámba, Eszterházy Károly College, Eger, Hungary, zsambarenata@yahoo.com
A Matter of Life and Death: Mr Darcy and Memory in P.D. James's Death Comes to Pemberley
P.D. James's Death Comes to Pemberley (2012) is a sequel to Jane Austen's Pride and Prejudice transformed into a detective story, no doubt due to James's enthusiasm for Austen's intimate world, a perfect setting for criminal acts. James brings back the myth and memories of the essence of English life, especially in the image of the country house, Pemberley Hall, the static, immobilized Eden as W.H. Auden called it and which, as Martin Priestman says, is "the bastion of cultural or welfarist power". Mr Darcy, the carrier of this cultural memory, faces a disruption in his unconscious existence after the murder of Captain Denny in Pemberley woods. Though it solves the puzzle, the investigation reveals several crimes as Mr Darcy delves into his own memory. In its deep structure, the novel also portrays the struggle between individual and collective memory. The search for the dead body in the forest, finding and burying it become the metaphor of exploring and eliminating Mr Darcy's own memory, "as if it had never happened". The paper explores individual and collective traumas brought about by crime as well as the need for the restoration of Mr Darcy's collective identity as the embodiment of essential Englishness.
Eva Antal, Eszterhazy Karoly College, Eger, Hungary, antaleva@ektf.hu
Lucidity and Obscurity in Bellamy's, Morris's and Wells's Utopian Future-Dreams
Utopian fiction displays the intriguing interdependence of past, present and future. The "hermeneutics of hope" of "the utopian function" (cf. Ernst Bloch) foreshadows some "real" possibility expressed in the fantasy-images of the future potentialities, while utopias are traditionally rooted in the criticism of the present, not without nostalgic longing for the past. My selected fin-de-siècle novels – Edward Bellamy's Looking Backward 2000–1887 (1888) and Equality (1897), William Morris's News from Nowhere (1890) and Herbert George Wells's When the Sleeper Wakes (1899) – are labelled as the so-called "dream-narratives", where the time traveller, having been awakened from his sleep, faces the translucent and opaque vision of the "Not-Yet-Become" realised in the "empty-possibility" of time.
In my presentation, I will present how the narrator's blurred memories are "built in" the description of the "bright future": in Bellamy's works, one of the emblematic buildings is actually built on the 19th-century man's dungeon, the Wellsian narrative gives the scenery of the Sleeper's nightmares, and the Morrisian utopia highlights the recollection of the pastoral world. I also try to show that some of the buildings, spaces and gardens of the imagined worlds, as recurrent monuments, "haunt" later anti-utopias, sci-fi novels and films.
Judit Friedrich, Eötvös Loránd University (ELTE), friedrich.judit@gmail.com
"One of my suitable pasts": Fluidity and Memory in Tibor Fischer's The Collector Collector
The narrator of Tibor Fischer's The Collector Collector (1997), while ceramicking along its narrative, is also a reader of the past of other characters, especially that of its main interpreter, Rosa. While keeping a catalogue of its collectors, it also reads and tells their stories. For this ancient vase, everything is still within the realm of Jan Assmann's communicative memory, while in itself it is the carrier of many forms of cultural memory. Narrator and narrative change shape, the identity of characters move from any fixed points presupposed at their introduction. Rather than lamenting the lack of an overall cohesive narrative structure in The Collector Collector (like the one conveniently presented converging in a historical moment in Under the Frog), this paper will attempt to discuss (or, to apply the term used in the novel for this activity, "tickle") Fischer's work by assuming that fluidity and constant change are its guiding principles, with recurrence serving as a structuring force that triggers memory and helps constructing and maintaining identity, whether personal, historical or cultural. However, these constructions will also only work within limits: authenticity, even that of a genuine work of art passed down through history, is also fluid.
Eva Gyöngy MÁTÉ, University of Debrecen, m.gyongy@gmail.com
Landscape gatherings: Landscape as the medium of memory and forgetting in Andy Goldsworthy's art
British environmental sculptor Andy Goldsworthy uses nothing but materials – such as stones, wood, wool, leaves, icicles, snow or driftwood – found in a particular environment to design living monuments that can make the interaction tangible between diverse forces that shape the land and make it intelligible for perception. By studying the artistic process in which his unconventional pieces are being crafted and dissolve unpredictably, I wish to examine the potential landscape has as a medium of remembering (and forgetting) on an individual as well as on a collective level. Also, I am interested in what Goldsworthy's pieces can tell about the nature of memory in the context of landscape craft, its logic at work when described in terms of highly metaphorical images that of the river, seed or wall, for instance. In my presentation I propose a phenomenological reading of his works from three aspects: their relation to time, figurativity and mediality.
Natalya Novikova, Lomonosov University, Moscow, Russia, netalie@yandex.ru
Decay Still Impregnate with Divinity: Les Lieux de Mémoire in Byron's "Childe Harold's Pilgrimage"
I would argue that Byron's poem allows to develop the rich potential of Nora's broad treatment of lieux de mémoire from rhetorical topoi/loci to commemorative practices, institutions, texts and properly 'places'. In Byron we have a commemorative ritual (the pilgrimage), geographically exact 'devotional places', significant poetical topoi (ubi sunt, sta viator, tempus fugit etc). The complex subjectivity of the poetic persona helps to illuminate Nora's fundamental distinction between the traditional memory that relies on a primordial identification of act and meaning and the modern memory – its affective nature, unconscious of the deformations caused by remembering and forgetting, is haunted by critical historicism. Byron's journey amalgamates very different commemorative patterns: a religious pilgrimage, an enlightened Grand Tour, a Romantic Grand Tour extended to the exotic 'cultural periphery', while the traveller himself owes both to the heritage of Voltaire and Gibbon and to the Romantic empathy towards the Other. It can be said that lieux de mémoire participate in the 're-enchantment' of the secularized bourgeois world, and thus, the Spenserian poetics provide Byron with a medium to challenge the religious and rhetorical attitudes/practices that regulated a formerly normative domain of cultural memory with his subjective imagination of the past.
Martina Domines Veliki, University of Zagreb, mdomines@ffzg.hr
Spatiality of Memory: Rousseau's "Reveries of a Solitary Walker" and Wordsworth's "The Excursion"
In the paper we will depart from the idea that we usually experience ourselves in relation to place. The notion of human identity as being bound up to the notion of place is not a specifically Romantic phenomenon. However, in Romanticism the place acquires a new role to play: it joins the events experienced with the self by means of memory. Thus the Romantic self is constituted not only through memory as a temporal category but also a spatial one. Such reading of the chosen Romantic texts is contrary to the well-established readings which prioritize the mind of the writer over the material world. However paradoxical it may seem to regard Rousseau and Wordsworth as "bodily writers", acutely aware of the significance of place, "Reveries of a Solitary Walker" and "The Excursion" reveal writers aware of the man as a physical being and his capacity to remember through the body. Therefore, in the phenomenological readings of the afore-mentioned texts (Bachelard, Casey, Malpas) we will explore the relationship between the mind and the place through such concepts as "'body memory", localization of memory and intersubjective memory.
Martin Stefl, Charles University in Prague, steflmart@gmail.com
D. H. Lawrence's Short Fiction: A Hypomnesic Topo-analytics
Poetically proposing that "in the theatre of the past that is constituted by memory, the stage setting maintains its characters in their dominant roles", Gaston Bachelard's topoanalysis famously treats memory, intimacy and personal identity as essentially inscribed into space. Expressing a similar preference for "spatialized" memory, D. H. Lawrence gives in his fiction an account of human existence based on a "mighty struggle to feel at home on the face of the earth". This paper attempts to depict this "mighty struggle" as fundamentally based on a process of overcoming this "ontological insecurity" (D. J. Kleinbard's term) by constructing one's existence mnemo-technically, i.e. by localising one's memories and ego-identity into place. In contrast to the dangers posed by the vast spaces of the surrounding cosmos, such individualised places represent lived hypomnemata, ideal-machines for storing and re-actualising idealised memories through which the Self continually re-enforces its autonomy and identity. Relying on a detailed reading of Lawrence's short stories such as "The Man Who Loved Islands" or "England! My England!" and considering Lawrence's philosophy of the "ideal", the paper examines the emergence of a place as a memory-battery or an ideal "Non-I protecting the I".
John A. Stotesbury, University of Eastern Finland, Joensuu, Finland, john.stotesbury@uef.fi
Configuring Identity through Memory of Siege: The Rock and the Barbary Macaque in 21st-Century Gibraltarian Fiction in English
Gibraltar, controlled by the British since 1704, played a major role in British naval strategies in the 19th and 20th centuries, and its colonial status continues to be contested on a regular basis. Its original British colonial status was formalized by the Treaty of Utrecht in 1713, and since then Gibraltar has endured some 15 longer and shorter military sieges that have repeatedly closed its frontier with Spain. Gibraltar's populations, both human and simian, have fluctuated considerably in numbers and ethnicities, with a human population of some 30,000 stemming from not only Andalusia, Minorca and the UK but also the Mediterranean region, especially Portugal, Catalonia, the Balearics, Malta, Genoa, Morocco, and several Jewish exclave communities. In contrast, its population of Barbary Macaque monkeys, primarily of Moroccan and Algerian descent and resident in the higher reaches of the Rock, remains fairly constant at roughly 300.
The purpose of this paper will be to trace the role played by constructions of communal memory of mythical, historical and contemporary siege in fiction published by indigenous Gibraltarian Anglophone writers since the turn of the present century. Particular attention will be paid to writing by M. G. Sanchez, and by Sam Benady and Mary Chiappe.
Ozan Selcik, Recep Tayyin Erdogan University, Turkey, ozan.selcik@erdogan.edu.tr
Saratoga Springs as a Site of Memory
Saratoga Springs is one of the important memory sites in antebellum American History, and also of great national interest of the United States. It is a landmark where you speak of human freedom and justice. What makes this place important is Solomon Northup, who was an important figure in early nineteenth century; freeborn, but kidnapped and sold into slavery for twelve years.
Made into film in late 2013 and awarded an Oscar for Best Adapted Screenplay, Northup's Twelve Years a Slave plays a key role in documenting his account, with vivid details to have direct effect on his own identity as a slave, which is also another key element of such an autobiographical novel to support the author's intention of achieving autobiographical veracity. His own insight and perfect depiction of the place where he lives contribute much to the specialization of Saratoga Springs and the places where he was taken. Northup's account is ironic in many ways that he loses his primary right in the nation's Capitol. The capitol fails to save his freedom, which is the symbol of democracy, but at the same time leads to his corruption.
Éva Pataki, University of Miskolc/University of Debrecen, Hungary, vicapataki@yahoo.com
"Memories relived and battened down": The Diasporic Home as a Lieu de Mémoire in Meera Syal's Anita and Me
In diaspora experience there is a powerful link between space, identity formation and collective memory. The performed traditions and cultural practices of a diasporic group activate a cultural memory, which serves as a unifying force and as a signifier of social differentiation, and thus fosters group/collective identity. Focusing on how memory influences the construction of diasporic identity, and how it inscribes itself on space and place, I read Meera Syal's Anita and Me (2004) and investigate the processes through which the physical locations of remembrances turn into what Pierre Nora (1994) refers to as lieux de mémoire. For Nora these sites of memory do not inhabit living traditions but denote only remnants of the past; i.e. they are in fact places of forgetting or misremembering due to the diversity and liability of individual memories. Since for the Kumars' extended family in Syal's novel the place where they strive to keep their traditions alive is the home, I argue that this diasporic space is a site of both memory and forgetting, the birthplace of a re-created collective cultural memory, as well as a transitory zone, denoting the displacement of not only people but memories as well.
Zuzana Klímová, Masaryk University, Brno, Czech Republic, 145169@mail.muni.cz
Memory of the Landscape: Resurrection of Past and Community in Works of Wilson Harris.
Understanding history or alleged 'historylessness' of postcolonial communities is the topic Wilson Harris tries to explore. His approach is diametrically different from the dominant chronological understanding of time and stability/fixity of space. Harris embraces the paradoxical nature of universe and casts doubts at the hegemonic perception of 'reality'. Individual and collective memories are tools for creating identity and placing oneself within the universe. Harris embraces the imaginative power of art which can incorporate various forms of memory and which possesses the creative potential leading to positive change in our perception of the universe – especially understanding of the 'Other'. Harris's fictional communities unconsciously contain within themselves seemingly lost parts of history. Harris talks about 'absent presences', 'phantom limbs' of communities. From the 'womb of space' Harris resurrects the almost forgotten communities that become once again living presence in the universe. Landscape is an ever-changing living organism with its own memory reflecting changes of history within its structures. It contains both signs of the lost nations and presence of the heterogeneous population created by colonial past. In the reality where individual and collective memory can fail, landscape preserves the memory which can be retrieved through the process of creative imagination.
SLITE7 Saturday 30.8.2014 (A)11.00–13.00 Room S3/ Sunday 31.8.2014 (B) 11.00–13.00 Room S3
FEMALE RITUALS: COOKING AND EATING IN/AND WOMEN'S FICTION
Convenors:
Nóra Séllei, University of Debrecen, Hungary, sellei.nora@arts.unideb.hu
Katarina Labudova, Catholic University in Ružomberok, Slovakia, labudova@ff.ku.sk
Cooking and eating food allow for multiple associations to be swallowed: from the sexual to the spiritual, from the culturally specific to the general, from the domestic to the social and beyond. Food in fiction is also tied up with creativity, serving as a master trope. Consequently, the consumption and rejection of both food and fiction often resonate with metaphors of morality, power and indulgence, and they become essential in the construction of one's body and identity: you are what you read/eat. We invite papers exploring the pleasures as well as discomforts associated with rituals of cooking/(non-)eating and reading/writing.
Agata Buda, University of Technology and Humanities in Radom, Poland, a.buda@pr.radom.pl
Food as the Representation of Gender Roles in the Victorian Female Novel
The aim of the paper is to analyse the idea of cooking/eating in two Victorian novels: Wuthering Heights by Emily Brontë and The Mill on the Floss by George Eliot. Both works present the idea of food as one of the major points of reference in human relationships. One of the aspects worth analysing is family eating. The meetings are preceded by careful preparation of meals (e.g. preserves by Mrs. Tulliver or Nelly's dishes). The food often becomes the major topic during these meetings, showing in this way the gender roles in the nineteenth-century England: females are irreplaceable in preparing food but men very often ignore the final product of cooking. This idyllic space of collective eating (according to M. Bakhtin) can be frequently destroyed by refusing; men refuse to eat either because of sadness (Mr. Earnshaw) or being fussy (Linton); women do not eat due to the fact they are busy taking care of men (Cathy) or are more interested in reading (Maggie). Both sexes are aware of the demands society poses to them. Neither Cathy and Maggie are allowed to read books, but expected to be mindful about meals.
Eva Hrkalova, Masaryk University, Brno, Czech Republic, 263913@mail.muni.cz
Wives and Daughters: Dinner as a Symbol of Superiority
Elizabeth Gaskell's characters are sometimes obsessed with discussing and describing meals, as in Wives and Daughters, particularly with its early dinners, late dinners and the ever-present dinner parties. These parties, especially the food served at them, represent a certain type of a "divider" between not only the social classes, but also the family roles in one household. When focusing on the dinners at the Gibsons' and at the Hamleys', one can observe that wealthier families are more specific about the courses, or about the choice of wine. At the Gibsons', the dinners do not very often serve a social purpose – the characters usually eat at different times and different meals. This is changed by Mr. Gibson's second wife, who tries to overcome her social inferiority by throwing dinner parties, and persuading her husband to eat more regularly and expensively. Her complete opposite is Mr. Gibson's daughter, who manages to have a rather free choice in her meals. As these two female characters are opposites in the food they eat, they also are opposites in the books they read and the way they read them. Their choices indicate the different positions they occupy in their family and in the whole community.
Pirjo Koivuvaara, University of Eastern Finland, Joensuu, Finland, pirjo.polkki@uef.fi
Cooking by the (French) Book: Food and Identity in Elizabeth Gaskell's Wives and Daughters
Different practices of food consumption serve as a manifestation of different identities, or ideal characters. In nineteenth-century Britain, the consumption of cookbooks helped to create and maintain the socially ideal character by suggesting that a way to achieve this goal was through food consumption. The act of buying a cookbook in Elizabeth Gaskell's Wives and Daughters (1866) has implications that go beyond the mere wish to eat well. It is an indication of the buyer's, Mrs Gibson's, aspirations to social esteem, among which the wish to produce food and meals that distinguish her from her middle-class peers ranks high. Consumption, especially the consumption of food, serves as a sign of social emulation and social relationships in Wives and Daughters where food offers Mrs Gibson a way to bolster her social identity. She engages in a performance of her social identity, or rather the identity she desires to have, through the choices she makes when it comes to food; the cookbook she buys enforces the performance of her desired social identity and serves as a symbol of the genteel and fashionable lifestyle she wants to adopt.
Gabriela Boldizsarova, Catholic University in Ruzomberok, Slovakia, gabriela.boldizsarova@ku.sk
In Sycorax's Kitchen: Cooking Identity in Marina Warner's Indigo
Marina Warner has been interested in women's issues for a long time, both as a writer and a scholar. Her rich sensual writing reflects her view of food and its preparation as having a vital role in woman's life, shifting it from the real to the metaphorical level. One of the examples is her novel Indigo, in which cooking becomes an issue of identity.
In the character of Sycorax, Warner draws a parallel between the real preparation of food and the "cooking" of indigo as a creative activity, which becomes a signifier of Sycorax's identity, reflected also in her body. Her seclusion, her position within the local society, her knowledge of and her attitude to the environment, are all linked to her approach to cooking. The paper will discuss the mythical, historical, social, and feminist perspectives of the circumstances of "cooking indigo" which permeate in the novel, and create a rich mixture for the reader to taste.
Maria Parrino, University of Bristol, U.K
Eating and reading in Mary Shelley's Frankenstein
When in Mary Shelley's Frankenstein the Creature meets his creator, he forces him to listen to his story. A remarkable part of the Creature's narrative is devoted to food, cooking and eating habits: from raw to cooked food, the Creature defines his relation with fire and taste. As Carol Adams (1990) has convincingly underlined, what emerges is the Creature's vegetarian stance (one resonating with Mary and Percy Shelley's interest in animal rights), a trait which distinguishes him from his carnivore creator. Another part of the Creature's narrative pauses on his acquisition of a language, a skill he develops by listening to the De Lacey family while hidden in a hut. Among the first words he learns are words referring to food. Parallel to the Creature's ingestion of the vegetarian food and the spoken language of the De Laceys is his consumption of books. Paradise Lost, The Sorrows of Werter and Plutarch's Lives not only help the Creature develop his reading skills but also contribute to the shaping of his identity, one that questions the issue of monstrosity, gender and narrative (Peter Brooks).
Katarina Labudova, Catholic University in Ruzomberok, Slovakia, katarina.labudova@gmail.com
Man-eating and Blood-drinking Zenia: Cannibalistic Images in Margaret Atwood's The Robber Bride
In The Robber Bride, Atwood presents a voracious seductress, Zenia, who has wild appetites. Her victims are associated with nurturing and nourishing foods such as practical tuna casseroles (Tony), healthy vegan diet (Charis), sweet toasts with honey and jam (Roz): they eat together to support and comfort each other. Zenia, however, is associated with drinking blood and eating raw meat. Described as an immortal goddess and/or vampire, Zenia gets whatever she wants/steals: alcohol, men, raw steaks, money, sex and power.
I concentrate on Zenia's ambiguity: her sinful desires can be read as projections of her three women victims who secretly want to be like her. Zenia thus represents a liberating power, affirms the right to difference and otherness. Zenia's stories actually liberate the three women and force them to acknowledge the darker dimension of their repressed otherness.
The image of Zenia as the "dark twin" of Tony, Charis and Roz suggests complementarity: Zenia's dark appetites are their appetites for revenge, victory and power. Zenia's hunting and predatory appetite complicates the (seemingly) supportive female sisterhood and solidarity.
Irene González Sampedro, University of Oviedo, Spain
My Body, My Rules: Corporal Transgression in Janice Galloway's The Trick is To Keep Breathing (1989)
According to Naomi Wolf (1991), eating is a mechanism that organises society in a hierarchical manner. In this sense, the practices derived from the act of consuming food determine people's socialization in a capitalist world. The aim of this paper is to question the social normative discourses inscribed on bodies through Janice Galloway's novel The Trick is to Keep Breathing (1989). For this purpose, I will examine the protagonist's anorexia and alcoholism as a transgressive display of the corporal regularisation exercised over women. Hence, I will make use of Susie Orbach's (2009) perspectives on the importance of physicality and how it limits people's daily practices and relationships. Similarly, I will use Michael Foucault (1976; 1977) and Alexandra Howson's (2013) theories of the social discipline imposed on bodies. I will also concentrate on analysing the main character's eating disorder as a subversive practice, so I will employ Naomi Wolf (1991) and Susan Bordo's (1997) conception of bodies as malleable spaces influenced by the nutritionist and aesthetic markets. Besides, I will focus on Mary MacGlynn's (2008) viewpoint of the novel as a bulimic narrative mechanism adopted by Galloway in order to develop an independent identitarian construction from the rituals of writing.
Astrid Schwegler Castañer, University of the Balearic Islands, Palma de Mallorca, Spain
Food and Transnational Matrilineage: Negotiation of Second-Generation Chinese American Identity in Amy Tan's The Joy Luck Club
Food is often used as tool to negotiate one's identity, as it both expresses the complexities of the self in relation to others – you are what and how you eat – and at the same time it vividly illustrates the abstractness of the internal negotiation through its concrete sensual presence. This capacity of food imagery to tangibly articulate complexities expresses how identity, ethnicity and matrilineage are closely connected in Amy Tan's novel The Joy Luck Club. Tan uses food imagery to, at the same time, express and bridge the distance and sense of disconnectedness – exacerbated by the experience of migration – that daughters feel towards their mothers and their mothers' cultures in order to ultimately negotiate one's sense of self, including Amy Tan's own identity. The observation of the mother-daughter relationship through the prism of Nan Bauer Maglin's themes of matrilineage literature focused on textual fragments related to food and foodways reveals how food articulates the negotiation of the figure of the mother and her culture into the daughters' identities.
Yasmina Djafri, University of Abdelhamid Ibn Badis, Mostaganem, Algeria
The Power of Food in Crescent by Diana Abu Djaber: A Latent Reminder
In her novel Crescent (2003), Diana Abu Djaber depicts the atypical life path of the female protagonist Sirine; a chef cook in a Lebanese café in Los Angeles, who smells, feels, and tastes an Orient she has come to know from the different aromas her Iraqi uncle had sensitised her to. Interestingly enough, Sirine manages to project the world of her homeland through her food and becomes a live memory for millions of Arab Americans who yearn to join the café to feel a sense of comfort and nostalgia in the midst of a global, multicultural and chaotic U.S. Food is then portrayed as a latent reminder of ignored feelings, lost emotions and unknown truths. Hence, the present paper aims at exploring the miraculous power of cooking and eating oriental for an Arab exile. Particular attention will be directed, first, on how food might function as a complex language able to communicate memory as well as love in the narrative. Second, a tentative understanding of how food might awaken the protagonist question her identity and sense of belongingness will be discussed.
Eszter Ureczky, University of Debrecen, Hungary, ureczky.eszter@arts.unideb.hu
Food and Eating as the (Un)making of Social Class and Female Passion in I am Love
I Am Love is a 2009 melodrama set in contemporary Milan, following an haute bourgeoisie family's life and disruption. Emma Reechi (Tilda Swinton), the Russian-born protagonist, can perfectly pastiche the mannerisms of the Italian overclass, but her uncannily alabaster outlook and bursts of Russian betray that she is an outsider. The polished surface of their family life explodes when, having been aroused by a prawn dish she relishes in his restaurant, Emma begins an affair with the young chef (her son's friend), Antonio. The emphasis in the depiction of food is not on the stereotypical Mediterranean affirmation of sensuality, rather it is more about ritual: family meals function as a secular high mass, while Emma's shared eating with her lover signifies her gradual liberation. Her dammed-up capacity for passion finds its transgressive expression for the first time in middle age, and by denying her matriarchal responsibilities, a self-possessed woman goes through an awakening process. The presentation will read the food symbolism of I am Love in terms of class markers, cultural otherness and Emma's self-discovery, focusing on the film's lush visual style, which could be called postclassical Hollywood baroque, recycling images from Vertigo and Italian genre cinema of the '70s.
Nóra Séllei, University of Debrecen, Hungary, sellei.nora@arts.unideb.hu
Food as a Protean Metaphor in Angela Carter's The Magic Toyshop
Carter's The Magic Toyshop abounds in instances of cultural self-reflexivity that invite the reader to decode the semiotics of various cultural representations. Whereas in critical readings of the text great emphasis has been placed on the rewriting of master narratives like the Bible and Greek mythology, food imagery is a relatively underexplored aspect, although the text uses, among others, food as a metaphor to explore various cultural assumptions related to genders, power, and hierarchy. The use of food ranges from the fear of femininity, maternity and the body (see Melanie's attitude to the food prepared by Mrs Rundle) through the Sunday meal – and its corollary: sexuality – controlled by Uncle Philip to the transgressive feast of the incestuous siblings, breaking down Uncle Philip's regime. Considering this teleology, one can claim that the text goes in the direction of a liberatory narrative, which, however, is undercut by Carter's allusions, as if indicating that it is impossible to go beyond the discourse of representation. In my reading, food is a part of this complex system: it functions as a metaphor, but also reflects upon its own metaphoricity, and as such, food can be understood as a major tool in reading and writing culture
SLITE8 Sunday 31.8.2014 (A) 11.00–13.00 Room A4, (B) 16.00–17.30 Room A4
NEW VISIBILITIES: THE RHETORICAL AND POLITICAL IMPLICATIONS OF VICTIMHOOD AND OTHER FORMS OF VULNERABILITY IN 21ST CENTURY BRITISH FICTION
Convenors:
Jean-Michel Ganteau, University of Montpellier 3, France, jean-michel.ganteau@univ-montp3.fr
Susana Onega, University of Zaragoza, Spain, sonega@unizar.es
Deconstructivist and trauma critics have popularised the view that trauma is unrepresentable. However, the proliferation of narratives representing traumatised or vulnerable individuals and groups shows that this is possible, even though through forms of rhetorical indirection such as symbolic language and narrative genres and modes of excess capable of providing an unfixed meaning to trauma. The seminar seeks contributions envisaging the role of 21st-century British novelists in the development of this new type of narrative to avoid the establishment of victimhood as an essentialist category of identity politics, and to provide strategies of resilience and foster the fruition of affects.
Participants
Jean-Michel Ganteau, University of Montpellier 3, France, jean-michel.ganteau@univ-montp3.fr
Shifting visibilities: The politics of trauma and vulnerability in Neil Bartlett's Skin Lane
Neil Bartlett's Skin Lane (2007) documents life in London's eponymous street, the secular locale of the furriers' trade. The year is 1967, when the Sexual Offences Act was passed, decriminalising homosexual acts between adults in private. Against this realistic background, the novel chooses to circuitously draw up its own ethical agenda by re-visiting the Beauty and the Beast legend and re-scripting it as a bitter elegy. Skin Lane is essentially a trauma narrative in which the main protagonist's individual trauma harks back and forward to that of the community of people deprived of their rights. Far from considering victimhood as essence, it takes pains to reveal its constructedness at the hands of what has recently been identified as dispossession (Butler and Athanasiou). Even while addressing the issue of vulnerability as an inherently human quality – something that makes us responsible for one another – it strives to demonstrate its cultural constructedness. Instead of envisaging vulnerability as force (Brown, Le Blanc), it provides a narrative line which falls short of empowerment, thus gainsaying contemporary narratives of emancipation. In so doing, it contributes to the expression of a politics of literature (Rancière).
Laurent Mellet, University Toulouse 2 – Le Mirail, France, laurent.mellet@univ-tlse2.fr
The humanism behind Jonathan Coe's narrative "patchwork[s] of . . . coincidences": acting and writing around vulnerability
In Jonathan Coe's most recent fiction (The House of Sleep, The Rotters' Club, The Closed Circle, The Rain before it Falls, The Terrible Privacy of Maxwell Sim, Expo 58), characters are often first defined and apprehended through their fallibility and "effective vulnerability". Coe's narrative patterns and "patchwork[s] of . . . coincidences" (The Rain before it Falls) are to be construed as his main humanist answer for those characters to find meaning in chaos and resist trauma, leading them to self-assertion and "politics of cooperation" (Richard Sennett). I will argue that Coe's role in the development of the new visibilities of literary victimhood is first linked to such humanist writing, which aims at putting the individual subject back at the centre of action, decision-making and existentialist praxis. Yet his narrative strategies also posit that the representation of vulnerability has to do with moving, acting and writing aside—his political logics of deviation will be unravelled so as to show that literary forms of vulnerability are here to be equated with original aesthetics and ethics of the accidental, the comic, the alternative, and eventually self-delusion.
Maria Grazia Nicolosi, University of Catania, Dept. of Humanities, mg.nicolosi@unict.it
"hideous trajectories, skilfully navigated" Hidden in Plain Sight: The Vulnerable Shapes of Lisa Appignanesi's Holocaust Narratives
The impressive literary output by children of Holocaust survivors that emerged in the 1980s and 1990s has grown into a remarkably multifaceted phenomenon. Due to longstanding intimacy with racialised terror and forced existential precariousness, the post-Holocaust legacy arguably casts its shadow more darkly over Jewish writers than over any others in Britain (Kenyon 1991: 53). Second- and third-generation British Jewish writing appears to respond to the metaphysically and psychologically traumatic dimensions of the Holocaust experience. Inflected by a postmemorial sensibility born out of a profound identity crisis, this writing inhabits an "imagined world" of "impending destruction" (Patraka 1999: 56). However, it eschews the sacrificial aesthetics prevailing in the universalising vocabulary of canonical Holocaust literature, interrupting its victimisation patterns. Lisa Appignanesi's memoir Losing the Dead (1999) and her novel The Memory Man (2004) enact this dual movement through self-conscious rhetorical modes of Holocaust representation (Grimwood 2007: 1). The paper intends to examine those textual features that highlight Appignanesi's second-generational reclamation of this muted discourse within Holocaust memory as well as her contribution to contemporary British-Jewish writing.
Susana Onega, University of Zaragoza, Spain, sonega@unizar.es
The Politics of Peter Ackroyd's Rhetoric of Excess and Indirection in The Lambs of London
The common critical view that the postmodernist rewritings of history respond to a bent for playfulness that adds nothing to our understanding of the past has been a constant in the appreciation of Peter Ackroyd's works. However, our interpretation of past events are determined by the memories we keep of them, so that even the most fragmentary and ludicrous recreations of the past trigger off a process of "sideshadowing" (Morson 1994, 7) that necessarily casts new light on the recreated events. Furthermore, in the case of traumatic memories, meaning is often conveyed through the gaps left in the narration by the sheer struggle for representation. Starting from this premise, the paper proposes a reading of The Lambs of London (2004) as an exemplary Ackroydian fiction combining postmodernist playfulness and fragmentariness with a rhetoric of indirection and excess and a generic and modal hybridity that, as argued elsewhere (Onega and Ganteau 1–14), is characteristic of contemporary trauma fictions. It contends that the use of these devices allows for the emergence of a counter-narrative that provides a serious critique of Victorian family relations in general and the social strictures of middle-class women in particular, thus destabilising received notions of nineteenth-century identity politics.
Merve Sarıkaya, Başkent University, Ankara, Turkey, mervem82@yahoo.com
Tom McCarthy's Remainder: An Anti-Hero of the Twenty-First Century Who Cannot Go on But Must Go on
This paper is aimed at analysing and discussing how, in Remainder (2005), Tom McCarthy's anti-hero, traumatized by an accident which involves something falling from the sky, shows resilience in his attempts to keep feeling alive. Avoiding the essentialist category of victimhood after trauma, McCarthy's traumatized anti-hero re-enacts and obsessively re-builds his unclear memories in what may be described as a Beckettian loop, which gradually becomes impossible to control and transforms him into a murderer. As Peter Boxall argues, the extraordinary advances in technology, especially in the twenty-first century, have transformed and extended the spatial, temporal, and physical limits of our being. These intellectual and physical extensions seem coterminous with the excessiveness of trauma, which is associated with a surplus of affects. In keeping with this, the representation of trauma in literature requires a new narrative form which is not confined to unrepresentability and ungraspability but is thematically and/or symbolically excessive. In my analysis, I will try to demonstrate that McCarthy's anti-hero refashions his own spatial and temporal limits through his excessive re-enactments of the past which foster his resilience but at the same convert him into an anti-hero of our time.
Eileen Williams-Wanquet, University of La Réunion, France, eileen.williams-wanquet@univ-reunion.fr
Reviving Ghosts: The Reversibility of Victims and Vindicators in Sarah Waters' The Little Stranger
I would like to pursue the conclusion Susana Onega comes to, in her answer to George Letissier, concerning the identity of the "little stranger" in Sarah Waters's fifth novel (2009), showing how Waters associates the use of the Gothic and of psychological realism to "plumb the psyche" (Robert Heilmann) and express the unspeakable trauma of the mixed feelings involved in British class relations. Although the novel is set in the context of the class crisis of the postwar period, the trauma transcends time and space. The transtextuality with Jane Eyre shall be developed, in order to suggest that the "phantom" unconsciously carried by the narrator-focaliser, Faraday, is also that of Bertha Mason and of Jane Eyre herself, revived with a vengeance in The Little Stranger. Haunted by the ghost of a ghost of a ghost of a past text that itself keeps spectrally and anti-lineally returning, Waters' novel, typical of postmodern romances that "create doubt" (Elam) and blur temporality, rethinks the relation between victims and vindicators, offering a reflexion on the ubiquitous and elusive nature of evil, and on its origins: if a victim cannot exist without a tormentor and if a traumatised victim returns to take revenge, where do vulnerability and responsibility ultimately lie and how can the endless repetition of the same, the repetitive spiral of violence, be broken?
Svend Erik Larsen, Aarhus University, Denmark, litsel@dac.au.dk
Post-colonial and migrant memories
Christos Tsiolkas' best-selling, award winning and TV-adapted novel The Slap (2008) focuses on migrant middle-class life in post-White-Australian multicultural Melbourne. Eight main characters are chosen as points of view in the same number of chapters around a core event: a boy is slapped during a family party. On the surface, the novel explores the dissonance of values among friends and family within a constrained middle-class environment. But more importantly, what keeps them together and apart is the difficult and different role memory and forgetting play for each of the main characters, and others as well, in an intricate cultural web, constituting a grey zone between individuality and collectivity, consciousness and sub-consciousness. The paper will analyse the novel in the light of recent conceptualizations of memory and thus will open it to the perspective of the transnational globalised cultures of today.
SLITE9 Saturday 30.8.2014 (A) 17.15–18.45 Room S2 /Sunday 31.8.2014 (B) 16.00–17.30 Room S2
SEMINAR ON ENGLISH MANUSCRIPT STUDIES
Convenors:
Carlo Bajetta, Università della Valle d'Aosta, Italy, carlo.bajetta@univda.it
Guillaume Coatalen, Université de Cergy-Pontoise, France, guillaumecoatalen@hotmail.com
The focus is on editing manuscripts from all periods, whether they be strictly literary or not. The seminar is particularly interested in unpublished material in manuscript. Research topics include, and are not restricted to, finding manuscripts and archival work, manuscript collections, scribal work, paleography, manuscripts as books, the coexistence of manuscripts and printed books, what manuscripts tell us on reading habits, editing manuscripts, electronic versus printed editions, manuscript studies and digital humanities. Manuscript studies have been on the cutting edge of literary theory and papers on authorship, the constitution of the text or hermeneutics are welcome.
Participants:
Efterpi Mitsi, National and Kapodistrian University of Athens, Greece, emitsi@enl.uoa.gr
An Angell in Oxford: A Greek scholar's voyage, manuscript and plea in early seventeenth-century England
This paper examines an obscure manuscript at the Gennadius library in Athens (MS 121.1) which contains the English translation of a short autobiographical essay written by the Greek scholar Christophoros Angelos. The text, published in 1617 in Oxford as Christopher Angell, a Grecian who tasted of many stripes and torments inflicted by the Turkes for the faith which he had in Christ Jesus, narrates Angell's misfortunes in Ottoman-held Greece and his escape to England, followed by the praise of the country and its inhabitants. This original manuscript, acquired by bibliophile John Gennadius in the sale of Sir John Arthur Brooke at Sotheby's on 25 May 1921, reveals not only the publishing history of Angell's pamphlet, the first publication by a Greek in England, but also an engaging story of intercultural exchange, translation and quest for patronage.
The manuscript's colophon in Greek, in the author's own hand, signing the manuscript as "Χριστόφορος Άγγελος έλλην πελοποννήσιος" [Christophoros Angelos, a Greek from Peloponnese] follows the English text in bookhand; his uneven handwriting contrasts with the script of the two different scribes, the first having a bolder hand while the second a rounder and straighter one. Moreover, the two attached ink drawings, which provide the models for the woodcuts in the printed editions, symbolize the book itself. The first, depicting Angell's torture in Athens, looks as if the author, who has no ability in drawing, wants to show an illustrator how to represent his suffering; the second drawing, which is more artistic, presents an allegorical figure of England with Angell as a small suppliant on its side, displaying in a personal and dramatic way Anglo-Greek relations in the early seventeenth century.
D. C. Andersson, Wolfson College, Oxford, Great Britain, Daniel.andersson@gmail.com
Editing Philosophical Manuscripts: A case study from seventeenth-century Oxford
Problems of dictation and problems of mishearing/misremembering complicated philosophical terms are not merely intellectual problems. They are problems of physical inscription. The current paper will examine the manuscripts of Richard Crakanthorpe, an Oxford scholastic philosopher from the early seventeenth century, whose introduction to natural philosophy (existing in two separate redactions) I have edited for publication. In addition to some comments on the identity of one of the scribes, I will In particular look at whether we can construct a 'grammar' of deletions, errors and omissions, and see what this may say about the classrooms of learning in early modern Oxford.
Andrew James, Meiji University, Tokyo, Japan, jamesandrew205@gmail.com
The Personal Side of Writing: a Study of Graham Swift's Correspondence
This paper focuses on the letters of Graham Swift in the British Library's archives in a discussion of the novelist's own distinction between the personal and the autobiographical. Although the archival correspondence is limited to "professional" exchanges with scholars, editors, translators, and general readers, we are fortunate to have both sides of the conversation. Because Swift retained copies of his own letters, we are able to see the cat-and-mouse game that unfolds between readers wanting to know more about the man behind the novels and a novelist determined to keep the curious at bay. In response to inquiries into the biographical background of his fiction, Swift maintains that his novels are the product of imagination. Usually he does so through a measured treatise on the difference between life and literature; but occasionally, perhaps when he is short on time or patience, he becomes glib. For example, in a 5 September 1986 letter to an inquisitive fan of Waterland, Swift declared: "Works of fiction are just 'dreamed up'. If you can tell me where your dreams come from, I'll tell you how I write." However, twenty years later he offered a more helpful response to a German scholar who had asked about the origins of the novel Tomorrow:
It's clearly a novel about very personal things. I think I've always wanted to write very personal novels and this may be my most personal one so far, though not in the sense that very much in it, if anything, is directly, autobiographically personal to me. I think this is the business of fiction, to be personal and perhaps resonate very intimately with the reader's life, without being personal in any literal sense. (27 December 2006)
By drawing on numerous exchanges in the British Library's archives, this paper will explore the validity of Swift's distinction between the autobiographical and the personal in trying to understand his reluctance to admit life experience as the basis for fiction.
Conny Loder, independent scholar, connyloder@yahoo.de
Shakespeare's Playhouses and Early Modern Documents
Every year I conduct a Shakespeare excursion to London in which students not only watch plays and engage in acting workshops, but also locate relevant original manuscripts that pertain to Early Modern playhouses.
The relevance of these documents is high. In a conversation that I had with Julian Bowsher, head archaeologist from the Museum of London, we discussed how information is brought together from various manuscripts to pin down locations on which to excavate with the hope of tracing Early Modern playhouses. This information – for the Theatre, Blackfriars, the Globe, the Rose, the Swan – is found in marginal documents, spread out over numerous documents, often in law suits, or are mentioned in leases, and that, rather indifferently. So far, not many of these pieces have been gathered, and we are still in need of a comprehensive picture of the playhouse situation in Early Modern London.
In this paper I would like to present which documents are of relevance, how we can use these documents today to locate not only the physical sites of these playhouses (and yes, there is still a debate as to where one should start digging) but also what these documents reveal about the conditions of acting, about being an entrepreneur in an acting company and, not to be forgotten, about how theatre was received by Londoners – Puritans and theatre enthusiasts alike.
Roberta Grandi, Università Cattolica, Milan, Italy, roberta.grandi@unicatt.it
From manuscript to manuscript – Two King Lear burlesques
The study of Victorian burlesques is often hindered by the scarcity of documental material. This is partly due to the innate perishableness of these productions, whose nature relied mainly on topicality: their often limited success, the minor theatres where they took place, the little renown of their authors, all frequently contribute to obscure the concrete history and contexts of many interesting specimens of this fascinating genre.
This paper will investigate a symptomatic case for the transmission history of such texts, that of the manuscripts of John Chalmer's King Leer and His Darters (1848) and of Frederick Marchant's, Kynge Lear and his Faythefulle Foole (1860). The first burlesque was staged at the Bower Saloon in Lambeth; very little is known about both the performance and its author. The second was staged at the Britannia Theatre; its author, this time, was a playwright and actor who enjoyed a discreetly long career.
Marchant's burlesque is, in fact, extremely similar to Chalmer's, particularly in the first part of the play. Through a detailed comparison of the surviving evidence, this paper will endeavour to work out the relationship between these manuscripts and their authors, thus casting some new light on the history of these interesting, and unjustly neglected, texts.
Anunciación Carrera de la Red, Universidad de Valladolid, Spain, acarrera@fyl.uva.es
The Stannington Diploma and the Problem of Misappropriated Authorship
This paper is concerned with an anonymous transcript at the Society of Antiquaries of London, reproducing the text on the outer face of the lost tablet of the Stannington Diploma, the Roman inscription found in 1761 Yorkshire.
The script had been sent on to the Society soon after the discovery by John Watson, who failed to provide the identity of its original copyist. A first authorial attribution of sorts was made by John Hunter: apart from attesting the copy was 'plainly in the handwriting of Mr [John] Wilson [of Broomhead]' (1819: 18n), he proved that it had been the latter who had sent up both news and copy to Watson. This fact being little conclusive with regard to authorship, the 'definitive' edition of the text merely notes that 'apparently the transcript was prepared by John Watson' (Frere et al., 1990: 2401.6). My research at various British archives yielded positive results: the identity of the real copyist of the Stannington diploma and the series of fraudulent appropriations which Wilson's and Watson's communications, along with those of others, proved to be. The case aptly illustrates the issue of misappropriated authorship within the field of manuscript studies and is presented here to call for the attention of English specialists towards its significance.
Marcella Henderson-Peal, Université Paris Est Créteil, Paris12, marcella.henderson@u-pec.fr
Carrying out research work on the literary and philosophical reception of British author John Cowper Powys (1872–1963) led
to the discovery of several unpublished, and indeed hitherto unknown, correspondences within the context of current renewed interest in Powys's works in France. One of these correspondences includes 24 letters from Powys to philosopher of existence (rather than existentialist) Jean Wahl over 27 years. The other one concerns the role of the collaboration and co-authorship between John Cowper Powys with his translator, Marie Canavaggia, who translated into French two of his major novels and more importantly his Autobiography. She was also Louis Ferdinand Céline's assistant (2 volumes of 508 letters from Celine's correspondence to her have been published). Céline called her my "dear double". I should like to press the importance of these letters in Celinian studies and therefore the importance of the Powys/Canavaggia letters for Powys scholars.
SLITE10 CANCELLED
THE FORMS OF THE LANDSCAPE: SOUND/SENSE AND TOPOGRAPHY
Convenors:
Wolfgang Görtschacher, University of Salzburg, Austria, Wolfgang.Goertschacher@sbg.ac.at
David Malcolm, University of Gdańsk, Poland, david.malcolm@anglistyka.edu.pl
Landscape has formed a traditional subject of English-language poetry since the Renaissance. It has certainly been prominent in poetry from the last fifty years. A variety of poets have written powerfully of landscapes of the most varied kinds. These include: Ted Hughes, Basil Bunting, Seamus Heaney, Les Murray, Charles Tomlinson, Jon Silkin, Anne Stevenson, David Constantine, Michael Hofmann, Kathleen Jamie, Paula Meehan, and John Burnside. Landscape poetry is defined by its subject. However, in keeping with our two previous seminars at ESSE conferences (Turin 2010, Istanbul 2012), we are interested in how the subject of landscape relates to the technical or formal aspects of the poems that address the topic. How do rhythm and meter, phonological organisation, strophe, enjambment, and genre embody, question, undermine, or augment the landscape poem's manifest content? We invite proposals that discuss the technical aspects of landscape poems and their meaning in English-language verse (for example, from North America, Britain, Ireland, Australia, South Africa, or India, although that of other national English-language traditions is also welcome) since 1960.
SLITE11 Saturday 30.8.2014 (A) 11.00–13.00 Room A6, (B) 17.15–18.45 Room A6
CONFORMISM AND ANTI-CONFORMISM RECONSIDERED: FROM POSTMODERNISM TO CONTEMPORARY SENSIBILITY IN BRITISH AND AMERICAN LITERATURE AND ARTS
Convenors:
Jaroslav Kušnír, The University of Prešov, Slovakia, jkusnir@fhpv.unipo.sk
Dan Popescu, Partium Christian University, Romania, dhpopescu@yahoo.com
The most recent tendencies in British and American fiction show a certain wish to recuperate realistic meaning as well as to ironically point out the "exhaustion" of the poetics of the "former non-conformist" postmodern authors whose status has changed because of the "institutionalization" of their works. The position of the post-metafictional generation of authors – people such as David Foster Wallace, Villiam Vollmann, Mark Haddon, and others – manifests itself in an interest in reviving the position of the subject, in a certain distance from the earlier generation of postmodern authors and with it, in a new literary "non-conformism". This session welcomes papers dealing with all aspects of those innovative kinds of poetics which are aimed at reconsidering or "creatively" extending postmodernist art. Comparative and interdisciplinary studies are encouraged.
Participants:
Sigolène Vivier, Sorbonne University, France,sigolene.vivier@gmail.com
Ironic Sincerities: Re-reading the Post-modernism of David Foster Wallace's Short Stories
Although Wallace's literary acrobatics in his short stories are seemingly reminiscent of "po-mo", his prose should not be read as a mere perpetuation nor as a discarding parody of it, but rather as an attempt to transcend post-modernist irony via irony itself in order to access the essence of meaning and a sincerity, even an ingenuousness, that fiction should be striving for in order to regain its rights on muthos (as 'storytelling'). By exploiting the very dangers of solipsism and reflexivity both textually and thematically, Wallace brings the literary focus back on the emotionality of the human subject while providing an effective comment on modern popular culture – but I will argue that his subtle subversion of post-modernist conformism also resides a) in the way he redefines the role of the reader by eschewing his/her distanciation as a mere Implied Reader whose task is to solve the textual riddle, and by appealing to him as both object and subject of his meta-fictions and b) in the way he stylistically experiments with mimesis (see the verbosity of his bombastic endnotes and jargonizing descriptions) as a bold endeavour to revivify realism as well as the process of identification, but also paradoxically as a challenge to tackle what art should but cannot always articulate – i.e. in his own words "what it means to be a fucking human being" ("An Interview with David Foster Wallace", interview by Larry McCaffery, Review of Contemporary Fiction 13 (summer 1993): 138.
Kušnír, Jaroslav, University of Prešov, Slovakia, jkusnir@fhpv.unipo.sk
After Postmodernism: "Senzicerity": Between Avant- Pop and New Sincerity? William Vollman's The Visible Spectrum (1989) and Curtis White's Memories of My Father Watching TV (1998)
Since the late 1990's, many critics have been discussing a possible end of postmodernism (I. Hassan, A. Kirby, R. Eshelman) and suggested an emergence of new senzibility referred to as, for example, digimodernism (A. Kirby, 2009). Some of them suggested the origination of a new kind of fiction which emphasizes the value of human experience through the narratives different from postmodern narratives which understand this experience and human subject as linguistic constructs (David Foster Wallace's fiction understood as fiction of New Sincerity by Adam Kelly). Other authors and critics have, however, contributed to a growing confusion about postmodern literature and literature of new sensibility by including the authors traditionally understood as postmodern (see, for example, P. Geyh's Anthology of Postmodern Fiction, 1989, including William Vollman's and Curtis White's fiction) in their Avant-Pop Anthology and Avant-Pop Manifesto (see http://www.altx.com/…nifesto.html) claiming to have included the authors different from postmodern authors. Analyzing a possible emergence of new senzibility manifesting itself in the poetics of new sincerity (like in David Foster Wallace's fiction as understood by Adam Kelly), and in the Avant-Pop senzibility, my paper will deal with these narrative techniques and the vision of the world which creates a new senzibility as manifesting itself in William Vollman's The Visible Spectrum (1989) and Curtis White's Memories of My Father Watching TV (1998). I will use the compound term "senzicerity" as a combination of (new) senzibility and (new) sincerity to analyze these authors' both connection with postmodernism and postmodern vision of the world as well as the way their depiction of pop culture and new senzibility implies these authors' difference from dominant postmodern vision of the world, thus representing a non-conformist relation to postmodernist fiction.
Diana Benea, University of Bucharest, Romania, dbenea@gmail.com
Post-Postmodernist Sensibility in Thomas Pynchon's Bleeding Edge
Starting with Vineland (1990), Thomas Pynchon's more recent body of work has registered a subtle shift from the high postmodernism of his first three novels, dominated by the paranoia of all-encompassing regimes of control, towards a toned-down vision marked by a reconceptualization of the status of the subject and its enhanced ethico-political agency. Interestingly, this shift of vision might be easily obscured by the fact that Pynchon still employs his signature tropes (paranoia, the quest, etc.), as well as his prevalent aesthetic strategies (genre pastiche, parody, metafiction), albeit with a new degree of irony and self-consciousness. Bleeding Edge (2013) illustrates the tension between what has become a predominantly stylistic, "exhausted" postmodernism, on the one hand, and the contemporary urgency and heartfelt humanity of a novel about 9/11 and terrorism, about the dotcom bubble and the traps of virtual reality, and, not least, about family, communal bonds, and questions of trust. By removing the layers of Pynchon's self-pastichizing style, the paper aims to excavate the quasi-"realistic" treatment of the aforementioned thematic concerns and the implicit attempts at recuperating a sense of "realistic" meaning. The novel thus becomes the latest and most direct expression of the post-postmodernist/ late postmodernist sensibility of Pynchon's recent fiction, gesturing beyond the textual provocations of his earlier novels towards what the writer described, in the Introduction to Slow Learner, as his preference for works "grounded in human reality", able to probe into "the deeper, more shared levels of life that we all really live".
Dan H Popescu, Partium Christian University, Oradea, Romania, dhpopescu@yahoo.com
Vineland or Thomas Pynchon against his younger self
The paper intends to analyze how the author of Vineland practically reconsiders the darker paradigm set in his first three novels, and emphasizes the lighter, truly postmodernist approach that marks the works he has written since. In this respect, Vineland exposes the author as fighting against the limits of his own poetics while employing the same "non-conformist" attitude.
Pokrivčák, Anton, Constantine the Philosopher University, Nitra, Slovakia, apokrivcak@ukf.sk
Conformism, Anti-conformism and the Sense of Literary Studies in the Post-Postmodern Age
Literary theory of the last decades of the twentieth century was dominated by the issue of fragmentation, representation, political and ideological struggles, and so on. The concept of postmodernism gave rise to a wide variety of critical approaches, many of which take one far beyond the realm of literary study – to philosophical, political, or sociological contexts. One of its consequences was also the emphasis on non-conformism, anti-conformism, anti-essentialism, etc. However, if literary theory is not to become just a seeker and justifier of various manifestations of otherness, it has to start pointing to what we already know, to what is close to us, to humanity in its essential or universal aspirations. The problem is analyzed through the discussion of several texts, both primary artworks as well as critical conceptions.
Tibor Tóth, Eszterházy Károly College Eger, Hungary, totib@ektf.hu
The Strange Case of…
No, the title of my lecture is not The Strange Case of Dr. Jekyll and Mr Hyde, although some sort of analogy between "The Strange Case of Philip Roth and the Wikipedia Administrator" and Stevenson's novel seems a valid supposition…
Philip Roth has been on the literary stage for 61 years now and his career is an excellent example of the way in which many great writers of the last century encountered, embraced, perfected and abandoned (or attempted to abandon) postmodern narrative and its assets. In the course of the second half of the twentieth century Roth willingly assumed the status of a magus, constantly formulated and re-formulated past, present and future, and produced an incredible plurality of identities; his games with the themes of authority and freedom have attracted constant attention.
In my paper I intend to discuss some aspects of Philip Roth's 21st century 'reformulated' attitude towards the inherent and relevant dichotomy between freedom and authority. The starting point was occasioned by his "An Open Letter to Wikipedia," dated September 7, 2012.
The discussion of the theme will touch upon certain aspects of some famous Roth novels, including The Anatomy Lesson, The Ghost Writer, The Facts, The Counterlife, Deception, The Human Stain and Exit Ghost.
My aim is not to draw some final conclusions on the attitude of the post postmodern towards its predecessor, as at the moment this is impossible. Instead, I hope to reveal some of the basic dilemmas of the 21st century post. One of the major questions seems to be whether the artist's confrontation with the 'manipulative identity plurality factory' founded and perfected by late postmodernism is possible or the Wikipedia Administrator was definitely right when he questioned Roth's authority over his own art and serenely declared that the novelist was a not a credible source and "we require secondary sources".
Péter Dolmányos, Eszterházy Károly College, Eger, Hungary, dpeter@ektf.hu
Non-confomist History or Non-historic Conformism? Roddy Doyle's The Last Roundup Trilogy
Up until the publication of A Star called Henry in 1999, Roddy Doyle was considered principally as a chronicler of the present. Doyle's concern was the working class world of Dublin, carefully and consciously overlooked and neglected by revivalist agendas before him, and his vivid portrayal of the subculture of the South Dublin housing estates safely established him as an important voice in contemporary Irish fiction. The novels of the Barrytown trilogy are usually referred to as conversational novels, as Doyle limits narration to a bare minimum and allows his characters to do most of the speaking, thus challenging a number of traditional as well as postmodernist narrative techniques. In 1999, however, Doyle ventured into new territory by launching the first volume of a new trilogy. The Last Roundup was heralded as the writer's new departure into a new world, that of the historical novel. With the trilogy now complete, the project can be readily assessed, since Doyle playfully reconsiders and subverts notions of the historical novel, and its postmodern version, historiographic metafiction, and reverts to more subjective yet at once more traditional ways of storytelling. The result is an exciting world which the paper intends to explore principally from the points of view of history and narration.
Judit Nagy, Karoli Gaspar University of the Reformed Church, Budapest, Hungary.
Conformism versus non-conformism as a quest for the genuine in art in George Bowering's "The Hayfield"
The issue of conformism versus non-conformism in art can be approached from the point of what constitutes genuine artwork, a question which has been preoccupying artist and critic alike. Gordon Featherall, the art historian protagonist of Canadian writer George Bowering's short story "The Hayfield", aspires to become a genuine painter through his knowledge of art. Contemplating literary and pictorial aesthetics of the 20th century and having studied the oeuvre of famous literary figures and painters, he makes an attempt at painting his subject, the hayfield. Will he succeed in his endeavors to achieve something genuine? Building on a detailed analysis of the protagonist's painting- and literature-related remarks, the paper aims at exploring the connection between conformism/ non-conformism in art and genuine artwork.
SLITE12 Saturday 30.8.2014 17.15–18.45 Room S1
THE RECEPTION OF VICTORIAN FICTION IN EUROPE
Convenors:
Ebbe Klitgård, Roskilde University, Denmark, ebbek@ruc.dk
Alberto Lázaro, Universidad de Alcalá, Spain, alberto.lazaro@uah.es
The publication of the volume The Reception of Charles Dickens in Europe this year has contributed to our understanding of the relationships between Victorian literature and the intellectual history of mainland Europe. However, much could be learned from looking at other significant writers of the same period. Papers are invited which investigate the ways in which British Victorian authors, such as George Eliot, William Thackeray, Thomas Hardy, Lewis Carroll, the Brontë sisters, Arthur Conan Doyle, Elizabeth Gaskell and many more have been translated, published, read and reviewed in Continental Europe over the last centuries.
Participants:
María José Coperías Aguilar, University of Valencia, Spain , maria.j.coperias@uv.es
The Reception of Elizabeth Gaskell in Spain
Elizabeth Gaskell (1810–1865) was a prolific and well-known Victorian writer who enjoyed great popularity during her lifetime and sold a comparatively high number of copies of her books. However, after her death, her work seems to have fallen into oblivion in the minds of most readers and critics, except for her novel Cranford and her biography of Charlotte Brontë. Although an incomplete collection of her works was published in the early 20th century and some occasional critical studies were also published in the first half of that century, it was not until the 1950s, with Marxist criticism, and in the 1970s and 1980s, from a feminist approach, that she was rediscovered. In this paper we will try to analyse how her work has been received in Spain, especially in the 20th and early 21st centuries. Despite the few translations we have managed to find for the first half of the 20th century, in recent decades there appears to have been a great increase in popular interest in reading her work. However, this great interest in Elizabeth Gaskell does not seem to exist in the academic world.
María Jesús Lorenzo Modia, University of Corunna, Spain, maria.lorenzo.modia@udc.es
George Eliot and Spain: An Irregular Reception
The publication in 2015 of the volume The Reception of George Eliot in Europe will no doubt show the wide knowledge that many countries in Europe had regarding this Victorian writer. However, as the chapter on the reception of George Eliot in Spain will hopefully show, that reception has been irregular in Spain regarding both the works translated and the periods in which they were issued. Although it is known that one of her novels was published in Spanish – in an abridged edition – immediately after having been published in England, the Spanish reading public had to wait until the twentieth, or even until the twenty-first century, to enjoy the literary work of this English author, and some of her texts have not yet been translated into the language of Cervantes. Other issues interesting for analysis are those of gender, religion, and censorship. Regarding the first topic, although she always kept her male pseudonym, her authorship had been revealed in the English-speaking countries rather early in her literary career, whereas in Spain her male nom-de-plume was kept without other indications and very often she was referred to as male. I will also argue gender issues are intermingled with those of faith in the reception of George Eliot's texts in Spain under Francoism, mediated by the official censorship system.
Ebbe Klitgård, University of Roskilde, Denmark, ebbek@ruc.dk
The Reception and Translation of Thomas Hardy's Novels in Denmark, Including a Comparison with George Eliot
It is well known that Thomas Hardy (1840–1928) gave up writing novels near the end of the 19th century, following the public scandal aroused by his novels Tess of the d'Urbervilles (1891) and Jude the Obscure (1895). There was a somewhat similar literary scandal about sexual morality in Denmark around the same time, and in this context Tess was translated in 1893, whereas Jude did not appear in Danish until 1926. To this day Tess remains the most popular of all Hardy's novels in Denmark, as in most European countries, with new translations in 1905 and 1926, the latter of these translations republished in 1981. However, several other prose texts by Hardy were translated, both short stories and the novels Far From the Madding Crowd (1874, transl. 1943) and The Mayor of Casterbridge (1886, transl. 1931). In this paper I will mainly discuss the translations of the four novels mentioned so far by the same translator, Aslaug Mikkelsen, who was one of the first female academics within the field of English Studies in Denmark. I will include a comparison with Mikkelsen's translation of George Eliot's Silas Marner and an article she wrote about Eliot. Furthermore, I will investigate the question of why George Eliot became even more frequently translated than Hardy, and why and how both writers were edited in the process of translation.
Alberto Lázaro, University of Alcalá, Spain, alberto.lazaro@uah.es
The Reception of Thomas Hardy in Franco's Spain: The Case of Jude the Obscure
Some of Thomas Hardy's novels are well known for the controversial reception they received from British publishers and readers. When first published in serial form, Tess of the D'Urbervilles (1891) and Jude the Obscure (1895) were both heavily bowdlerised, and when they were finally published as an unexpurgated whole some critics harshly attacked them for being in conflict with Victorian morality. Surprisingly enough, when a translation of Tess was reprinted in Spain during General Franco's regime (1939–1975), despite its strict moral and religious censorship, Spanish censors did not find fault with Hardy's sympathetic portrayal of a "fallen woman". However, the case of Jude was special. The novel was banned in Spain on moral and religious grounds during most of the regime. It was only in 1972 that censors did not disapprove of the book's critique of the institution of marriage and allowed a Spanish printing of 15,000 copies of Jude's story. It is interesting to note that laws regarding marriage were very strict under Franco's regime, and divorce was not legalised until 1981. This paper will look at the reception of Hardy's last novel in Spain, which shows the contradictions and the changing social and moral climate during the latter years of Franco's regime.
SLITE13 Monday 1.9.2014 (A) 11.00–13.00 Room A10, (B) 14.30–16.30 Room A10
MAPPING THE PUBLIC AND THE PRIVATE IN THE NOVELS OF FEMALE DEVELOPMENT
Convenors:
Soňa Šnircová, Pavol Jozef Šafárik University in Košice, Slovakia, sona.snircova@upjs.sk
Milena Kostić, University of Niš, Serbia, mkostic76@gmail.com
As some feminist theorists of the Bildungsroman claim, public and private spaces play crucially different roles in the male and female versions of the genre. While the classic works of the male Bildungsroman show that the hero's development requires a move from the private space of home into the public sphere (formal education, independent life in the city), the heroines in the traditional novels of female development (such as Jane Eyre, Emma, The Mill on the Floss) are not allowed to make any significant move beyond the limits of domestic life. The seminar will explore whether the social and cultural changes brought by the second wave of feminism and the growing importance of the public sphere in the life of modern women have led to any significant changes in the representations of the public and the private in contemporary narratives of female Bildung.
Participants:
Cédric Courtois, University of Paris 1 Panthéon-Sorbonne, France, Cedric.Courtois@univ-paris1.fr
Third-Generation Nigerian Female Writers and the Bildungsroman: Breaking Free from the Shackles of Patriarchy
"Even the broadest definitions of the Bildungsroman presuppose a range of social options available only to men." Since Goethe's Wilhem Meister, Abel, Hirsch, and Langland have stated that "the definition of [the Bildungsroman] has gradually been expanded to accommodate other historical and cultural variables". I aim to delve into the unstable limits between the public and the private in two novels of female development: the debut novels of two third-generation Nigerian female writers, Chimamanda Ngozi Adichie's 2003 Purple Hibiscus and Sefi Atta's 2005 Everything Good will Come. Both novels tackle the issue of gender, and are sometimes considered feminist novels by critics. I will show that the protagonists of these novels attempt to break the shackles of a deeply-anchored Nigerian patriarchal society by negotiating the traditional borders between the private and the public, "from introspection to activity" (getting into motion sometimes takes time), "from the enclosed realm of the familial home into the social world" (moving outward), from muteness to effusiveness, without necessarily ending with the typical closure of the novel of male development. The two novels under scrutiny incorporate autobiographical elements thanks to which both novelists explore, question, and negotiate generic boundaries. The events that both protagonists live, from childhood to adulthood, become allegories of what women but also Nigeria go through.
Andrea Fernández-García, University of Oviedo, Spain, andreafg87@hotmail.com
Challenging the Public/Private Divide in Nuyorican Novels of Female Development
This paper explores how Nuyorican writers Esmeralda Santiago and Judith Ortiz Cofer challenge gendered views of the public and the private in Almost a Woman (1999) and Call Me María (2004) respectively by presenting physical mobility as a structural paradigm for the maturation of their heroines, thus reversing the patterns of female development depicted in traditional female bildungsroman. It will be claimed that, even though the home is an important space of socialization for their characters, it is not portrayed as the primary site of female identity. Indeed, the heroines' experiences in public spaces are of great significance for their identity development. As will be shown, entertainment and especially education provide the heroines with the opportunity to gain a gradual access to the public sphere. It will be further argued that their incursions outside the private realm challenge the gendered normativity of the streets and that their dangerous walk to school ultimately empowers the characters to escape social exclusion through education. Besides, it will be discussed that Santiago and Ortiz's feminist commitment informs the alternative representation of the private and the public in their bildungsroman. This subversive portrayal will be examined following a feminist approach to space and gender.
Lilijana Burcar, University of Ljubljana, Slovenia, lilijana.burcar@guest.arnes.si
Sandra Cisneros's The House on Mango Street: Antibildungsroman in the House of Poverty and Deprivation
Cisneros's The House on Mango Street is written in the form of vignettes and told from the point of view of a first-generation Mexican-American girl. Each compressed poetic narrative focuses on the protagonist's life in Chicago barrio, with vignettes coalescing into a protest novel and a form of anti-bildungsroman. The girl narrator, sometimes naïve, but ever wiser, recounts the trajectory of her growth from early childhood to adolescence and beyond by placing it "within the socio-political frame of poverty, racial discrimination and gender subjugation" (Olivares N. pg.). Rather than being inwardly oriented, this antibildungsroman views the individual as part of a broader socio-economic reality, insisting on the girl's "growth from a limiting personal to liberating communal consciousness" (Giles 71). This in turn requires an exit from a seemingly isolated personal space and entry into a public one. As a result, Cisneros's antibildungsroman attempts not to end on a reconciliatory note but calls instead for the kind of rebellious subjectivity arising out of anger at one's systemic dispossession and deprivation, including gendered subjugation. Yet, Cisneros's attempt at such an anti-traditional bildungsroman encounters its own difficulties and ideological traps.
Yıldırım Özsevgeç, Erdogan University, Turkey, yildirim.ozsevgec@erdogan.edu.tr
The Birth of a "New Woman" In Nights at the Circus
The term "female bildungsroman" concentrates on the psychological and moral growth of the heroine, the protagonist of the novel, from youth to adulthood. It is a kind of a "coming-of-age story" wherein the character development is very important. Besides, the "female bildungsroman" depicts the "suppression and defeat of female autonomy, creativity, and maturity by patriarchal gender norms".
Angela Carter uses examples of this genre. She drives forward the oppressed woman profile in her detailed narration and tries to make a deconstruction of grand narratives, such as tales and myths, by using this profile.
In her novel Nights at the Circus (1984), Fevvers, the protagonists of the novel, starts a journey between love and happiness and at the same time fights against the patriarchal discourses. Fevvers' and some other characters in the novel achieve their goal of being a "mature woman" gradually but with difficulty. Carter uses fairy tales and intertextuality to support her characters' development. For example, Fevvers has wings to liberate her and the other women in the novel, Mignon and Lizzie. So, this paper not only elaborates on how Angela Carter's Nights at the Circus reorders or reorganizes certain traditional assumptions of the oppressed female subject that have become a model for women's role in the society but also explains the birth of 'the new woman'.
Ángel Chaparro Sainz, UPV-EHU-University of the Basque Country, Spain, angel.chaparro@ehu.es
(Out and In-) Doors: Identity and Space in Phyllis Barber's Autobiographies
Phyllis Barber was raised in a Mormon household but she gave up being an active member of The Church of Jesus Christ of Latter-day Saints, popularly known as the Mormon Church, for a long time. Her autobiographies can be read as a literary and candid attempt to understand her own identity as a woman, a Mormon and a mother and wife. In that identity shaping, space and landscape play key roles. In this presentation, I aim at researching her two autobiographies, How I Got Cultured: A Nevada Memoir and Raw Edges: A Memoir, from a point of view that analyzes her rendition of setting as an exploration of a very specific set of connections that reveals how the place she dwells in influences her own concept of self, specifically, how interior and exterior spaces are strategically used to imply complex readings of these memoirs. In fact, these two memoirs, published within a gap of fifteen years, cover different and specific periods in her life, but they both combine to offer a complex overview of her upbringing and her maturity in connection to place.
Attila Dósa, University of Miskolc, Hungary, aitdosa@uni-miskolc.hu
Questioning Authority in The Prime of Miss Jean Brodie: A Hermeneutic Approach
Established criticism of The Prime of Miss Jean Brodie (1961) includes readings of Muriel Spark's emblematic work as a novel of education (a boarding school story) and as a religious novel (a Catholic allegory). Plots in both of these novelistic sub-genres are generally concerned with authority – the former usually questioning it and the latter usually affirming it. In the present case, as a novel of education, Miss Jean Brodie seemingly questions secular authority on a very basic level (the authority of adults). As a religious novel, it seemingly questions religious authority on the topmost level (the authority of the church). Problems of representing, identifying with, interrogating, misleading and rejecting authority are central to both readings: the plot and the story equally revolve around the key problem of the identity and the motivation of the pupil (Sandy Stranger) who subverts Miss Jean Brodie*'s authority by "betraying" her. I will try and extricate the novel from the specific contexts of these genre-based readings by paying close attention to the methods of questioning and to the nature of the questions asked and the answers provided to a) question the established notion that the novel deals with authority; and b) provide an answer from the text to the question that has been often asked: Why was Miss Brodie betrayed? Finally, though Scots critics (Rankin, Massie, Crawford) have made repeated attempts to appropriate the Edinburgh-born Spark for the canon of Scottish fiction, her place in the canon is not convincing – and not just because *The Prime of Miss Jean Brodie is Spark's only "Scottish novel". Therefore, my talk will also explore c) the subtle and roundabout ways in which Spark rejects her Scottish identity through questioning two cornerstones of Scottishness: education and religion.
Milena Kostic, University of Nis, Serbia, mkostic76@gmail.com
Education as Manipulation in Muriel Spark's The Prime of Miss Jean Brodie
The paper explores the difference between the public and private aspects of Miss Jean Brodie's teaching techniques: whereas according to the general public opinion she seems to be a free thinker and a radical rebel against the dominant patriarchal norms, in her private classes the readers recognize the repetition of the identical pattern of destructive patriarchal authorities, ultimately resulting in the manipulation of her pupils. The theoretical framework of the paper relies on the critical discussion of the concepts of Louis Althusser's "interpellation" (1971), Alice Miller's "poisonous pedagogy" (1990) and Judith Butler's "appropriation of the male identity by women" (1990).
Vitana Kostadinova, Paisii Hilendarski University of Plovdiv, Bulgaria, vitana.kostadinova@gmail.com
Female Lifestyles from Pride and Prejudice to Lizzie Bennett's Diaries
Jane Austen's Pride and Prejudice is a traditional novel of female development, in which the heroine's transition into adulthood ends with marriage. Deresiewicz points out that Elizabeth Bennett does not think it necessary to give others a fair hearing because she thinks she knows everything there is to know; thus, growing up becomes related to making mistakes and feeling the consequences. Lizzie Bennett's Diaries is a twenty-first century adaptation of the novel, which involves cultural translation of female lifestyles for the sake of a contemporary audience who would not choose to plunge into the past. The very genre of the series implies the public sphere: it is a video blog, in which the protagonist addresses the anonymous multitude of internet viewers. Here Elizabeth is a student of mass communications. She turns down Mr. Collins as expected, but the original proposal of marriage has been substituted by a proposal of a business partnership, and it is her friend Charlotte who accepts to delve into a different dimension of the public. In other words, "[m]arriage, as the mark of narrative closure which exemplifies the merging of individual and social interests, is now explicitly revealed not as the endpoint of female Bildung, but as its very antithesis" (Felski 138). This point is reinforced once again when Elizabeth's sister Jane declares her career more important to her than the man she is in love with – but she graciously allows him to move to New York if he wants to be close to her.
Soňa Šnircová, Pavol Jozef Šafárik University in Košice, Slovakia, sona.snircova@upjs.sk
Girlhood in Susan Fletcher's Eve Green and Tiffany Murray's Happy Accidents: Contemporary Transformations of the Female Bildungsroman.
Published in 2004 as debut novels by contemporary writers, Eve Green and Happy Accidents share some important similarities. Fatherless and abandoned (for different reasons) by their rebellious mothers, the young heroines have to move from cities to the rural setting of Welsh farms to be brought up by their maternal grandmothers. Both authors place the coming-of-age stories into the context of the female Bildungsroman tradition, using allusions to Jane Eyre as important structural elements of their narratives. My paper will claim that these two texts represent a new stage in the development of the female Bildungsroman since their appropriation of the tradition can be defined as postfeminist: Susan Fletcher, who makes the romantic motif of Jane Eyre central to her novel, appears to support the new cult of (almost idyllic) domesticity, while Tiffany Murray, whose images of domesticity are, on the contrary, interwoven with grotesque elements, uses the mad Bertha motif in the way that challenges victim feminism.
SLITE14 Monday 1.9.2014 (A) 14.30–16.30 Room A6, (B) 17.00–18.30 Room A6
THE CHANGING FACETS OF PARATEXTS
Convenors:
Dorothee Birke, University of Freiburg, Germany, dorothee.birke@frias.uni-freiburg.de
Maxime Leroy, University of Haute-Alsace, France, maxime.leroy@uha.fr
This seminar welcomes papers on paratexts, particularly from the point of view of the developments in the relationships between authors–of all genres and periods–and their readers. Pertinent paratexts include titles, intertitles, prefaces, dedications, articles, interviews, illustrations, websites, blog posts, e-book author platforms, etc. Although papers may look at paratext in the context of one work or author, we strongly encourage those that will compare different text types, and/or paratexts from different periods or national traditions, in order to reveal continuities and discontinuities in topoi, modes of address, readers' reception, and relations between text and paratext.
Sarah Herbe, University of Salzburg, sarah.herbe@sbg.ac.at
The Biographical Paratext of Seventeenth- and Eighteenth-Century Poetry Collections
In 1806, the writer of the preface to The Poetical Works of the Late Mary Robinson, found that "no publication can be presented to the world, unembellished by a 'Life of the Author,' […]." More than two hundred years earlier, the first "life" of an English author had been prefixed to Speght's edition of Chaucer's Works (1598), but it was not until the beginning of the eighteenth century that introductory lives became a regular feature of the collected works of English poets. This paper proposes to trace the changing forms, functions and conventions of the allographic biographical paratext of English single-author poetry collections in the seventeenth and eighteenth centuries with a focus on the following questions: How does the introductory life relate to other paratextual genres such as epistles to the reader and commendatory verse? What appeals are made to the readers of the biographical paratext concerning the reception of the author's work in view of his or her life? And how is the necessity of an introductory life explained by the writers of the biographical paratext?
Magdalena Ożarska, Jan Kochanowski University, Poland, mozarska@gmail.com
Diaristic Paratexts: Mary Shelley's Journal Intertitles
The journal genre is subject to a strictly mechanical order, expressed through dating, and its inseparable quality is the option to begin and to end at any point. "Diaries do have distinct shapes, [which] derive from their existence in time passing. Some are shaped by external events in the diarist's life, which, even from the writer's point of view, have a beginning, middle and end. Courtship diaries ending with a marriage and travel diaries ending with the arrival at a destination are examples of such texts" (Culley 19). The beginning of a journal is usually rather explicit, but journal endings usually pose problems both for the diarist and, consequently, for the researcher (Lejeune 187). The diarist's choice to enter paratext, particularly in the form of intertitles, into his/her self-writing, seems to suggest a need for tighter structural control over the text. This might explain why diary intertitles and other forms of diary paratext are not very common, particularly in nineteenth-century women's self writing. If they can at all be found in a diary, what function do they serve? What form do they assume? What effects do they produce? I will look at these issues in Mary Shelley's 1814–1844 Journal Books.
Mustafa Kirca, Çankaya University, Turkey, mkirca@gmail.com
Double-Voiced Peritext in Parodic Discourse
The paratext, as Genette explains, designates the signals on the threshold of a text which guide the reader to the "right" reception and also indicate the genre that the text belongs to, hence offering a generic context to interpret it. Such paratextual signals, particularly those described as "peritexts" by Genette, which include titles, chapter titles, prefaces, dedications, etc., assume a highly communicative function in the double-voiced discourse of parody and pastiche, serving to negotiate the parodied and the parodying voices. Specifically, paratextual elements which can serve as taxonomy markers of a parodic text undertake the double function of signaling the parodied genre and the parodying voice. The aim of this presentation is to analyze the double function of the peritext in parodic discourse in order to observe the refraction of the authorial voice through studying the paratextual constituents of Cervantes's paradigmatic novel Don Quixote and the unique role they assume in the text. The study also suggests that some twentieth century parodic texts, like Julian Barnes' novel A History of the World in 10½ Chapters, signal the presence of the parody through incorporating the authorial voice in the paratext to secure the "right" generic context for the reader.
Ruth Menzies, Aix-Marseille University, France, Ruth.Menzies@univ-amu.fr
Paratext and Context in 20th-Century Gulliveriana
The highly complex paratext to Swift's Gulliver's Travels (1726) plunges the reader into an unsettling game in which the author toys with his audience's expectations, introducing an ambiguous discourse on truth and reliability that both underpins and deliberately undermines the rest of the work. This paper examines how the authorial opportunities afforded by paratextual constructs are exploited by the writers of two twentieth-century examples of Gulliveriana, Matthew Hodgart in his 1969 sequel, A New Voyage to the Country of the Houyhnhnms [… ], and Alison Fell in The Mistress of Lilliput (1999). In hypertextual writings such as these, the horizon of expectation is necessarily informed by the heredity of the modern texts. This paper sets out to determine the role played by these paratexts in defining author-reader relations, studying the ways in which each paratext interacts not only with the text it frames but also with the literary and historical context framing it. We will seek to establish how intertextual or hypertextual links with a canonic work such as Swift's affect the function and performance of modern paratexts and how the latter relate to their Swiftian precursor.
Pierre Lurbe, Paul Valéry University, Montpellier, France, pierre.lurbe@univ-montp3
'When paratext morphs into text': John Toland's Account of the Courts of Prussia and Hanover (1705, 1706, 1714)
In 1701 and 1702, the Irish polygraph John Toland visited Prussia and Hanover in an official capacity, as a member of the diplomatic mission led by Lord Macclesfield to present the Electress Sophia with the Act of Settlement. The subsequent Account of the Courts of Prussia and Hanover was first published in 1705, complete with dedication (to the Duke of Somerset), preface, and appendix. A second, then a third edition of the Account were successively published in 1706 and 1714. In each case, the substance of the account as such was left intact, but the title-page was significantly altered, while the Appendix was twice substantially enlarged. The extent of the additions to the Appendix was such that it ended up no longer quite functioning as the paratext it claimed to be, but very much as a text in its own right, altering the balance of the entire book in the process. The aim of this paper is to look at the shifts in meaning entailed by the changing nature of the Account's paratext, and by the progressive blurring of the line between text and paratext.
Ewa Kębłowska-Ławniczak, University of Wrocław, Poland, freeway.bohemia@gmail.com
Changing Paratextual Practices in Selected Editions of Contemporary Drama
While most of the published collections of modern drama are framed by a diversity of peritexts, some editions include epitextual material in the form of interviews. The opening paratexts often provide information in the capacity of what Genette defines as "the basic role of the preface", modestly called "introduction", though their content and function reveal a hybridity discussable in terms of either Genette's threshold or Foucault's heterotopos. The present paper argues, on the basis of sample material, that the more recent introductions, as opposed to the earlier ones, tend to become more personal and provide a paratextual surround which in liminal cases takes on the form of memoir. These paratexts do impart some information about the plays and their historical context but, more importantly, they engage in a dialogue with the main text by attaching the author to the text from which they traditionally erase themselves. Colette Gaudin uses the metaphor of umbilical cord between life (paratext) and work (1985, 36). It is this subtle dependence that the paper will try to explore, asking about the extent of the author's endeavour to determine the reader's experience by promoting both the fictionality and the authenticity of the framed experience.
Jennifer K. Dick, University of Haute-Alsace, France, fragment78@gmail.com
Anne Carson: Paratext as first barrier—the whole landscape looks inside out
Anne Carson begins her books with paratexts that may stop readers, leaving them perplexed and uncertain, doubting whether they wish to go inside. This paper will introduce the underlying methodology to Carson's seeming madness as she uses paratext in her title/subtitle combinations such as Autobiography of Red: A Novel in Verse (announcing three mutually exclusive genres of writing—autobiography, poetry and fiction) to intercept and prevent entry, but also to maintain elements of traditional paratext use. Titles, faux interviews, prefaces and other paratexts complexify the central texts of her works. The dialogue between reader and author becomes a kind of dance where the dancers are drawn close and then pushed away, constantly seeking connection. This paper will also touch on the ways in which examining how Carson uses paratext is related to engagement in the reading process as well as to the notions that are a fundamental part of her works, including Keats's "Negative Capability", or philosophical inquiry such as Heidegger's question of what it means to be or not to be "continuous" with the world. It will close with suggestions about how Carson's paratext use announces a reader-involved process of creating the text itself.
Côme Martin, Paris-Sorbonne University, France, come.martin@gmail.com
Where Does Paratext Begin? The Cases of S., House of Leaves and Building Stories
Gérard Genette has famously defined a paratext as a threshold, "that by which a text becomes a book and offers itself as such to its readers (Seuils, 1987, p. 7). This definition, though simplistic, offers a good rule of thumb to determine what is part of a given diegesis and what is not. The question becomes more complicated with books that are explicitly looking to blur the limit between what is real and what is fictional, as is the case with Doug Dorst's S. (2013) and Mark Z. Danielewski's House of Leaves (2000). The paratext of those two books is very complicated to define, as the fictional diegesis arguably begins from their very covers, hence almost abolishing the notion of paratext. Hence, I would try to use them as a case study for a reflection on the status of paratext in post-modern literature, and on what constitutes a threshold in such experimental works. To expand my scope, I will also look at Chris Ware's latest comic book, Building Stories (2012), in which the reader navigates from one part of the story to the next without a clear perception of the story's boundaries.
SLITE15 Saturday 30.8.2014 11.00–13.00 Room A8
MODERN SCOTTISH DRAMA AND HISTORICAL MEMORY
Convenors:
Ian Brown, University of Kingston, UK, ijmbrown@hotmail.com
Daniele Berton-Charrière, Université Blaise Pascal, France, Daniele.BERTON@univ-bpclermont.fr
As Scotland's September 2014 independence referendum approaches, an issue is "what constitutes Scotland?", often called "an understated nation". Plays, including McGrath's The Cheviot, the Stag and the Black, Black Oil (1973), Lochhead's Mary Queen of Scots got her head chopped off (1987) and Greig's Dunsinane (2010), have addressed the constitution and mediation of Scottish historical memory and national/personal identities. This seminar addresses representation of historical memory in modern Scottish drama, whether as general theme, in individual playwrights' oeuvre or in individual plays. Cross-generic papers contrasting issues of historical memory in the Scottish novel, poetry and/or song are also welcome.
Participants
Danièle Berton-Charrière, CERHAC Université Blaise Pascal, Clermont-Ferrand, France, Daniele.BERTON@univ-bpclermont.fr
Direct figuration and anamorphic representation in the dramatic and theatrical construction of Scottish memory and identity
The interest of Scottish playwrights in the historical figures and events land-marking the building of their nation seems to be idiosyncratic and widespread. Paradoxically deeply rooted in their past, and yet open to modernity and novelty, their works keep embedding such features or choosing them as key topics, allowing constant dialogical links between text and context, and creating intertwining trans-textual networks. Their dramatic pieces and stagings pay memorial tribute to the past, but they jointly represent the current construction of national and personal identity, through confrontation and tension, through nostalgia and no turning back. Scottish drama and theatre is complex, technical, referential and meta-discursive.
Based on a few examples, the study will try to show how these forms of direct figuration share the textual space with antagonistic anamorphic views and approaches. Both actors and spectators of their own lives and grounds, authors and characters give vent to subjective feelings and objective criticism, to affection and condemnation, through humour, satire and self-derision, the clash and fight between the Self and the Other turning into some observable free of bias introspective analysis.
Dilek Inan, Balikesir University, Turkey, dilekinan@hotmail.com
Representations of Scotland in David Greig's Plays: Cultural Identity vs National Identity
In plays like Europe, The Architect, and The Cosmonaut's Last Message to the Woman He Once Loved in the Former Soviet Union, David Greig focuses on contemporary displacement and homelessness and a sense of detachment from the Scottish context. Despite the fact that many of his plays are set in Scottish settings, as in The Architect, The Cosmonaut, Victoria, Outlying Islands, etc., he belongs to a new generation of dramatists who suggest that they do not belong in Scotland in the way the nationalist myth puts forth. Greig admits that even if it is against their will, they are representing Scotland, even inventing it. Scotland is based on a geography of the imagination in his plays. He argues that playwrights introduce a 'shape, order and insight' into the world they live in when they inventively recreate this world. In order to present Scotland, which is in Greig's words a damp, crabbit, northern country on the fringes of the continent, he holds a responsibility to expand the ways in which the country is conceptualized and understood. In each new play he expands the 'living space' of the nation by materializing another place. There is almost always a strong sense of ambiguity in Greig's representations of the Scottish identity. Although many of his plays are set in the Scottish highlands, and he chooses to portray Scottish characters, Greig mainly urges that a more multicultural identity is necessary and crucial rather than a Scottishness that is fixed within a heroic past in which Scots were victimized by the English reign. Instead of dwelling on a nationalist identity he looks towards a multicultural continental Europe. Being critical of the territorial identifications, Greig emphasizes Scotland's need to interact with a multicultural Europe. He disapproves of the manners of idealism and romanticism as an important part of the Scottish national identity. Instead of a national identity defined by borders, he is motivated by definitions of cultural identity in a rapidly changing globalized world and constructs a European Scottish culture and identity in his plays.
Gül Kurtuluş, Bilkent University, Ankara, Turkey, kurtulus@bilkent.edu.tr
Patriotism, Morality and The Spirit of Macbeth's Ambition in Dunsinane
David Greig's Dunsinane is a play of irresolvable conflict, in which all parties aspire for the whole of the pie that is Scotland. Filled to the brim with war, deceit, and passion Dunsinane includes the topic of patriotism. Characters believe they are doing whatever it is they do for the sake of their country, whether it is England or Scotland. Siward, the English commander, sets his course in Dunsinane out of nothing but self-righteous patriotism, which soon leaves its place for power-driven ambition. Not for Siward per se, but for most of the characters, ambition is the driving force. They make use of their patriotic zeal as an excuse to wage and resume war. Thus, a colonial war against guerrilla movements forms the basis of the plot. English troops are in Scotland to install a new king who will re-establish order, and the soldiers loyal to the Scottish Queen Gruach, defending their land, are situated deep in woods, which presents them as similar to guerrilla 'freedom fighters'. Patriotism is a very strong theme in Dunsinane that is accompanied with modern warfare, and the justification of it. The play is a modern sequel to Macbeth, and many of the characters have the spirit of Macbeth's ambition breathed into them, so this paper attempts to compare the two plays in their take on the fine line between patriotism and ambition.
Ali Altun, Recep Tayyip Erdogan University, Rize, Turkey, alialtun07@gmail.com
In Search of National Identity: the Case of Mary Queen of Scots Got Her Head Chopped Off
As one of the most prolific and distinguished figures in British literature, the Scottish writer Liz Lochhead has been dealing with issues concerning national identity, feminism and Scottishness in her plays and poems. Although she has produced many works on national identity and has been appreciated both by critics and audiences alike, she has not yet drawn enough attention of the world, due to the fact that Scottish literature has been overshadowed by mainstream English literature. This paper aims to show how she approaches the history of Scotland and national identity in her acclaimed play Mary Queen of Scots Got Her Head Chopped Off, which takes the audiences back to sixteenth-century Britain. The play provides information about historical ties between Scotland and England through the characters of Mary and Elizabeth I. The playwright invites the audience to identify themselves with the Scottish characters and thus helps contribute to constitution and awareness of national identity. Moreover, the story of Mary in the play evokes not only personal issues, but also the issues of national identity. Given that there are plenty of discussions and much debate going on about the independence and national identity of Scotland these days, historical subjects treated in the play also seem to reverberate with relevant contemporary issues of national identity.
SLITE16 Monday 1.9.2014 (A) 14.30–16.30 Room A3, (B) 17.00–18.30 Room A3
"THERE ARE BUT A HANDFUL OF STORIES IN THE WORLD": J.M. COETZEE AND THE NON-ENGLISH LITERARY TRADITIONS
Convenors:
María J. López, University of Córdoba, Spain, ff2losam@uco.es
Kei Wiegandt, Freie Universität, Germany, kai.wiegandt@fu-berlin.de
This quote from J.M. Coetzee's 2003 Nobel Lecture conveys the writer's need to borrow stories from others; the fact that "if the young are to be forbidden to prey upon the old, then they must sit forever in silence". Whereas research on Coetzee has concentrated on Coetzee's English intertexts, we welcome papers that focus on the dialogue that Coetzee's fictional and non-fictional works establish with literary traditions other than those of the English language. Accepted papers will be considered for publication after the conference.
Participants:
Angelika Reichmann, Eszterházy Károly College, Eger, Hungary, reichmanna@gmail.com
Possessed by the "Exhilarating Monster" of English Modernism J. M. Coetzee's Reading of Dostoevsky in The Master of Petersburg
In Dostoevsky and English Modernism 1900–1930 Peter Kaye points out that with the publication of Constance Garnett's translations in the 1910s "Dostoevsky was introduced as an exhilarating monster […] on the English horizon" (6). In the present paper I aim to explore the extent to which J. M. Coetzee's reading of Dostoevsky in The Master of Petersburg, a consistent rewriting of Devils (The Possessed in Garnett's version), repeats this fundamental feature of Dostoevsky reception in English modernism. I argue that by recreating Dostoevsky as a paradoxical amalgam of his diametrically opposed fictional characters, by echoing some critical statements of such English modernists as D. H. Lawrence and Aldous Huxley, and by finally representing the veiled, though definitely monstrous figure (of Stavrogin) as emerging from Dostoevky's mirror image, Coetzee re-examines Dostoevsky's English modernist reception in a post-modernist context. Ironically, though, (demonic) possession, Coetzee's Dostoevskian master-trope of reading and writing seems to be the most appropriate figure for his own relation to Dostoevsky's works, too: central Dostoevskian themes, and especially allusions to Devils, feature in several of his novels.
Kata Gyuris, ELTE, Budapest, Doctoral School of Literature, gyuriskata@gmail.com
An Understanding with the Beast – Kafkaesque metamorphoses and the Colonial Other in J. M. Coetzee's novels
Coetzee frequently enters into dialogue with European writers, including Kafka, whose grotesque atmosphere and moral he often retains in his stories. The presentation focuses on three of Kafka's short stories ("The Metamorphosis", "The Burrow", "In the Penal Colony"), which have all made a lasting impact on at least two of Coetzee's novels (Waiting for the Barbarians and Disgrace).
In Toward a Minor Literature, Deleuze and Guattari position Kafka as a representative of minor literature for his complicated heritage as a German-speaking Jew in Prague. The authors name three identifying features of minor literatures: firstly, the deterritorialization of language; secondly, their political concern; and thirdly, a need for collective representation. They further develop the idea that all "becomings", including "becoming-animal" are actually "becoming-minoritarian".
This "becoming-animal" is a fundamental part of Coetzee's oeuvre, as it seems to pertain to the very depth and basic mechanisms of the (post)colonial situation. The presentation will seek to prove that Coetzee's literary interest in stories of grotesque metamorphosis into animals and his turn towards the promotion of animal rights are indicative of an acute sense of otherness, and further show us that the Colonial Other resides precisely in Coetzee's animals.
Donald Powers, Independent Researcher, Cape Town, donaldpowers1@gmail.com
Discontinuity in Autobiography: Benjamin, Barthes, Coetzee
If there are discontinuities between the work of Benjamin, Barthes, and Coetzee, there are strong continuities too, which this paper sets out to explore. In Inner Workings Coetzee describes how Benjamin's autobiographical writings are "built out of discontinuous, intense moments" (50) and a "montage of fragments" (51) rather than continuous chronological narrative. Similarly, Roland Barthes's autobiographical writings are marked by a relentless fragmentation and subversion of any settled self-image and -position. It is no surprise that both writers admired Brecht's theatre for its episodic, disharmonious quality. In this paper, I want to draw connections between Benjamin, Barthes, and Coetzee for similarities in their techniques and ideas about life-writing. But I also want to emphasise how and why in Coetzee's work the impulse towards interruption and discontinuity is held in tension with a strong pull towards coherence of the authorial figure and his life. In the course of my paper I will be focusing on various texts by Benjamin from Selected Writings, Barthes's Roland Barthes, Coetzee's Diary of a Bad Year, Summertime, and Here and Now, and Kannemeyer's 2012 biography of Coetzee.
Ottilia, Veres, Partium Christian University, Oradea, Romania, veresottilia@gmail.com
The Story of Sinbad and the Old Man of the Sea in J. M. Coetzee's Dusklands, Foe and Life and Times of Michael K
In The Arabian Nights Sinbad's story of the Old Man of the Sea gives account of the sailor's fifth voyage when he encounters the monstrous Old Man who fastens on his back and would not let go and clings to him so that he cannot shake him off, riding him day and night until Sinbad would welcome death. I consider Sinbad's story of crucial interest in Coetzee's novels in that it introduces a fundamental motif and trope of his novels: the motif of carrying another on one's back. The motif has an emphatic significance in the colonial context because it clearly evokes the ambiguous colonial scene of the 'white man's burden.' The scene of carrying another on one's back actually takes place in Dusklands, in Jacobus' narrative, and is also invoked by Susan in Foe as a 'simile' referring to and representing her relationship with Friday, and then again the story appears in Michael K, portraying the burdensome mother-son relationship. The presence of Sinbad's story in these novels raises the problem of the ethical interest of Coetzee's novels and is significant because it wants us to consider what happens when the reliable dialectic of master and slave begins to fail.
Fernando Galván, University of Alcalá, Madrid, Spain, fernando.galvan@uah.es
Fictionalising the Writer: Coetzee versus Borges
One of the most usual metafictional devices employed by J.M. Coetzee in his writings, both fiction and non-fiction, is the figure or persona of the author. Readers and critics have felt somewhat confused when trying to interpret who speaks in some novels or in some of the (conventionally labelled) autobiographical writings, such as Elizabeth Costello, Slow Man, Diary of a Bad Year, Boyhood, Youth, or Summertime, and even in some of his essays and interviews (in Stranger Shores or Doubling the Point, among others). The use of the third person, the present tense, the terms "autrebiography" and "confession", or references to "John", "John Coetzee", or "Señor C.", have provoked a variety of readings (Attridge, Attwell, Boehmer or Kossew, just to mention a few). The aim of this paper is to discuss the process of fictionalisation of the writer in these works in the light of what Borges said and wrote about himself through the persona of "Borges" or "the blind poet". My basic contention is that Coetzee is echoing Borges's self-projections in these books, and wondering about himself, as he put it in Stranger Shores, "which Borges is real, which is the other in the mirror".
Gillian Dooley, Flinders University, South Australia, gillian.dooley@flinders.edu.au
'Hades this place, and I a fugitive shade': Classical cultures and languages in J.M. Coetzee's Age of Iron
Elizabeth Curren, in Coetzee's Age of Iron, is a retired Classics lecturer. Greek and Roman mythology, and Latin and Ancient Greek, are part of her consciousness. Several critics have discussed Mrs Curren's humanistic, enlightenment sensibility, shaped by a liberal education which has come to be seen by many as irrelevant in the South Africa of the novel, and which therefore functions as a symbol of the marginalisation of western liberal culture in Africa. Other critics have pointed out the importance of Christian and biblical discourse in the novel. Latin, in the form of phrases taken from the Vulgate and the Catholic liturgy as well as from classical texts, is woven through the texture of Mrs Curren's consciousness: her mode of thought and expression tends to the etymological and the allusive. In this presentation I will consider the part these two discourses, classical and biblical, seemingly incompatible in some ways and overlapping in others, play in shaping the character of Mrs Curren. I will consider how the Latin language in her internal monologue and speech mediates her interactions with other characters and her reactions to particular events in the novel.
Valeria Mosca,
Università degli Studi di Genova, Italy, valeriamosca@alice.it

Ideas and Embodied Souls: J. M. Coetzee's Platonic and Christian Intertexts
Both J. M. Coetzee's latest book, The Childhood of Jesus, and his collections of 'fictionalized' lectures or essays such as Elizabeth Costello and Diary of a Bad Year have been described as 'novels of ideas', philosophical debates staged in fiction. Along with various references to different novelistic traditions, these works do in fact display more or less explicit Platonic intertexts that criticism does not often take into account. Platonic dialogism intertwines blatantly with Christian references from the Gospels in The Childhood of Jesus; a closer look at Elizabeth Costello reveals similar features. My analysis aims at exploring this intertextual intersection between novelistic traditions, Christian references and Platonic format according to recent, 'Bakhtinian' developments in Plato studies: if the Dialogues are not mere 'display cases' for ideas and doctrines, but rather artistic forms in their own right, can any truth at all be found in the dramatic polyphony they stage? Such a question may contribute to the theoretical discourse stemming from Coetzee's philosophical fiction: is intertextuality a matter of 'mere' stories, or does it also involve the format that is chosen to tell them? Is one to derive any authorial or authoritative voice from them? Do ideas end when stories begin?
SLITE17 Saturday 30.8.2014 17.15–18.45 Room A8
WALTER SCOTT AND THE SHAPING OF THE NINETEENTH CENTURY NOVEL
Convenors:
Ian Brown, Kingston University, London, UK, ijmbrown@hotmail.com
David Clark, Universidade da Coruña, Spain, dclark@udc.es
2014 marks the 200th anniversary of the publication of Walter Scott's Waverley, a sensation on its appearance. Scott's subsequent career as a novelist shaped the nature of the novel and his influence, often now deeply embedded and equally often neglected, has been fundamental to the establishment of the modern novel as a genre, not only in Europe but also in the rest of the world. This seminar invites papers not only on Scott's novels but on the development of the nineteenth-century novel in English, particularly with regard to the influence of – or reaction against – Scott's pioneering example.
SLITE18 Sunday 31.8.2014 11.00–13.00 Room A8
EDWIN MORGAN AND THE PROSPECT OF SCOTLAND
Convenors:
Alan Riach, University of Glasgow, UK, Alan.Riach@glasgow.ac.uk
Silke Stroh, University of Muenster, Germany, Silke.Stroh@uni-muenster.de
In Sonnets from Scotland (1984), Edwin Morgan envisioned a national history and potential which has increasingly urgent political application as the referendum on independence approaches in 2014. His poem on the Scottish parliament (2004) stressed connections between literary, cultural and political vitality. This seminar considers the place of poetry in national self-imagining, national self-realisation and continuing critical awareness. We welcome papers examining Morgan's work in the national context, his relation with his poetic precedent Hugh MacDiarmid, his legacy to contemporary writers, and international connections through his translations from European literatures and through North and South American concrete and postmodern influences.
David Kinloch, University of Strathclyde, Great Britain, d.p.kinloch@strath.ac.uk
Edwin Morgan's Orientations
This paper will present a personal view of Morgan by a contemporary Scottish poet who was his student at Glasgow University and who has subsequently engaged with his work both poetically and academically. It will argue that his 'prospect of Scotland' becomes clearer if viewed from the perspective of the orient, understood as place, ideological construct and – ultimately – not as a noun but as a galvanising verb. The paper will range widely over his work in an attempt to gauge the nature of the 'orientations' that enabled him to forge a distinctively Scottish poetics.
Pilar Somacarrera, Universidad Autónoma de Madrid, Spain, pilar.somacarrera@uam.es
"Dear merry man, what is your country now?" Cosmopolitan concerns and nationalism in Edwin Morgan's poetry
As the 2014 referendum about Scottish independence approaches, a discussion of whether Scottish culture can be considered postcolonial or studied in the framework of postcolonial theory becomes more relevant than ever. Morgan's commitment to nationalism does not limit itself to his bequest of almost 1,000,000 pounds to the SNP, but permeates his entire poetic career, especially his collections From Glasgow to Saturn (1973) and Sonnets from Scotland (1984). Morgan not only hopes for an independent Scotland, but, as Roderick Watson explains, also for a cosmopolitan one. The "third planet" in "The First Men on Mercury" echoes Bhabha's "third space," the place where newness enters the world. The Mercurians and the Earth Men speak a pidgin, a hybrid language for communication between speakers who do not share a common language. Therefore, following Cairns Craig, Scotland is a hybrid space characterized, in Alan Riach's words, by affinity across difference. I will demonstrate how in Morgan's poetry (especially Sonnets from Scotland) Scotland projects its national identity "outward bound" through cosmopolitanism because cultural proximities shape the notion of the self, which – following Lévinas's argument – must integrate the Other.
John Corbett, University of Macau, JCorbett@umac.mo
Words and Games: Edwin Morgan and the Brazilians
In the early 1960s, Edwin Morgan discovered the concrete poetry of the 'Noigrandes' movement, and began corresponding with two Brazilian poets, Augusto and Haroldo de Campos. He also began translating their poetry for publication in anthologies of concrete poetry in English, and in smaller journals. From the 1960s, through the 1990s, Morgan continued to write to the brothers, and he sent them inscribed copies of his selected and collected translations, and pamphlets and collections of his own poetry, mainly in the concrete mode. This paper considers how his direct engagement with the work of the Brazilian concretistas shaped Morgan's own experimental poetry. Always interested in experimental forms, Morgan found in his translations of the Brazilian source texts principles of reading and writing visual and aural poetry that he would later apply to his own work. The paper shows in detail how these principles and techniques can be transferred from Morgan's translations to his original poetry, and, in consequence, how Morgan's enthusiastic adoption of concrete poetry placed him in a social network of avant garde writers that extended beyond national boundaries, and brought him into conflict with writers of the previous generation.
Aniela Korzeniowska, University of Warsaw, Poland, a.korzeniowska@uw.edu.pl
Edwin Morgan's Pre- and Post-Devolution Presence in Poland
Of concern here is the confrontation between Edwin Morgan's unquestionable position as Scotland's official first Poet Laureate after Devolution, his own widespread interest in and extensive knowledge of matters not only Scottish, his translations pointing to his involvement in world literature, and his curious position on the Polish literary and academic scene before and after 1999.
When looking more closely at Morgan's presence in Poland, it is interesting to discover that as a poet he first appeared here in translation in 1982. Then throughout the 1990s very limited selections of his poetry would occasionally see the light of day, mainly promoted by Polish translator Andrzej Szuba and the journal Literatura na świecie. His poetry, among others, was discussed for the first time by Jerzy Jarniewicz in the same journal in 1992.
However, since entering the new millennium, there appears to have been an interesting shift from Morgan as a poet in translation to Morgan's oeuvre being presented in conference papers and the occasional doctoral dissertation. Hence the intriguing question why one of Scotland's greats is still only known to a very small readership both within and outwith the Polish academic world.
Alan Riach, University of Glasgow, Alan.Riach@glasgow.ac.uk
Edwin Morgan: Change Rules
Morgan's principled commitment to multiple identities and the various voices of personae, clever experimentation of all kinds, and translations from a wide range of languages, was the rule of his poetry from its earliest examples through to Sonnets from Scotland (1984), and at the beginning of the 21st century, in Love and a Life (2003), the 'autobiographical, candid' Morgan presented himself in full strength and vulnerability. Three other works of this millennial transition are crucial: Demon (1999), A.D. A Trilogy of Plays on the Life of Jesus Christ (2000) and The Play of Gilgamesh (2005). In considering these works in an overview of the trajectory of Morgan's achievement, what is central becomes increasingly clear: the matter of Scotland, the virtues of the independent nation state Morgan so emphatically endorsed, both in directly financial terms and in his poetry. This paper explores these changing rules of Morgan's work, as it demonstrates not only that 'change' is what rules us all, nor that 'rules' are things that must be changed, but also that rules and change are reciprocal principles, always in balance of some kind, for better or worse, and in Scotland, for Morgan, in need of redress.
SLITE19 CANCELLED
LIZ LOCHHEAD AND THE SIGNIFICANCE OF JOURNEY
Convenors:
M. Jean Berton, Universite de Toulouse II, France, jam.berton@wanadoo.fr
Anne Varty, University of London, UK, a.varty@rhul.ac.uk
In 2012 Liz Lochhead published "My Favourite Place" in which she describes her journey from Glasgow to Loch Uig. Conveying an enriched sense of place, the poem is also a journey into memory, into love, into mourning, and it stretches the idea of home. In a period when Scotland reconfigures its political and cultural identity, this seminar opens consideration of the figure of the journey in Lochhead's work, both her theatre and her poetry. It invites papers on this theme in its broadest sense, to include geographical travel, identity and the sense of place, transgression, trespass, memory, linguistic difference, political union and fragmentation, perspectives of distance or proximity.
SLITE20 Monday 1.9.2014 (A) 14.30–16.30 Room A2, (B) 17.00–18.30 Room A2
THE UNEXPECTED IN JOSEPH CONRAD'S FICTION
Convenors:
Josiane Paccaud-Huguet, Université Lumière-Lyon 2, France, paccaud.josiane@orange.fr
Claude Maisonnat, Université Lumière-Lyon 2, France, Claude.maisonnat@univ-lyon2.fr
Wieslaw Krajka, Maria Curie-Sklodowska University, Poland,
wieslaw.krajka@poczta.umcs.lublin.pl
"It is always the unexpected that happens," Marlow muses in Lord Jim. In Conrad's texts, the unexpected is at least disruptive, often traumatic. A trivial object, an insignificant event or character crops up, and the course of reality is undone. The symbolic order is shaken at its roots, the truth is glimpsed. One occurrence of the unexpected won't make the protagonist wiser, however, there is no ready-made answer. How does Conrad's fiction deal with the contingent, the traumatic? If we follow Giorgio Agamben's argument that the contemporary writer always takes us by surprise, how does Conrad remain our contemporary in this respect?
Joanna Skolik, The University of Opole, Poland, jskolik@uni.opole.pl
"It shouldn't have been like that....." between the reasons and results: unexpected consequences of protagonists' conscious choices.
In my paper I would like to have a look at the consequences of conscious choices made by Conrad's protagonists. It occurs that they never bring what was previously expected, the result of such a conscious choice is always unexpected; as if the writer wanted to prove that the saying "if you want to make God laugh, tell Him about your plans…" is absolutely true. Conrad's characters who plan their future in detail and foresee their own success – fail. Conrad shows that a man who has only his own good in mind cannot really succeed, only those who realise their moral obligations, who think about others, are "the winners". They find the meaning of their life as well as their place on the earth. Sometimes a deed which seems to be meaningless turns out to be essential for the whole life of the hero. Conrad proves that following Rousseau's vision of a natural man does not guarantee a success, only following the Pindarian formula "became who you are" gives a chance for a success. However, in Conrad's works even success is perceived differently, namely Conradian successes can look as if they were failures; they prove to be what they really are in the course of events.
I would like to discuss "the unexpected" in A Personal Record, Nostromo, Lord Jim, Heart of Darkness and Youth.
Wiesław Krajka, Maria Curie-Skłodowska University, Lublin Poland, wieslaw.krajka@poczta.umcs.lublin.pl
The Unexpected as Magic in Karain: A Memory
The plot of Conrad's short story "Karain: A Memory" is made of a series of unexpected events: Pata Matara's sister's elopement with a Dutchman, Karain's shot at Matara (instead of at the Dutchman), Karain becoming the absolute ruler of his foothold of land, his acts of unrest amidst such absolute power, the constant company of the Malay sword-bearer, Karain's deep crisis after his death, the action of his white friends resulting in restoration of Karain's peace of mind, his return to his 'kingdom" and restoration of his former power; indeed in this short story Conrad constantly takes the reader by surprise. All these unexpected events are disruptive and deeply traumatic for the protagonist; they shake his symbolic order. Through presenting such sequence of events the truth about Karain's psyche is glimpsed. And finally there comes in this story a trivial object, a coin, a gilt Jubilee sixpence, and it is presented to Karain through an act of magic-making in his seemingly insignificant meeting with his white friends on their schooner. Through this object and this event the course of Karain's reality is not undone but done. Perhaps this occurrence of the unexpected does make the protagonist wiser? Perhaps it provides a ready-made answer to his crisis and anguish?
Armella Panajoti University of Vlora "Ismail Qemali", Albania, armelap@assenglish.org
Heads or Tails: The Absurdist Fate of Kayerts and Carlier in "An Outpost of Progress"
In "An Outpost of Progress" the trivial sugar episode, although described as an unexpected burst of anger, results in the fatalistic death of the pair. Featured in a wasteland-like setting, Kayerts and Calier follow a fate which almost reaches the level of the absurd. The pair anticipates in many ways other famous duos in literature and cinema, from Laurel and Hardy to the famous absurdist duos of Vladimir and Estragon, Ben and Gus or Rosencrantz and Guildenstern. One can recognize in them aspects of each of these pairs – the clownish descriptions applying to them, their incompetence, dependence upon each other, idleness, the pervasive irony and also their tragic and trivial end.
In this paper I want to argue that the story obeys absurdist logic, most notable in its presentation of characters, the deterministic context and the somewhat unusual minimalism of details. As such, the dice is cast from the very beginning for Kayerts and Carlier, and the unexpected simply boosts its happening towards its previsioned end in the same way that Vladimir and Estragon, despite their long waiting, never meet Godot, Rosencrantz and Guildenstern resign to their foreseen death, and Ben ends up pointing his gun at his friend Gus.
Josiane Paccaud-Huguet, Université Lyon 2, France, josiane.paccaud-huguet@univ-lyon2.fr
The Unexpected in Lord Jim: Catastrophe, Catharsis, Catalysis
Among Conrad's novels, Lord Jim is one that presents a high degree of unexpectedness: from the barque of pitch pine that alters the course of the Patna which, contrary to all expectations, doesn't sink, through Jim's unpredictable responses to the demands of the heroic ideal, to the disruption produced by a trivial remark like "Look at that wretched cur!" or by Gentleman Brown's arrival in Patusan.
Marlow himself notes that he is subject to the kind of chance which causes him "to run up against men with soft spots" like Jim, who take him as the target for their "infernal confidences". The unexpected, then, is the source of catastrophe – for the self, for the ideal, for the group: a manifestation of the Real of jouissance that tears through the symbolic fabric. But it is also the catalyst for an unforeseen event: the intimate "talking cure" that goes on between Marlow and Jim in parallel with the public trial. Marlow's part here, however, is not that of a confessor, a silent presence allowing the cathartic purification of passions and the reassertion of the symbolic. He is, as has often been noted, a partner, someone who takes part in a process of revelation that will take him from surprise to surprise – including about himself.
Unlike sublimation, catalysis is a chemical reaction in which the catalysing element – the unexpected – is not consumed by the reaction: the "toxic" agent somehow remains, slightly transformed in the "final" product. If we transpose this to Conrad's fiction, we shall see how the unexpected revelation about the infernal jouissance that has caused Jim's undoing, produces a powerful element in the new novelistic alchemy; this agent is no other than the unspeakable which ultimately becomes the reader's partner in the Conradian universe.
Nathalie Martinière, Université de Limoges, France, nmartinière@gmail.com
Exploring the Unexpected with Marlow in Conrad's Fiction
"It is always the unexpected that happens," says Marlow ironically in Lord Jim about Jim's naive narration of what happened to him on the Patna. Yet, Conrad's novels are not exactly traditional action-packed adventure novels in which the reader turns the pages in search of constant new developments. In the stories narrated by Marlow, the unexpected, what is unanticipated, is systematically presented by Marlow as the thing to be most feared as it destroys the characters' fragile balance and threatens the meaningful construction of their lives.
The "unexpected" does not, however, have the same meaning and value for character, narrator and reader: the collision and what follows is unexpected for Jim only, as the reader has been prepared for something decisive through the form of the narration and quantities of signs retrospectively deciphered and pointed out by Marlow. Besides, what is really unexpected (traumatic) and unacceptable for Jim is his shameful reaction. The blank in his speech ("I had jumped … it seemed") reveals that "unexpected" in this case is synonymous with "unsayable/unspeakable." "Unspeakable" is also the definition of the "unexpected" in Heart of Darkness as Marlow is the witness of a series of horrors whose nature and extent he had not anticipated. If Jim and Kurtz are defeated and eventually reduced to silence by their confrontation with the unexpected, it is not the case for Marlow, who manages to keep its destructive influence at bay by putting words onto it, thus giving shape to what is beyond representation for the characters and turning it into a story which may be "inconclusive" but which nevertheless appears as an act of resistance – "I am the voice that cannot be silenced," Marlow says.
I would like to study how, contrary to what his declaration to Jim would have us think, Marlow takes the "unexpected" as a serious question that largely defines his attitude, role and ethics as narrator. Migrating from story to story, he seems to be on a quest, constantly looking for the decisive moments when man is confronted with his fate, which is also the moment when Marlow finds his voice and his motivation: while characters like Jim and Kurtz cannot process the "unexpected," he, as narrator, is the main figure of resistance to its overpowering influence. For that reason, Conrad's choice of Marlow makes it possible for him to represent the traumatic effects of the "unexpected" (through fragmentation of the narrative voice, disruption of chronology, repetition, etc.) while preserving their impact for the reader.
Claude Maisonnat , Université Lyon 2, France, claude.maisonnat@univ-lyon2.fr
Shame, the Contingent and the Traumatic in "Falk"
In this short story Conrad weaves an intricate plot in which Falk's cannibalistic act is at the origin of the trauma that triggers off the whole, almost incredible, sequence of events, based on the conventional pattern of "delayed decoding" that is the hallmark of Conrad's narrative strategies. The readers' suspension of disbelief is stretched to the utmost as the revelation of the truth about the initial trauma is postponed, so that Falk's personal, social and commercial behaviour remains enigmatic. One of the keys to the story is the repressed feeling of shame which Falk reverses into arrogance. Shame arises from the critical gaze of the other, so that Falk perceives himself as a blot on the landscape, which explains his desire for inclusion manifested by his several attempts at finding a wife. However, in the story the gaze is mostly mediated through language, as Hermann's squeamishness, Falk's distrust of words, and Schomberg's gossip amply testify. Conrad makes the most of his characters' complex relationship to language to dramatize his own doubts about his mastery of the English language thereby introducing through his unidentified narrator a distant metafictional dimension to the story.
Anna Szczepan-Wojnarska, Cardinal Wyszynski University, Warsaw, a.szczepanwojnarska@uksw.edu.pl
Mrs. Shomberg's effect
Schomberg's wife, being the most insignificant character in the Conrad's novel "Victory", plays the crucial role in the turn of events. Her action, however it might be perceived as accidental, reveals undoubtedly that Mrs. Schomberg took her chance only to express her own personality and to take care of her own interest. The same pattern is followed later on by Lena. The reader's encounter with the unexpected in this regard proves Conrad's mastery of the writing craft. Reflection on "Victory" leads me to the hypothesis that female protagonists are embodied unexpectedness that serve as the tools of destiny. The heroines excluded from logocentric order set by the ruling men's power are expected to act according to the paradigm created for them. Their behaviour, words and actions are not understood at all if they differ from the stereotypes. Men only possess the right to differ; a woman who differs breaks the rule, and that is unexpected. The relation of 'being expected to' is built on the presumption of being subordinated, and therefore any glimpse of independence surprises. In Conrad's fiction one may find many examples of feminine unexpectedness that is not assessed, nor condemned, but rather humbly admitted by the author to be a significant factor of reality.
Brigyda Pudelko, The University of Opole, Poland, bpudelko@uni-opole.pl
The Ultimate Measure of a Man in Tolstoy's War and Peace and Conrad's "The Warrior's Soul"
The ultimate measure of a man is not where he stands in moments of comfort and convenience, but where he stands at times of challenge and controversy, and nobody can really tell what a person's character is until you observe them in a challenging situation.
Most of the space in "The Warrior's Soul", which is devoted to moving descriptions of the wretched and bloody retreat of the remnants of the French army in the crossing of the Beresina, with the Cossacks at their heels "cutting down galvanized corpses that didn't care", is analogous to Tolstoy's presentation of the French army moving away in War and Peace.
In War and Peace Tolstoy, sometimes sympathetically and often sarcastically, illustrates how men, inwardly trembling, outwardly strut their courage on the battlefield to win medals and fame. While debunking romantic heroism, however, he strove to replace it with "true" courage. In defining courage Tolstoy drew much on Plato, whose dialogues he read in French translations of Victor Cousin. Following Plato's notion that for the brave man, duty – what one should do – overrides what is really fearful, Tolstoy observed that courage required a mixture of true knowledge and steadfastness. Defined as steadfastness, courage for Tolstoy is the natural resistance of the spirited human individual to fearful things, the most formidable of which is death. Anger and shame, feelings aroused when a soldier is physically threatened or humiliated, ignite the spark of heroism. On one hand, then, true courage requires knowledge, both of what is fearful, and also of when we should stand and fight. On the other hand, the real test of courage on the battlefield begins only when a man recognizes that he may be killed at any moment, and despite this endures.
So, who is truly courageous in Tolstoy's novel and Conrad's story? For Tolstoy, it is, for example, Lavruska Denisov, who knows the true enemy, cowardice, and challenges death in full knowledge of its arbitrary power. He believes that he cannot control his fate on the battlefield, and this fatalism liberates him to behave bravely. In Conrad's story the Christian concept of a benevolent universe and the chivalric conception of honour are shown to be rendered futile. The grotesque irony is that Tomassov must be a Cain figure killing his "brother". The "man of honour" who had once sworn De Castel to command his life, paid his "debt a hundredfold" with "one liberating shot"i releasing him "from a fate worse than death – the loss of all faith and courage.".
What is interesting, is that for both Tolstoy in War and Peace and Conrad in "The Warrior's Soul" honour, that essentially human virtue, as well as courage which is the "pure courage" – candid, humble, modest, serene, spontaneous, full of decency; and not that brilliant courage – bravoure de gentilhomme, of which vanity is the only motive – are virtues that both great writers exert themselves to find and show to the reader.
Monika Majewska, Maria Curie-Skłodowska University, Lublin, Poland, m.majewska@poczta.umcs.lublin.pl
Following the Wolf in "Prince Roman": Conrad and Tolstoy
But for Stephen Brodsky, who in his article "Saint Roman: Memory, Myth and History in Joseph Conrad's 'Prince Roman'" put a spotlight on the wolf appearing in Conrad's tale, I would not have probably embarked on close reading of the story, not to mention writing about it, for I thought it offered no revelation. Following the wolf, as it transpired, meant facing the unexpected.
The focus on the wolf made me pose the question as to the (possibly) Dostoevskian layers of Conrad's tale, but it also provided a stimulus to consider it in the context of Tolstoy's oeuvre – though in the latter case, I have to admit, the wolf and I were moving in a somewhat zigzag fashion.
The most obvious counterpart of "Prince Roman"(1911) as far as Tolstoy's fiction is concerned is What For? (1906; Za shto?), for both texts are set in the times of the Polish November Rising of 1830–1831 against Russia. Unique when viewed in the context of Conrad's fictional writings because of its open dealing with Poland and Poles, "Prince Roman" presents the reader with the eponymous hero serving as "a religio-patriotic icon symbolic of Poland's suffering," as Brodsky has it. Tolstoy's text, in turn, stands out in Russian literature due to its scathing indictment of the oppressive measures implemented by Nicholas I against Poles, whom the writer views sympathetically, as the victims of Russian politics.
I hope the adoption of "What For?" as the main contextualization for "Prince Roman" will yield interesting results, pointing to new areas of research into Conrad's relation with Russian writers and his notion of Polishness.
SLITE 21 Sunday 31.8.2014 16.00–17.30 Room A2
CANADIAN LITERATURE IN A MULTI-CENTRIC WORLD
Convenors:
Michelle Gadpaille, University of Maribor, Slovenia, michelle.gadpaille@uni-mb.si,
Vesna Lopicic, University of Nis, Serbia, lovevuk@gmail.com
Theorist Slavoj Žižek has claimed that we inhabit a "multicentric world." What does this mean for contemporary English Canadian literature? The panel invites papers on Canadian literary multiculturalism in the context of the de-centering of cultural production and the eclipse of conventional gatekeepers of cultural prestige. Potential topics are as follows:
Literary prizes and power redistribution
Multiculturalism and the dissolution of literary Canadian-ness
Electronics and de-centered literary production
Becoming Canadians: The educational and cultural profile of the new second generation of immigrants
Monica Bottez, University of Bucharest, Hungary, monibott@yahoo.com
(Canadian) Multiculturalism in the 21st Century
The paper sets out to discuss the European retreat from multiculturalism presented in Christian Joppke and Ewa Morawska (eds)'s volume Toward Assimilation and Citizenship (2003) against the contrary opinion put forth in Will Kymlicka's Multiculturalism: Success, Failure and the Future (2012), also taking into account the threats that terrorism poses to this policy, as they are exposed in Stewart Bell's book The Martyr's Oath: The Apprenticeship of a Homegrown Terrorist (2005) and his article "The spillover effect: Canadian diasporas and terrorism" (2009).
Natalia Kaloh Vid, University of Maribor, Slovenia, natalia.vid@siol.net
Canadian literature across the ocean: translations in the Soviet Union and in Russia
The process of literary selection is always a creative act: the selections collectively build an image of a culture that reflects the selector's own ideas of how that culture should represent itself. There are two main criteria for translating Canadian literature in modern Russia: the English language of the original and prestigious literary awards. Thus, the literature of English-speaking Canada has almost completely eclipsed Quebec literature, represented nowadays mainly by Nadine Bismuth. Among other Canadian authors translated into Russian between 2000 and 2008 are Robertson Davies, Timothy Findley, Douglas Copeland, Leonard Cohen, Nancy Huston, Margaret Atwood, Yann Martel, Rebecca Godfrey and Charles de Lint.
In my presentation I will explore how the Russians, like the Canadians, have been seeking a literature to give shape to national consciousness and to create a sense of national self. To this end, I will compare the choice of Canadian authors in the Soviet Union and in modern Russia.
Marie-Anne Hansen-Pauly, University of Luxembourg, Luxembourg, marie-anne.hansen@uni.lu
"Liliane Welch: A Canadian-European poet – Poetry as a vector of identity construction"
Liliane Welch's life (1937–2010) and work are truly 'multi-centric', not in the political sense that Žižek had in mind, but revealing a number of strong cultural and linguistic centres that evolved in the course of her life. Her writing reflects mobility and participation in several communities, thus raising questions, mostly in relation to creative processes, identity construction and the reception of a poet's work.
This paper aims to show that her relations to each of these centres revolve around particular spaces, include remarkable people she has met and encompass literary texts to which she responds in her own writings. It appears that poetry becomes for Welch a dynamic means of cultural identity construction. I will argue that from the mid-seventies onwards Canada remained the core of her life and writing, against which she could gauge views and values, but that this Canadian centre has become particularly enriched by a complex and multifaceted additional Italian centre that has significantly marked her poetic creation. The examples should show that, very much like the memoirs and auto-fiction of immigrants, poetry can provide significant insights into the creative energies of immigrant / migrant writers who feel close to several cultures and languages.
Judit Molnár, University of Debrecen, Hungary, judit.molnar@arts.unideb.hu
Space and Memory Construction in Robert Majzels' A City of Forgetting
Montreal, with its literatures written in French, English and many other languages, is one of Canada's multi-centric literary worlds. Robert Majzel's City of Forgetting (1997) is a representative example of the city novel, a genre that is part of the Anglo literary revival that Montreal has been enjoying since the 1990s. The novel under discussion focuses on the metropolis's "dystopic urban landscape" (Domenic Beneventi). My intention is to show the unique ways the varied homeless characters, who belong to different times and places, and who have radically different cultural backgrounds as well, relate themselves to the multifarious cityscape. Majzels's text reconfigures the urban vision of Montreal while demonstrating how the different historical-fictional characters, such as Le Corbusier, Che Guevara, Karl Marx etc. situate themselves in the city. The multi-layered text is full of spatial references; the reader walks the city together with the flâneurs and the flâneuses listening to the cacophony of the international city that Montreal has grown into. I shall illustrate how the image of the ideal city and the dark side of cosmopolitanism reflect upon each other.
SLITE 22 Sunday 31.8.2014 11.00–13.00 Room A6
INTERDISCIPLINARY DICKENS
Convenors:
Dominic Rainsford, University of Aarhus, Denmark, dominic.rainsford@hum.au.dk
Soňa Šnircová, Pavol Jozef Šafárik University in Košice, Slovakia, sona.snircova@upjs.sk
Thanks to the recent growth in attention to Dickens's non-fictional writings, as well as to increasingly sophisticated readings of his fiction, we are beginning to appreciate that he was keenly aware of many of the intellectual currents of his time. This seminar will explore this inter-connectedness further. We invite papers that show Dickens's interest in philosophy, economics, psychology, historiography, ethnography, the natural sciences, technology, medicine or any other field of empirical or theoretical research.
Participants
Aleksandra Kędzierska, Maria Curie-Skłodowska University, Lublin, Poland, corioola@gmail.com
Recycled Lives: The tales of the shops in Charles Dickens's Sketches by Boz.
In his introduction to Sketches by Boz (1835–7), Dennis Walder emphasizes Dickens's awareness of "the instability of people's lives", linking this possibility of imminent crisis with the symbolic image of the door of the pawnbroker's shop. Standing "always doubtfully, a little way open, half inviting, half repelling" (SB 144), it tempts potential customers to confront the unknown and perhaps even outsmart the spirit of mischance. Based on five essays from the collection: Shops and their Tenants, Brokers' and Marine-store Shops, The Pawnbrokers' Shop, as well as Seven Dials and Meditations in Monmouth Street, this paper, examining a motif of recycling, intends to address Dickens's preoccupation with commerce. A depressing, somewhat ironic reflection of prosperity of London at the outset of Victorian era, the shops in the Sketches offer their tale of woe: a tale about the triumph of objects which, unlike people, have been given another – second or even third – life to live and which, becoming extensions and/or substitutes of persons, illustrate the worst aspects of dehumanization. Additionally, the paper will demonstrate how Boz' 'recycling poetics', evident in his use of such devices as hyperbolae, enumeration, prosopopoeia and repetition, enhance the narrator's marketing strategies, at the same time helping him to handle the trauma of poverty by preserving memory of those reduced to garbage.
Loredana Salis, Univesity of Sassari, Italy, lsalis@uniss.it
Hopeless cases? Dickens, mendacity and medical earnestness
It is a peculiarity of Dickens's oeuvre that it offers readers long, detailed and fairly entertaining, if not thought-provoking, descriptions. Illnesses and accidents are central to numerous and meticulous accounts; their accuracy certainly displaying this writer's intelligence and interest for medical matters. In a pioneering essay on the topic, which appeared in The British Medical Journal in 1924, Charles Stracham investigated 'the medical knowledge of Charles Dickens', and there he concluded that the author of Great Expectations possessed 'powers of medical observation far in advance of the clinicians of his day'. Stracham's view can hardly be refuted; indeed Dickens had first-hand experience of clinical cases, and he certainly was a careful observer of people's ailments. But to limit the interpretation of accounts of incidents and illnesses to the writer's personal interests and curiosity is to miss (and dismiss) their significance. Focussing on 'Mr. Nightingale's Diary', a one-act farce written and produced in 1851, this essay suggests that Dickens's familiarity with medicine enables and discloses his understanding of and scepticism for medicine and medical practitioners. The play revolves around a hypochondriac, Mr. Nightingale, and his diary, in which he incessantly annotates symptoms and cures, and which he trusts blindly and religiously. Behind the irony of this behaviour lies a serious reflection and a critique, on Dickens's part, of dogmatic knowledge and the unquestioned authority of science. The play stages the encounter of two world views, thereby exposing how medical earnestness is often mendacity in disguise.
Edyta Świerczyńska, University of Warsaw, Poland, edytaang@o2.pl
Geometry of incarceration: Dickens's enslaved minds in A Tale of two Cities
Though it is now a commonplace truth that Dickens's primary interest in psychology lay in the workings of the mind "on the dark side" (his own included), little has been said about the symbolic link between space and the most intricate mechanisms of reasoning, conscious and unconscious motivation, or degeneration of his vivid characters, most of whom are not entirely "dark". With the exception of Little Dorrit, in which there exists a direct link between the prison and the condition of the characters' psyche, such a connection is left implicit, and the psychological importance of spatial surroundings is still either read superficially or completely rejected. My aim is to redeem the meaning hidden deeply in Dickens's spatial constructions, showing that he did not leave anything to chance and every minute detail served a higher cause, hence building the symbolism of this most realist writer. In order to show his perfect, albeit intuitive, understanding of the human nature (NOT in the Pickwickian sense), I chose a novel that would never be first categorized as "psychological": A Tale of Two Cities. Here Dickens's parallel constructions of the mind and space can be interpreted as pre-Freudian, which proves not only the universalism of psychological mechanisms, but also Dickens's quick and active mind reading minds.
Jeremy Tambling, University of Manchester, UK, retired, jtambling@outlook.com
Dickens, Judaism and Cosmopolitanism
It is often argued, from Lauriat Lane and Harry Stone onwards, that Dickens moved from a relatively anti-semitic presentation of the Jew, outstandingly in Fagin (but Steven Marcus' question 'Who is Fagin?' has never been fully answered) to a more benign one with Mr Riah in Our Mutual Friend. This biographical approach to the question of the status of Jewishness in the nineteenth century (before the word 'anti-semitic' was coined, in 1879) is useful but it may be extended and rethought by reference to Jewish studies in relation to the nineteenth century, which see less of a tradition of growing awareness and sympathy, and look at emancipation in the light of arguments about race and culture which draw on such names as Lessing and Marx, Heine and George Eliot, Carlyle and Matthew Arnold, and the status of being 'cosmopolitan', a word implying both sophistication, and rootlessness, indeed, as the defining term for the Jew.
Linguistics
SLANG1 Sunday 31.8.2014 (A) 11.00–13.00 Room A9, (B) 16.00–17.30 Room A9
PRODUCTIVITY IN WORD-FORMATION
Convenors:
Mark Aronoff, Stony Brook University in New York, U.S.A., mark.aronoff@stonybrook.edu
Pavol Stekauer, Pavol Jozef Šafárik University in Košice, Slovakia, pavel.stekauer@upjs.sk
Extensive research on morphological productivity in the last decades has not only led to new ideas and theories but also indicated a range of problems. The seminar will concentrate on the following topics:
Methods of computing productivity
Form-based vs. cognitively founded approaches to productivity
Productivity as competition between word-formation processes/rules
Discrete vs. scalar notions of productivity
Constraints on productivity
Actual, potential, possible, and probable words
Sociolinguistic factors influencing the productivity of word-formation
SLANG2 Monday 1.9.2014 (A)14.30–16.30 Room A4, (B)17.00–18.30 Room A4
SEMANTICS OF EVALUATIVE MORPHOLOGY
Convenors:
Alexandra Bagasheva, Sofia University St. Kliment Ohridski, Bulgaria, abagasheva@gmail.com
Lívia Körtvélyessy, Pavol Jozef Šafárik University in Košice, Slovakia, livia.kortvelyessy@upjs.sk
During the last 30 years the concept of evaluative morphology (EM) has been discussed from various perspectives and in various languages. While most of these discussions were focused on formal aspects of EM the aim of the seminar is:
to discuss the possibilities of a universal semantic model of EM, including various approaches to the semantics of EM, the range of cognitive categories covered by EM as well as their possible realizations;
to discuss the semantics of EM in individual languages that might support but also contradict any of the suggested universal models.
SLANG3 Tuesday 2.9.2014 11.00–13.00 Room S5
WORD-FORMATION AND TRANSPARENCY IN MEDICAL ENGLISH
Convenors:
Pius ten Hacken, Leopold-Franzens-Universität Innsbruck, Austria,
pius.ten-hacken@uibk.ac.at
Renáta Panocová, Pavol Jozef Šafárik University in Košice, Slovakia, renata.panocova@upjs.sk
As a side effect of the rapid progress in medical research and of the emergence of new medical conditions, medicine is a domain where new concepts have to be named more frequently than in many other domains. Because of the prominent position of English in medical research, most of these concepts are first named in English. This seminar will consider naming strategies used for these concepts from the perspectives of how transparent the resulting names are for practitioners and the general public and how they create problems for translation into other languages.
SLANG4 Saturday 30.8.2014 (A) 11.00–13.00 Room A2, (B) 17.15–18.45 Room A2
WORD-FORMATION IN CONTRASTIVE ANALYSIS
Convenors:
Vladimir Ž. Jovanović, University of Niš, Serbia, vladimir.jovanovic@filfak.ni.ac.rs
Jovanka Lazarevska-Stančevska, University Ss Cyril and Methodius in Skopje, Macedonia,
jovanka@ukim.edu.mk
The seminar will present a framework for discussions about various issues of interest to the linguistic domain of word-formation in view of the contrastive linguistic method and its main tenets. The focus of the seminar is to gather contributions by professionals that have been studying the processes conducive to the formation of lexis by comparing and contrasting at least two different languages, English necessarily being one of them. The objective is to juxtapose not only the products of the processes such as affixation, compounding and any of the secondary mechanisms, but also to address the similarities and differences underlying the productive patterns, the ways English formative models may affect the processes of other languages, to the end of reaching generalizations about English word-formation, as well as that of other languages.
SLANG5 Sunday 31.8.2014 (A) 16.00–17.30 Room A1 /Monday 1.9.2014 (B) 11.00–13.00 Room A1
COMPARATIVE STUDIES OF ENGLISH IDIOMS
Convenors:
Lilli Tissen, Albrechts Universität, Germany, l.tissen@mail.de
Tatiana Fedulenkova, Vladimir State University, Russia, fedulenkova@list.ru
Natalia Potselueva, Pavlodar State University, Russia, nata_potz@inbox.ru
The topic of common and specific features in idioms of different languages as compared to English idioms will be discussed, including:
common and specific features in the structure of idioms compared: in the lexical and functional character of their components, in the grammatical composition of the idioms (e.g. Verb + Adj + Noun), in the dependence of components within idioms,
common and specific features in the meanings of the idioms compared, in mechanisms of semantic transformation of their prototype: metaphor, metonymy, synecdoche, hyperbole,
common and specific features in the origin of idioms compared, in their functional and pragmatic values.
SLANG6 Saturday 30.8.2014 (A)17.15–18.45 Room A1 /Sunday 31.8.2014 (B) 11.00–13.00 Room A1
PHRASEOLOGY AND BUSINESS TERMINOLOGY: THE POINTS OF CROSSING
Convenors:
Tatiana Fedulenkova, Vladimir State University, Russia, fedulenkova@list.ru
Yakiv Bystrov, Precarpathian National University in Ivano-Frankivsk, Ukraine, ybystrov@ukr.net
We often come across such phraseological units (PUs) as "Occam's razor", "nest egg", "sleeping beauty", "small dragons" which appear to function as units of business terminology. Papers on business terminology of idiomatic character are welcome to the Seminar. Items for discussion:
structural, semantic and contextual approaches to business PU-terms;
types, classifications, and LSP applications of terms of idiomatic character;
metaphor and metonomy as basic mechanisms of meaning transformation of the PU prototypical word combination;
characteristics of dictionary entries and definitions of PU-terms and their pragmatic value;
traditions and innovations in teaching business phraseology at universities.
SLANG7 CANCELLED
SEMANTIC PROSODY ACROSS BORDERS
Convenors:
Lachlan Mackenzie, VU University Amsterdam, The Netherlands, lachlan_mackenzie@hotmail.com
Hortensia Pârlog, University of the West, Timişoara, Romania, abaparlog@gmail.com
Semantic prosody, highlighted by John M. Sinclair and others, refers to certain words' preference for collocates with either positive or negative associations. The apparently neutral verb cause, for example, has been shown to "prefer" negatively loaded objects (problems, death, damage, etc.). Semantic prosody is hardly ever recorded in dictionaries and therefore remains opaque to translators and learners. We invite papers that compare semantic prosody in English and at least one other language. We also welcome papers which discuss the theoretical status of semantic prosody and/or address the challenges faced by work in this area.
SLANG8 Monday 1.9.2014 (A) 14.30–16.30 Room A1, (B) 17.00–18.30 Room A1/Tuesday 2.9.2014 ( C )11.00–13.00 Room A1
CROSS-LINGUISTIC AND CROSS-CULTURAL APPROACHES TO PHRASEOLOGY
Convenors:
Tatiana Fedulenkova, Vladimirsky State University, fedulenkova@list.ru
Victoria Ivashchenko, Institute of the Ukranian Language, Kiev, Ukraine, vicivashchenko@ukr.net
The seminar will focus on new theoretical perspectives and the latest developments in phraseology, including stylistic investigations, the issues of tradition vs creativity in the use of phraseological units in discourse, and cross-linguistic and cross-cultural research. The pedagogical implications of teaching the stylistic use of phraseologisms also present great interest, both to native and L2 students. Participants are encouraged to present their observations and theoretical conclusions on the basis of systematic studies of empirical material. Discussions of paradigmatic relations of English phraseologisms (synonymical, antonymical, hypero-hyponymical, etc.) in the system of the language, as well as a cross-linguistic approach, are welcome.
SLANG9 Saturday 30.8.2014 (A)17.15–18.45 Room S5/Sunday 31.8.2014 (B)11.00–13.00 Room S5, ( C ) 16.00–17.30 Room S5
INFORMATION STRUCTURE OF DISCOURSE
Convenors:
Libuše Dušková, Charles University in Prague, Czech Republic, libuse.duskova@ff.cuni.cz
Jana Chamonikolasová, Masaryk University in Brno, Czech Republic, chamonikolasova@phil.muni.cz
Renáta Gregová, Pavol Jozef Šafárik University in Košice, Slovakia, renata.gregova@upjs.sk
The seminar presents different approaches to and different applications of the theory of information structure. The focus is on the multifarious aspects of information structure stemming from its close relationship to other linguistic disciplines. The topics of papers cover the dynamics of discourse especially from the viewpoints of the structure and character of context, the theme-rheme / topic-focus structure of sentences, the structure of larger textual units, paragraphs and whole texts, and the role of intonation in spoken discourse. The analyses are based on the material of written and spoken texts, as well as on parallel bi-lingual or multi-lingual materials.
SLANG10 Saturday 30.8.2014 (A) 11.00–13.00 Room A9, (B) 17.15–18.45 Room A9
INVESTIGATING ACADEMIC DISCOURSES: ENGLISH LANGUAGE USE AT EUROPEAN UNIVERSITIES
Convenors:
Vander Viana, University of Stirling, UK, vander.viana@stir.ac.uk
Aisling O'Boyle, Queen's University Belfast, UK, a.oboyle@qub.ac.uk
Academic discourses have become a focal point for both language researchers and teachers. With universities aiming to expand their international reach, it is vital to examine how English is used in various academic contexts. This seminar explores the notion of academic discourses, investigating English language use in diverse spoken/written genres and registers, subject areas, and national varieties. In the long run, the results of such empirical investigations will not only provide a detailed understanding of the ways of being and doing in contemporary academia, but they should also be pedagogically useful in the design of modules on English for academic purposes.
SLANG11 Monday 1.9.2014 (A) 11.00–13.00 Room S5, (B) 14.30–16.30 Room S5 ( C ) 17.00–18.30 Room S5
CONTRASTIVE ANALYSIS OF DISCOURSE-PRAGMATIC ASPECTS OF LINGUISTIC GENRES
Convenors:
Karin Aijmer, University of Gothenburg, Sweden, karin.aijmer@eng.gu.se
Diana Lewis, Aix-Marseille Université, France, diana.lewis@univ-amu.fr
The seminar explores the comparability of discourse-pragmatic characteristics of genres across European languages, using parallel corpora (aligned translated texts) and/or comparable corpora (genre-matched original texts). Genres, defined by sociolinguistic contextual parameters, often show distinctive patterns of frequency and distribution of linguistic features in relation to other genres or to the wider language. The seminar compares such patterns across English and (an)other language(s), in areas such as modality, pragmatic markers, speech acts, rhetorical structure. It deals with spoken, written or multimodal genres within domains such as political discourse, public communication, journalism, academic and professional discourse, addressing both methodological and theoretical issues.
SLANG12 Saturday 30.8.2014, 11.00–13.00 Room A7
REPRESENTATIONS OF (NEW) EUROPEANS IN PRIVATE, MEDIATED AND PUBLIC DISCOURSES
Convenors:
Jan Chovanec, Masaryk University, Czech Republic, chovanec@phil.muni.cz
Katarzyna Molek-Kozakowska, Opole University, Poland, molekk@uni.opole.pl
The seminar aims to address the discursive construction of Europe's citizens and nations, with a particular focus on the countries that recently joined the EU. We wish to explore, among others, the discursive strategies in which the opposing groups of "us" v. "them" – (e.g. old/new, 17/27, North/South) – are formulated, with their underlying ideologies and resulting projected identities. We welcome case studies as well as comparative (e.g. cross-cultural or diachronic) analyses based on material from diverse sources (e.g. media, political speeches, policy papers) that preferably approach the issue from the perspective of (critical) discourse analysis and pragmatics.
SLANG13 CANCELLED
LATE MODERN LOWER-ORDER LETTERS: MIRRORS OF LANGUAGE AND SOCIAL CHANGE
Convenors:
Matylda Włodarczyk, Adam Mickiewicz University, Poland, wmatylda@ifa.amu.edu.pl
Mikko Laitinen, Linnaeus Universtity, Sweden, mikko.laitinen@lnu.se
Anita Auer, Utrecht University, The Netherlands, A.Auer@uu.nl
Letter-writing is a linguistic activity which reflects sociocultural processes. In particular, epistolary evidence from the Late Modern period opens insights into the changing lives of the middling and lower orders in the era of industrialisation, urbanisation, increased mobility and even democratisation. Yet, linguistic publications popularising lower-order letters are scarce, while projects aiming to render the data in a searchable digital format have so far only been teething. This seminar seeks to draw the attention of researchers in language, history, society and culture to the need for studying archival letter collections not only of a specialist, but also of broader interdisciplinary interest and value. Contributions are welcome from scholars working in the field of discourse and language, and we particularly welcome approaches attesting the social circumstances and contacts as well as professional and family histories of the lower social classes in Late Modern Britain and the colonies.
SLANG14 Saturday 30.8.2014 (A) 11.00–13.00 Room A10, (B) 17.15–18.45 Room A10, Sunday 31.8.2014 ( C ) 11.00–13.00 Room A10
CHANGING DISCOURSES, CHANGING WORKPLACES: POSTMODERN TRENDS IN INSTITUTIONAL COMMUNICATION
Convenors:
Cornelia Ilie, Zayed University, United Arab Emirates, cornelia.ilie@gmail.com
Giuliana Garzone, University of Milan, Italy, giuliana.garzone@unimi.it
In increasingly multicultural and interconnected work environments, members of communities of practice start by applying existing discourse-reinforced conventions, while gradually adjusting and changing them, which leads to a hybridisation of discourse structures and strategies across workplaces and cultures. The seminar aims to explore effects of the interplay between discourse styles and workplace practices enacted in culture-specific and multicultural institutional or organisational contexts (e.g. business, education, media, politics). A special emphasis will be on metadiscourse and intertextuality in professional discourses, face-to-face and online negotiation of identities, culture-based and cross-cultural attitudes to leadership roles, and stereotypes related to race, gender and class.
SLANG15 Monday 1.9.2014 11.00–13.00 Room A6
CORPORA OF ACADEMIC SPOKEN ENGLISH – ISSUES IN COMPILATION, TRANSCRIPTION AND USE
Convenors:
Stefan Diemer, Saarland University, Germany, s.diemer@mx.uni-saarland.de
Maria Georgieva, St. Kliment Ohridski University, Bulgaria, maria.mageorg@gmail.com
The ever growing spread of English as the language of communication in international academic settings has uncovered the need to further extend and diversify the range of speech samples in terms of language and cultural background of the interlocutors. We invite speakers who want to discuss or offer solutions to problems of building Spoken English corpora. Some issues of interest are: recording, combining and standardizing audio and video, tagging structural and communication features, transcribing non-standard language use, conversation planning and background data, technical aspects of using video-/audio-recording programmes for corpus compilation, transcription systems, storage and availability of large spoken corpora.
SLANG16 Saturday 30.8.2014 (A) 11.00–13.00 Room S4, (B) 17.15–18.45 Room S4
LEXICAL BUNDLES IN ENGLISH NON-FICTION WRITING: FORMS AND FUNCTIONS
Convenors:
Jukka Tyrkkö, University of Tampere, Finland, jukka.tyrkko@uta.fi
Joanna Kopaczyk, Adam Mickiewicz University, Poland, jkopaczyk@wa.amu.edu.pl
One of the key benefits of corpus linguistic methods is that they give us access to otherwise hard-to-discern lexical, phraseological and grammatical patterns. Lexical bundles, or n-grams, can signify fixed practices of language use. In diachronic study of language such patterns are often related to linguistic processes of change such as grammaticalization and semantic entrenchment, and they also testify to the operation of Sinclair's idiom principle. Contributions to this seminar will discuss these fixed repetitive sequences in non-fiction writing, with particular reference to text-type-specific aspects of formulaicity, complexity and (non-)creativity in written English. The papers will be published in a peer-reviewed edited volume.
SLANG17 Tuesday 2.9.2014 11.00–13.00 Room A9
CORPUS PRAGMA-STYLISTICS
Convenors:
Ursula Lutzky, Birmingham City University, UK, ursula.lutzky@bcu.ac.uk
Carla Suhr, University of Turku, Finland, carla.suhr@utu.fi
This interdisciplinary seminar focuses on the rising field of corpus pragma-stylistics. Its aim is therefore to demonstrate how the study of language in use and the study of language in (literary) texts can be combined in order to arrive at innovative results. Additionally, this seminar seeks to attract papers using a corpus linguistic methodology to this end; that is to say, they will exploit tools and resources developed in the field of corpus linguistics to gain insights into a specific (collection of) text(s). The seminar welcomes both synchronic and diachronic studies from all periods of the English language.
SLANG18 Saturday 30.8.2014 17.15–18.45 SLAB
CORPUS INTEROPERABILITY AND SPOKEN DIACHRONIC DATABASES : THE NECTE-DECTE CORPORA
Convenors:
Nicolas Ballier, Université Paris Diderot, France, nicolas.ballier@univ-paris-diderot.fr
Karen Corrigan, University of Newcastle, UK, karen.corrigan@btinternet.com
Hermann Moisl, University of Newcastle, UK, hermann.moisl@newcastle.ac.uk
The seminar welcomes papers dealing with sociolinguistic surveys of Geordie encapsulated in the NECTE and DECTE corpora. In the wake of Beal, Corrigan and Moisl 2007 selection of papers, the two corpora will be discussed by linguists investigating syntactic, prosodic and phonetic features, questioning the connections between linguistic data, corpus annotation, linguistic research questions and technological queries.
SLANG19 Monday 1.9.2014 17.00–18.30 Room A10
DIACHRONIC CORPUS STUDIES OF ENGLISH
Convenors:
Jan Čermák, Charles University Prague, Czech Republic, Jan.Cermak@ff.cuni.cz
Rafał Molencki, Uniwersytet Śląski w Katowicach, Poland, molencki@poczta.onet.pl
Digitalization of historical corpora of English has significantly affected the diachronic studies since the early 1990s. Earlier studies were based on the relatively short text samples of the Helsinki Corpus, but now the complete Old English corpus, numerous Middle English and Early Modern English texts, as well as major historical dictionaries are available as huge searchable databases. More and more libraries offer digital versions of complete medieval manuscripts enabling scholars to verify the (mis)interpretations of earlier editors. These technological advancements have made the work of a historical linguist easier in terms of speed and text accessibility, but have also created some new problems.
SLANG20 Tuesday 2.9.2014 11.00–13.00 Room A2
PRAGMATIC VALUES IN NON-DIALOGIC TEXTS: A DIACHRONIC PERSPECTIVE
Convenors:
Gabriella Mazzon, University of Innsbruck, Austria, Gabriella.Mazzon@uibk.ac.at
Minna Nevala, University of Helsinki, Finland, aunio@mappi.helsinki.fi
The seminar aims at discussing ways in which texts from various times, belonging to genres that are not explicitly dialogic or fictional, encoded pragmatic meanings to construct their readers as interlocutors, and to pursue their communicative goals. Correspondence, early newspapers, instructional texts, religious and political prose, had different strategies to establish relationships with their addressees, and to perform their role as "macro-speech acts". These strategies changed over time in connection with changes in language, in society and in specific textual communities, and can be traced (synchronically or diachronically) through indicators such as personal pronouns, modal markers, pragmatic markers and others.
SLANG21 Sunday 31.8.2014 16.00–17.30 Room A6
GRAMMATICALIZATION, LEXICALIZATION, CONSTRUCTIONALIZATION
Convenors:
Jan Čermák, Charles University Prague, Czech Republic, Jan.Cermak@ff.cuni.cz
Rafał Molencki, Uniwersytet Śląski w Katowicach, Poland, molencki@poczta.onet.pl
The idea of grammaticalization was introduced to linguistics by Meillet (1912), who defined it as the attribution of grammatical character to a formerly independent word. In modern times the term is used to refer to the wider phenomenon when a new linguistic form simply becomes fixed or obligatory. Lexicalization takes place when a complex phrase comes to make a new lexical unit. In the early 21st century a new concept of constructionalization appeared, described as a process of conventionalization of the whole new construction (Traugott & Trousdale 2010). All these related terms are used in recent diachronic studies of languages, including English.
SLANG22 Sunday 31.8.2014 (A)11.00–13.00 Room A7, (B) 16.00–17.30 Room A7
WRITING IN NON-STANDARD ENGLISH
Convenors:
Isabelle Roblin, Université du Littoral Côte d'Opale, Isabelle.Roblin@univ-littoral.fr
Linda Pillière, Aix Marseille Université, France, linda.pilliere@univ-amu.fr
Jane Hodson, University of Sheffield, UK, j.hodson@sheffield.ac.uk
In recent years, the once firmly held opinion that English is a homogeneous language has been called into question by linguists and literary scholars alike. This seminar will bring together researchers in literature, stylistics and linguistics to share and compare methodologies for analyzing the representation of non-standard English in literature from the nineteenth century to the present day. Topics will include the role of non-standard English in literary texts, reader-response to non-standard English in literary texts, the ideological implications of representing non-standard English, the diverse literary and linguistic strategies used by writers to represent non-standard varieties, and the relevance of linguistic verisimilitude when analyzing literary dialects.
SLANG23 CANCELLED
NEWS TRANSLATION: JOURNALISM OR TRANSLATION?
Convenors:
Roberto A. Valdeón, Universidad de Oviedo, Spain, valdeon@uniovi.es
Krisztina Károly, Eötvös Loránd University, Hungary, karoly.krisztina@btk.elte.hu
Translating news as discourse has been in the focus of attention over the last 30 years. Major news agencies publish in English, news media are associated to share information and, often, many have versions in different languages, English being the central one. The characteristics of translating news are studied from several angles, focusing on language-pair-specific considerations, the special role(s) of the news translator, particular components of the discourse structure of news stories and various, suprasentential aspects of news texts. Focusing on these approaches, the seminar explores the extent to which the discourse production characterizing news translation approximates that of journalism or translation.
SLANG24 Monday 1.9.2014 (A)11.00–13.00 Room A9, (B)14.30–16.30 Room A9
THE PRAGMATICS OF BORROWING: ASSESSING THE PRAGMATIC EFFECTS OF BORROWINGS FROM AND INTO ENGLISH
Convenors:
Gisle Andersen, Norwegian School of Economics, Norway, gisle.andersen@nhh.no
Cristiano Furiassi, Università degli Studi di Torino, Italy, cristiano.furiassi@unito.it
Biljana Mišić Ilić, Univerisity of Nis, Serbia, bmisicilic@gmail.com
Existing research on the influence exerted by English on other languages has predominantly been concerned with lexical aspects. Less attention has been paid to pragmatic aspects, e.g. socio-cultural prerequisites, the covert prestige attributed to the donor culture and factors affecting the transition from code-mixing to established borrowing. Against the backdrop of recent studies, this seminar focuses on pragmatic borrowing, which concerns both the incorporation of discoursal features from English into other languages, as well as contextual/socio-cultural motivations for the proliferation of English-based borrowings. Contributions on specific languages are welcome. The seminar is also open to studies looking at pragmatic borrowing into English.
SLANG25 Sunday 31.8.2014 16.00–17.30 Room S3
IMPOLITENESS ACROSS LANGUAGES AND CULTURES
Convenors:
Małgorzata Szymańska, University of Wrocław, Poland, malgorzata.szymanska@uni.wroc.pl
Charles Bonnot, Université Paris-Diderot, France, charles.bonnot@yahoo.fr
The seminar will concentrate on issues related to linguistic impoliteness in various languages, contexts and cultures. The focus will be on pragmatic aspects of impolite or face aggravating linguistic behaviour. We will welcome contributions within pragmatic but also discursive, cognitive, and blended approaches to the study of anti-social language behaviour. Both theoretical and empirical papers are welcome.
SLANG26 Monday 1.9.2014 (A)14.30–16.30 Room A5, (B)17.00–18.30 Room A5 / Tuesday 2.9.2014 ( C ) 11.00–13.00 Room A5
EUROPEAN VARIATIONS IN ESP ACROSS THEORY AND PRACTICE
Convenors:
Shaeda Isani, Grenoble University, France, shaeda.isani@u-grenoble3.fr
Alessandra Molino, University of Turin, Italy, alessandra.molino@unito.it
Michel van der Yeught, Aix-Marseille University, France, michel.vanderyeught@univ-amu.fr
Annalisa Zanola, University of Brescia, Italy, zanola@eco.unibs.it
As ESP research and teaching programmes multiply and evolve the world over, there is increasing diversity amongst researchers regarding the objectives and finality of the discipline and ways and means of achieving them. This seminar invites ESP scholars and practitioners to reflect on this diversity at national, European and global levels to identify differences and similarities and pave the way for greater exchange and collaboration amongst European ESP specialists. Proposals will focus on such key ESP issues as needs analysis, specialized languages as objects of scientific enquiry, synchronic vs. diachronic approaches, specialized domains and communities, specialized discourse, cultures and genres and interdisciplinary approaches.
SLANG27 Sunday 31.8.2014 16.00–17.30 Room A8
ENGLISH IN EUROPEAN LINGUISTIC LANDSCAPES
Convenors:
Milan Ferenčík, University of Prešov, Slovakia, milan.ferencik@unipo.sk
Judit Szabóné Papp, University of Miskolc, Hungary, nyejudit@uni-miskolc.hu
The seminar is intended to provide a forum for the discussion of the placements, functions and manifestations of English in the linguistic landscapes (LL) of the ´expanding-circle´ of European countries. It welcomes data-driven contributions by practitioners of different social-scientific research creeds, esp. sociolinguists, pragmalinguists and applied linguists, who have welcomed the emergence of the transdisciplinary approaches of ´linguistic landscape´ and ´geosemiotics´ and who have employed their methodologies in order to get to grips with the conspicuous presence of English language in the visual richness of contemporary urban landscapes.
SLANG28 Monday 1.9.2014 (A) 17.00–18.30 Room A7
NON-WORDS, NONCE-WORDS AND MORPHOLOGY TEACHING
Convenors:
Silvia Cacchiani, University of Modena and Reggio Emilia, Italy, silvia.cacchiani@unimore.it
Christoph Haase, Purkinye University, Czech Republic, christoph.haase@ujep.cz
While psycho- and neurolinguistics (e.g. Marslen-Wilson 2007, Rastle etal. 2008, Crepaldi 2010) have shown increasing interest in the representation of non-words, nonce-words or nonsensical words in the mental lexicon, their potential as a yardstick for the morphological competence of L2 learners has not been widely explored. The aim of this seminar is to bring together theoretical and applied research on non-words, nonce-words, and the teaching of English morphology. Suggested topics include (but are not restricted to): analogy in morphology and L2 learning; best practice in morphology teaching; learner access to lexical strata, feature percolation and permissibility, and related performance.
SLANG29 Monday 1.9.2014 11.00–13.00 Room A3
LEXICAL ISSUES IN L2 WRITING
Convenors:
Päivi Pietilä, University of Turku, Finland, paipi@utu.fi
Katalin Doró, University of Szeged, Hungary, dorokati@lit.u-szeged.hu
Renata Pipalová, Charles University, Czech Republic, m.pipal@volny.cz
This seminar addresses vital lexical issues in L2 writing from learning, teaching and research perspectives. The papers presented may attempt to answer the following questions, for example: How are accuracy, fluency and complexity intertwined in written texts? What lexical and other devices are used to achieve cohesion and coherence in texts written in L2 English? What kinds of lexical strategies do learners (at different proficiency levels) use in L2 writing? How is vocabulary use affected by factors such as text type, timing/lack of timing, topic, L1, individual learner differences, etc? What are the challenges of L2 academic writing and assessment?
SLANG30 CANCELLED
TEACHER'S PRESENCE IN CLASS. A JOB OR A PERFORMANCE?
Convenors:
Anatol Shevel, University of Rzeszow, Poland, ashevel@univ.rzeszow.pl
Nadja Mifka-Profozic, University of Zadar, Croatia, nmifkap@unizd.hr
The core of EFL teacher training can be formulated as "Different people can do the same job, but depending on how they do it the final effect will be different". The purpose of the seminar is to concentrate on "Teacher as a Performer" and bring to the fore a discussion on the following aspects: Appearance (dress code & sense); Voice management; Movement (appropriateness & proximity); Language (rough-tuning); Body language (gestures & mimics); Calligraphy; Sense of humour; Personality type; Life experience; Professional knowledge & skills (techniques). The speakers are invited to make a projection of the techniques used in coaching and management motivation onto EFL teaching. The research can vary within socio-cultural, psychological, linguistic studies.
SLANG31 CANCELLED
SUMMATIVE VS FORMATIVE FEEDBACK AND THE CREATION OF SCHOLARLY IDENTITY
Convenors:
Jane Mattisson Ekstam, Kristianstad University, Sweden, jane.mattisson@hkr.se
Claudia Doroholschi, West University Timişoara, Romania, claudia.doroholschi@litere.uvt.ro
In our seminar we shall discuss the functions and forms of teacher written feedback. Studies have demonstrated that while peer reviewing is an important part of the writing process for students, it is teacher feedback that is most highly appreciated (Ken and Fiona Hyland, 2006). We shall situate teacher written feedback in the context of the wider institutional, social and cultural factors which have been found to influence how feedback is given and received. We shall also discuss the "how" and "what" of feedback – the ways it is shaped through its modes of delivery and form. The aim of all writing must be to create a distinct scholarly identity. The basis for our discussions is thus the all-important question "To what extent has summative feedback, designed to evaluate writing as a product, generally been replaced by formative feedback that points forward to the student's future writing and the development of his or her writing processes?"
SLANG32 Saturday 30.8.2014 (A)11.00–13.00 Room A5, (B)17.15–18.45 Room A5
ENGLISH AS A FOREIGN LANGUAGE FOR STUDENTS WITH SPECIAL EDUCATIONAL NEEDS – EXCEPTIONAL ENGLISH FOR EXCEPTIONAL LEARNERS?
Convenors:
Ewa Domagala-Zysk, John Paul II Catholic University of Lublin, Poland, ewadom@kul.pl
Edit Hegybiro Kontra, Eötvös Loránd University, Hungary, ehkontra@gmail.com
The seminar addresses educators and linguists involved in the recent upsurge of European action research focusing on learners with special educational needs. For many years in the past D/deaf, blind, intellectually challenged or dyslexic students were excluded from learning foreign languages, but contemporary educational and social trends such as normalization, integration or inclusion have changed this situation. The purpose of the seminar is thus to share experiences and bring to the fore a discussion on the following points: 1). Conceptual representations for words in English in individuals with sensory or cognitive challenges; 2. Teaching strategies and class techniques to enhance both motivation and language performance; 3. The role of oral communication and sign languages in EFL classes for the D/deaf; 4). Cooperative practices in primary, secondary and tertiary foreign language education for students with disabilities.
Culture
SCULT1 Monday 1.9.2014 11.00–13.00 Room A4
WOMEN'S LIVES, WOMEN'S WORKS, A TALE OF MUTUAL INFLUENCES
Convenors:
Florence Binard, Université Paris Diderot, Sorbonne Paris Cité, France, fbinard@eila.univ-paris-diderot.fr
Julie Gottlieb, University of Sheffield, UK, julie.gottlieb@sheffield.ac.uk
Michel Prum, Université Paris Diderot, Sorbonne Paris Cité, France, prum.michel@wanadoo.fr
This seminar will aim to study the impact of women's personal lives and experiences on their theoretical, fictional or artistic productions. Conversely the influence of women's productions on their own lives will be explored. These mutual influences will be addressed from the perspective of the history of ideas. The geographical area will be Britain but women living and working in other areas, whether European or not, also fall into the province of this workshop provided that their biographies or autobiographies are in some way related to Britain. No historical period will be excluded. The reference to "women's works" includes all kinds of intellectual activities: fiction, drama, poetry, philosophy, journalism, cinema, painting, sciences, etc.
SCULT2 Monday 1.9.2014 (A)11.00–13.00 Room A7, (B)14.30–16.30 Room A7
EUROPE FOOD INC.: EATING AND COOKING IN THE ARTS
Convenors:
Nieves Pascual, University of Jaen, Spain, npascual@ujaen.es
Silvia Baučeková, Pavol Jozef Šafárik University in Košice, Slovakia, silvia.baucekova@gmail.com
Over the last few decades, a number of studies have explored food as a central identity trope by focusing on artistic movements, historical periods, particular genres and ethnic groups within the United States. All of them reveal the theoretical fruitfulness that culinary-based analyses provide. In a European context, such research has been scarce. We welcome contributions that address the ways in which eating and cooking define and represent present-day Europe. Various types of texts may be considered, including literary works, works of cultural theory, newspaper articles, magazines, travel guides, webpages, media programs, films and visual arts in general.
SCULT3 Tuesday 2.9.2014 11.00–13.00 Room A3
GENDER ACROSS THE MEDIA: 21ST-CENTURY MASCULINITIES IN FILM AND TV FICTION
Convenors:
Marta Fernández, University of the Balearic Islands, Spain, marta.fernandez@uib.es
Martina Martausová, Pavol Jozef Šafárik University in Košice, Slovakia, martina.martausova@upjs.sk
After a period of agreement over a crisis in masculinity, the new century and its mediatized inauguration – 9/11 – seem to have reopened the debate about male identities. The fragmented status of feminism, the transnational crisis and the culture of fear after the 2001 bombings may have lit the revival of the John Wayne myth, as Faludi argues in The Terror Dream. This seminar explores 21st-century representation(s) and reception(s) of male figures in film and television fiction, continuing the discussion forwarded by Faludi and writers like Peggy Noonan, who in 2001 affirmed: "from the ashes of 9/11 arise the manly virtues".
SCULT4 Monday 1.9.2014 (A)17.00–18.30 Room S4/Tuesday 2.9.2014 (B)11.00–13.00 Room S4
GENDER AND POPULAR CULTURE
Convenors:
Astrid M. Fellner, Saarland University, Germany, fellner@mx.uni-saarland.de
Viera Nováková, Pavol Jozef Šafárik University in Košice, Slovakia, viera.novakova@upjs.sk
This seminar intends to explore cultural makings of femininity, masculinity, and sexuality through typical representations of gender within popular culture. Papers are invited on the topic of gender and popular culture, including historical frameworks and methodology of relevant disciplines in relation to the study of gender and culture. Looking into the ways in which gendered and sexual identities are shaped by, and in turn shape, popular understandings of gender, papers may also address the ways in which sex, gender, and sexuality are interrelated with critical factors such as ethnicity, class, age, and region.
SCULT5 Saturday 30.8.2014 17.15–18.45 Room A7
ANGLICIST WOMEN'S AND GENDER STUDIES OF CONTINENTAL EUROPE
Convenors:
Renate Haas, University of Kiel, Germany, haas@anglistik.uni-kiel.de
Andrea P. Balogh, University of Szeged, Hungary, andreapbalogh@gmail.com
The full academic establishment of Women's and Gender Studies is one of the most important achievements of the past forty years. As decisive impulses came from the United States, English Studies had special chances of translation (in the broad sense of the word). In the various countries, colleagues have met these challenges in a variety of ways, and, in spite of much international cooperation, the specific conditions and developments are still too little known beyond national borders. Therefore, the contributors to a forthcoming volume will present and discuss the central insights of their historical surveys. The seminar is, however, also open to newcomers.
SCULT6 CANCELLED
HAPPINESS AS A CULTURAL CONSTRUCTION: GENDER AND CONSUMERISM
Convenors:
Haluk Üçel, İstanbul Bilgi University, Turkey, h.ucell@gmail.com
Alexandra Bikkyová, Pavol Jozef Šafárik University in Košice, Slovakia, sandrik.bikkyova@gmail.com
This seminar will focus on consumerism through construction of happiness and gender identities with past and contemporary references in modernity and postmodernity. Comparative cultural analysis will give a chance to explore the construction of happiness in meaning making. We will explore variety of print and audio-visual texts focusing on advertising and propaganda. We will question individuality in globalization and glocalization observing happiness as a commodity and as an ideological construction.
SCULT7 Sunday 31.8.2014 11.00–13.00 Room S1
EXPLORATIONS OF ETHNICITY AND GENDER: (DIS)COVERING/ (DE)CONSTRUCTING IDENTITY IN AMERICAN FICTION
Convenors:
Cristina Cheveresan, West University of Timisoara, Romania, acheveresan@litere.uvt.ro
Brigitte Zaugg, Universite de Lorraine, France, brigitte.zaugg@orange.fr
From the "New Women"'s daring explorations of female identity at the turn of the 20th century to 21st century discourses on ethnicity and its (dis)contents, American writers have constantly set out to discover, understand and explain the mental, physical, emotional, and socio-political challenges of their condition. Irrespective of the paradigm they write in (be it Realism, Naturalism, Postmodernism or Postcolonialism), such innovators have broken taboos, exposed uncomfortable truths, fought stereotypes and opposed injustice. Papers are invited which analyze authors whose works have shaped evolving perspectives on ethnicity and gender in the United States by creatively emphasizing and transposing everyday issues.
SCULT8 Sunday 31.8.2014 16.00–17.30 Room A10
ACCESSION 8 IMMIGRATION IN THE UK AND ITS IMPACT ON IDENTITY FORMATION AMONG THE NEW DIASPORAS
Convenors:
Andrew C. Rouse, University of Pécs, Hungary, andrew.rouse@pte.hu
Julius Rozenfeld, Pavol Jozef Šafárik University in Košice, Slovakia, julius.rozenfeld@upjs.sk
Immigration has become a perceivable culture-forming element in British society. The objective of our seminar is to analyze contemporary results of immigration studies jointly with diaspora research in order to test validity of the different immigration theories and to clarify shifts in the modern understanding of diaspora concepts. Primarily, Accession 8 immigration and its impact on British society are under discussion with a special emphasis on interaction between the majority society and the immigrant communities, assuming that contemporary transnational connections enable the formation of multiple identities and allow for better integration without necessary assimilation. If modern migration cannot be correctly described by a single migration theory, the question whether the people decide to migrate out of curiosity or simply because they can is investigated from aspects of class, ethnicity and religion.
SCULT9 Tuesday 2.9.2014 11.00–13.00 Room A8
THE PARTITION OF INDIA – BEYOND IMPROBABLE LINES
Convenors:
Elisabetta Marino, University of Rome Tor Vergata, Italy, marino@lettere.uniroma2.it
Daniela Rogobete, University of Craiova, Romania, dani.rogobete@yahoo.com
This seminar tries to explore one of the crucial events in India's history, the Partition, and its impact upon the lives of the refugees caught in the process of reconfiguring physical boundaries and remapping geographical, cultural and political spaces. It will particularly focus upon various representations of Partition in literature and film as an event of massive displacement located between history and memory, between personal drama and collective trauma, between loss and rupture, between religion and nationalism, between longing and belonging. Topics may also include redefinitions of identity, domesticity and homeland triggered by the clash between memory, history and ideology.
SCULT10 CANCELLED
KISSING IN VICTORIAN BRITAIN: REASSESSING A CULTURAL PRACTICE
Convenors:
Béatrice Laurent, Université des Antilles et de la Guyane, beatrice.laurent@iufm-martinique.fr
Stefania Arcara, University of Catania, sarcara@yahoo.it
This interdisciplinary seminar intends to examine visual and textual representations of kissing in Victorian Britain from a cultural, socio-historical and gender studies perspective. Papers may propose analyses of kissing as a Victorian cultural and social practice in a variety of forms and contexts: the etiquette of "hand-kissing" as a mode of salutation, the chaste kiss of female friendship, the heterosexual lovers' kiss as romantic climax or narrative turning point in art and literature, or as a subject of speculation for Charles Darwin, the "deviant" kiss of same-sex relations, the vampire's or femme fatale's deadly kiss, the stolen kiss penalized by Victorian courtrooms, the libertine or promiscuous kiss of pornographic fiction and many more variations. Examinations of Charles Darwin's speculations on the origins of kissing would also be welcome. Through a discussion of the multifarious and diversified aspects of kissing in Victorian Britain we will seek to reassess the significance of a cultural practice, its literary and artistic manifestations and its place in the history of gender and sexuality.
SCULT11 Sunday 31.8.2014 (A)11.00–13.00 Room A5, (B)16.00–17.30 Room A5
GENDER AND SEXUALITY IN NEO-VICTORIANISM
Convenors:
Georges Letissier, University of Nantes, France, georges.letissier@univ-nantes.fr
Maria Isabel Romero Ruiz, University of Malaga, Spain, mirr@uma.es
The seminar will investigate the centrality of gender and sexuality in "neo-Victorianism", including both scholarly works (history, cultural studies, social anthropology etc.) and creative works (fiction, film, arts) and the possible productive interaction between the two. The relevance of gender and sexuality identified as foundational at the inception of what is both a genre (with still undefined contours) and an academic discipline will be appraised by addressing questions of representation (performativity, scopophilia, voyeurism) and reception ("sexsational read", bifocality etc.), without omitting the ethical and ideological implications of such aesthetic choices. The tensions between marginality and norms (queering, gender-bending) and the historical epistemology of sexuality may also be considered.
SCULT12 Monday 1.9.2014 11.00–13.00 Room A5
PUBLICITY AND PROPAGANDA DISCOURSES IN THE MEDIA IN ENGLISH
Convenors:
María José Coperías-Aguilar, Universitat de València, Spain, maria.j.coperias@uv.es
Slávka Tomaščíková, Pavol Jozef Šafárik University in Košice, Slovakia, slavka.tomascikova@upjs.sk
The media have traditionally been said to have the function of informing, educating and entertaining, but they have also been the arena used by a wide range of people and institutions to convince us about the qualities and benefits of buying their products or following their ideas. Both, publicity and propaganda, explicit or subliminal, are present in all media in different ways and formats. Contributions to this seminar could be focused on the analysis of any elements which constitute a token of publicity or propaganda in any kind of media, traditional or digital.
SCULT13 CANCELLED
SCANDALS & SCARES IN THE BRITISH MEDIA: DISCOURSE, REPRESENTATIONS, IMPACT
Convenors:
Susan Finding, Université de Poitiers, France, susan.finding@univ-poitiers.fr
Anémone Kober-Smith, Université Paris Nord – 13, France, anemone.kober@univ-paris13.fr
Michael Parsons, Université de Pau et du Pays de l'Adour, France, michael.parsons@univ-pau.fr
Edyta Rachfal, Pavol Jozef Šafárik University in Košice and PWSW Przemyśl, edytarachfal@gmail.com
What makes a media scandal? Why do scares regularly surface in the media? Why do they arise over issues of public health, private and national security, immigration, privacy, sleaze, public and private behaviour. How does the discourse reinforce or invalidate cultural studies theory? Does the reporting share narratives of decline and deviance? Secrecy and sources, information and transparency are themes that recur. This seminar will explore commonalities, instrumentalisation and impact on policy and politics and on the media. Comparative studies may explore how specific to the UK the way the British media deal with scandals & scares is.
SCULT14 Monday 1.9.2014 11.00–13.00 Room A2
UNCANNY PRESENCES: THE PORTRAYAL OF EVIL IN CONTEMPORARY BRITISH AND AMERICAN TV SERIES
Convenors:
Stefani Brusberg-Kiermeier, Universität Hildesheim, Germany, brusberg@uni-hildesheim.de
Patrick Duggan, Exeter University, U.K., P.Duggan@exeter.ac.uk
This seminar investigates the construction of evil in contemporary British and
American TV series, which operate on a symbolic level and express the anxiety
of hidden evil alongside the wish for a tight control of deviation. They reflect
today's visuality and performativity and entertain by creating mixed feelings
and sensations. The character constructions and aesthetics combine the realist
with the mythical or super-natural and are influenced by Gothic elements, which
is not surprising if one takes the domesticity of these media into account. Participants
might discuss re-negotiations of cultural concepts and dichotomies or analyse
the theatricality of contemporary small-screen cinematography.
SCULT15 CANCELLED
EUROPEAN MAGAZINES AND NEWSPAPERS (ESPRIT, THE EUROPEAN SOCIETY FOR PERIODICAL RESEARCH)
Convenors:
Wolfgang Görtschacher, University of Salzburg, Austria, Wolfgang.Goertschacher@sbg.ac.at
Marianne Van Remoortel, Ghent University, Belgium, Marianne.VanRemoortel@UGent.be
On behalf of ESPRit we invite papers on topics related to editing periodicals. Papers for this Europe-related panel (including the UK) might address shifts and continuities from periodicals to networks and from editing to curating. They might focus on such topics as the history of editorship; the relationship between editorship and authorship; editing in wartime; women editors; editing colonial publications; the work of particular periodical editors; writers and their editors; editors and national literatures; advertising influence on editors; letters to editors; editors' relationships to one another; the many types of editorial work; editing in different countries; editing in the 21st century, and fiction, film, and essays about editors of magazines or newspapers.
SCULT16 CANCELLED
LINGUISTIC AND LITERARY CARTOGRAPHIES: VISUALISING LINGUISTIC AND LITERARY NETWORKS
Convenors:
Marina Dossena, Univerrsity of Bergamo, Italy, marina.dossena@unibg.it
John Corbett, University of Macau, Macao SAR, jcorbett@umac.mo
This seminar invites participation from scholars involved in the visualisation of linguistic, literary and historical relationships. There has recently been an upsurge of interest in linguistic and literary cartographies, and in particular the use of digital media to map linguistic change, literary data and historical networks. The seminar offers an opportunity for researchers this area to showcase their work in progress, and to share good practice in the development of methodologies and software. We anticipate that the session will be of interest to those working in the areas of historical corpora, correspondence and social networks, lexicography and the digital humanities.
SCULT17 CANCELLED
BODIES AND/AT THEIR LIMITS
Convenors:
Clare Barker, University of Leeds, UK, c.f.barker@leeds.ac.uk
MarilenaParlati, University of Calabria, Italy, m.parlati@unical.it
NicolettaVallorani, University of Milan, Italy, nicoletta.vallorani@unimi.it
This seminar aims at interrogating the perception, figuration, manipulation of bodies in our contemporaneity, with particular reference to the liminal condition imposed by illnesses and disability. We are taking our cues from, one the one hand, A. Giddens and his suggestion that "bodies are projects"; on the other hand, we are obviously aware of the various, and notorious, difficulties in inquiring upon such an articulate topic. The language of the body tend to be deeply modified by physical conditions that are marked as pathological, because, as Peter Brooks maintains, if the sociocultural body is a construct, an ideological product, the physical body is precultural and prelinguistic. Sensations of pleasure and especially of pain are held to be experiences outside language. If, as Nancy suggests, bodies are limits, the focus of this panel will be that of opening up a space for discussion on the delicate and essential encroachments between illness, disability, agency and cultural production.
SCULT18 Tuesday 2.9.2014 11.00–13.00 Room A6
SCULPTING THE OTHER: INTERSECTIONS BETWEEN LAW, LITERATURE AND CULTURE
Convenors:
Karen-Margrethe Simonsen, Aarhus University, Denmark, litkms@hum.au.dk 
Chiara Battisti, Università degli Studi di Verona, Italy, chiara.battisti@univr.it
Sidia Fiorato, Università degli Studi di Verona, Italy, sidia.fiorato@univr.it
The purpose of this seminar is to investigate the relationship between law and the Other in English literature and culture. Law has developed historically around figures of denial, prohibition and interdiction; juridical language aims at clearing reality of all its contradictions, reconducing it to univocal categories, defined roles and behaviour. However, the repressed Other threatens inexorably to return and it threatens to disrupt the order and reason of the legal system. The seminar will take into consideration the above-described issues from different theoretical perspectives fostering interdisciplinary approaches in the following fields: law and literature, visual arts, film studies, performing arts, ecocriticism.
SCULT19 Monday 1.9.2014 (A)14.30–16.30 Room A8, (B) 17.00–18.30 Room A8
F[R]ICTIONS OF TRUTH AND JUSTICE: REFRAMING "TERRORISM" IN LITERARY TEXTS AND FILMS
Convenors:
Carla Sassi, Università di Verona, Italy, carla.sassi@univr.it
Jessica Aliaga Lavrijsen, Universidad de Zaragoza, Spain, jeskeal@unizar.es
As argued by many analysts in recent years, the way in which terrorism is defined and represented by the media "is an intrinsic part of how the thing itself – 'terrorism' – came to exist as a social phenomenon in the late 20th century" (Jackson et al. 2011). The aim of our seminar is to investigate literary and filmic fictions of terrorism which, like James Robertson's reframing of the Lockerbie case in The Professor of Truth (2013), function as a site of deconstruction and critique of the totalising discourse of terrorism by staging the quest for truth and justice as a painstaking and laborious process of negotiation between conflicting narratives.
SCULT20 Sunday 31.8.2014 11.00–13.00 Room A2
"1914"
Convenors:
John Mullen, Université Paris-Est Crétéil, France, john.mullen@wanadoo.fr
Wolfgang Görtschacher, University of Salzburg, Austria, Wolfgang.Goertschacher@sbg.ac.at
Few dates have the terrible resonance as does "1914". On its hundredth anniversary, we propose to focus on the events, images, memories and commemorations of this date. Choosing the one specific year allows us to look both at the experience and meaning of the last months of peace, at the arrival of war, and at the gradual realizations of the depth of the changes involved. We hope for a wide range of proposals; preference will be given to those which examine less well-covered areas of culture, history, and civilization.
Accepted participants